December 11, 2019 | Does Chairman Powell Know What He Is Talking About?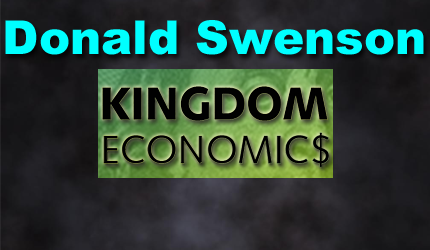 Donald B. Swenson: Born January 24, 1943, Roseau, Minnesota. Graduated H.S. 1961, Moorhead High, Minnesota. Graduated College 1968, Moorhead State University, Minnesota. Designated member of Appraisal Institute (MAI), 1974. Employed with Western Life Insurance Company, 1968 – 71; Iowa Securities Company, 1971 – 73; American Appraisal Company, 1974 – 81. Part-time teacher/valuation consultant/bartender, 1979 – 2008 (taught workshops at Waukesha County Technical Institute, Wi. and Madison Area Technical College, Wi.). Retired 2008 (part time teacher/blogger), AZ. Self educated economist/philosopher/theologian: http://kingdomecon.wordpress.com.
After listening to Chairman Powell of the U.S. Federal Reserve for over 90 minutes today, I must conclude that he has no idea what he is talking about. I also must admit that any statements about the future are very uncertain. None of us have any certainty about future events. I would put myself in this same boat. But after listening to Chairman Powell, I do perceive our markets as being much different from this policymaker's perceptions. Let's summarize the basic view of Chairman Powell as I received it today:
1. He basically thinks that rates are at the right level for now and for the immediate future.
2. He views inflation as subdued and would prefer a 2% rate (his rate was 1.6% as of now).
3. He sees the Fed mandates (low unemployment and price stability) as needing no change (for now).
4. He does not view the current impeachment situation as relevant for his policymaking.
5. Generally, Mr. Powell is pleased with all current policy decisions and the general state of our economy. This may be why he left key interest rates at the current level.
My perceptions are rather different, however:
1. I see a major slowdown in trade and consumer spending developing.
2. I see inflation as contained and deflation as the likely outcome for 2020 (especially real estate and autos).
3. I see rates as coming down in 2020 as the economy slows and the stock market declines. We also will witness more QE for 2020.
4. I see prices (especially autos and real estate) as peaking and this means price declines in 2020. Sales are now declining.
5. I see growing unemployment as the general stock markets decline and crash in 2020.
We will need to revisit this blog in late 2020 to discern whose perspective on our economy is more accurate. Personally, I see the impeachment of the Donald as a major blow to confidence and this will affect our economy significantly in 2020. I am assuming that our House of Representatives will advance the impeachment process. Mr. Powell will likely change his policy views by the next FOMC meeting. But if he is right on his perceptions (as of today) then all will be well with our economy for 2020.
I think the reader of this missive should review the opinions of many pundits to discern reality and then develop their own view. There are all kinds of contrarian views among the pundits on the internet. I, personally, listen and read dozens of different perspectives on a daily basis. The divergence of opinions is substantial. I then develop my own perspective on these important issues.

Some current indicators which I find relevant are the following:
1. The Baltic Dry Index is now declining again. Will this continue or will this revert and go up in 2020?
2. The Consumer Sentiment Index is currently at 99.2% beating market forecasts. This high level seems like it is above what is sustainable given all the negative political events which are on the horizon.
3. The ISM Index is at 48.1% and GDP is growing at 1.5%. This reveals that new orders are contracting, production is contracting, prices are decreasing, exports and imports are contracting. This indicator is useful in determining the state of our current business cycle and may suggest a turning point in our economy from growth to slow growth.
4. Trump trade policies and his sanction policies will significantly change current growth to slow growth in 2020. Germany is slowing, China is slowing, new tariffs on steel from Argentina and Brazil will slow imports, a new tariff on select goods from France will slow imports and exports. China tariffs will slow growth. Trump sanctions on Russia, North Korea, Iran, Venezuela, and other nations will slow economic activity and eventually slow down the U.S. markets in 2020.
5. The Case-Shiller price index is at a record high but major cities are now witnessing a slowdown. This slowdown (for real estate) is likely to grow in 2020 and this suggests a recession is on the horizon. I receive daily price reduction emails from Zillow daily.
6. Edmunds Auto Sales reveal a decline in 2019, costs have increased, and revenues have declined. This trend is now continuing for 2020 and beyond.
7. Political sentiments are changing from generally positive to less than positive. The likely impeachment of the Donald will affect sentiments for our economy. That seems like a given if this happens in 2019 and 2020.
Conclusion: the trends are suggesting that the current business cycle is slowing globally and that the U.S.A. will experience this slowing in 2020. Mr. Powell does not see any of this significant change in his review of the numbers. So, in conclusion, I must differ with this policymaker and report that he may not know what he is talking about. That is my view for today. Have a great Holiday Season and watch the markets for BIG changes in 2020. I am: https://kingdomecon.wordpress.com.
STAY INFORMED! Receive our Weekly Recap of thought provoking articles, podcasts, and radio delivered to your inbox for FREE! Sign up here for the HoweStreet.com Weekly Recap.