November 9, 2019 | Trading Desk Notes November 9, 2019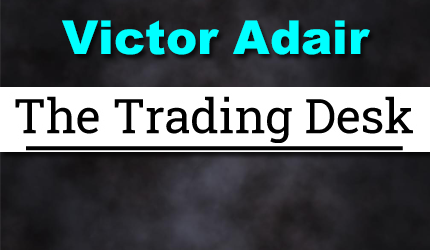 Victor Adair, author of The Trading Desk Notes, began trading penny mining shares while attending the University of Victoria in 1970. He worked in the mining business in Canada and the Western United States for the next several years and also founded a precious metals trading company in 1974. He became a commodity broker in 1977 and a stock broker in 1978. Between 1977 and his retirement from the brokerage business in 2020 Victor held a number of trading, analytical and senior management roles in Canada and the USA. Victor started writing market analysis in the late 1970's and became a widely followed currency analyst in 1983. He started doing frequent media interviews in the early 1980's and started speaking at financial conferences in the 1990's. He actively trades his own accounts from The Trading Desk on Vancouver Island. His personal website is www.VictorAdair.ca.
My best performing trades YTD have come from recognizing that September 3, 2019 was a HUGELY important inflection point across a number of KEY markets. The reversal in the interest rate markets on September 3rd was the epicenter of the inflection point…but the range of markets that reversed on or around that day is truly impressive.  In previous blogs I've referred to September 3rd as a Key Turn Date (KTD) because I believe when a number of different markets all reverse at or around the same time then the "turn" becomes much more significant.
I've been shorting TNotes for the past 2 months on the idea that US long term interest rates made a definitive turn higher September 3rd. For several months prior to the KTD there were massive capital flows into bonds. There were expectations everywhere that a recession was coming and Central Banks would slash interest rates. The global "stack" of negative yield bonds reached a new ATH and yield curves were inverted. It looked like the interest rate environment had become the "Polar Opposite" of what it was 38 years ago during the Volker period when "nobody" wanted gov't bonds at a 15% yield. In the months leading up to the KTD everybody wanted bonds and they were even willing to buy'em at a negative yield!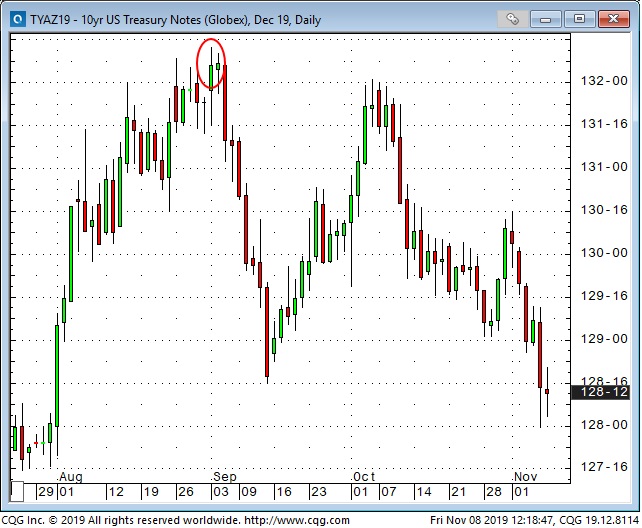 I've been shorting gold because it rallied ~$350 from year-ago levels on the back of falling real and nominal interest rates. I thought gold was particularly vulnerable to a breakdown because Comex speculators have ramped up their bullish positioning since May…to All Time Highs…and those speculators are probably highly leveraged and may have to liquidate their positions if gold falls. Remember that just a year ago speculators were net short gold.
Gold open interest (OI) on Comex has been rising sharply since the end of May (up ~240,000 contracts or 52%) as prices rose from ~$1,300 to present levels. In the last four weeks OI has surged to new ATH (up ~100,000 contracts or 16%) as prices have drifted sideways….and since last Friday OI has risen ~17,000 as prices have fallen. Rising OI means net new buying AND net new selling. To see OI rising while prices have fallen is VERY interesting. I thought OI would have fallen as prices fell because longs were covering some of their positions. So perhaps speculators have been adding to net long positions on weakness…which may indicate that they have "deeper pockets" than I thought and/or they are willing to finance their long term bullish views because they have their eye on a potentially HUGE upside.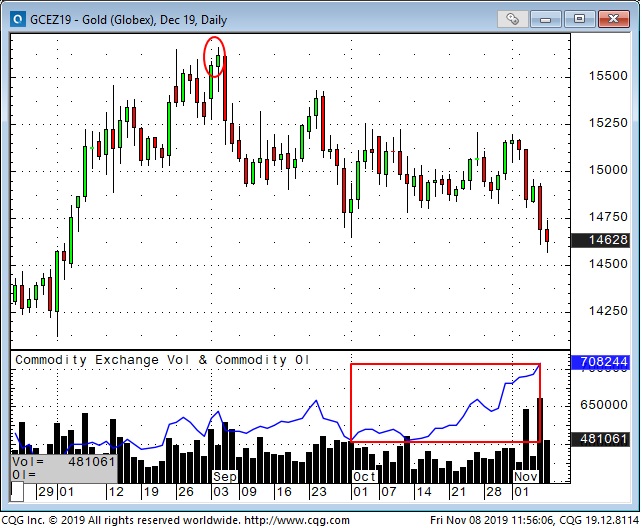 Alternatively, if speculators are adding to a losing trade and gold keeps falling…and liquidation starts…then gold could tumble. OI has increased ~135,000 since August 5th when gold rallied decisively above $1450 basis Dec. If gold drops below that level all of those positions are under water…and some of them are underwater by over $100. Comex volume has been huge this week. It looks like we are setting up for a big move one way or the other.
Another idea concerning the surge in OI over the past month or so is that the repo crisis may be causing money to seek safety in the gold market. With the major stock indices at ATHs  and the bond market looking soft maybe some people are choosing to park cash in gold rather than stocks/bonds. If those people are buying physical gold bullion from dealers (because they don't like the "paper" gold market) maybe the dealers are buying futures to hedge.
I took a toe-in-the-water short position on the US stock market this week (bought S+P puts.) I rarely try to fade a raging bull market so my risk management process demanded small size and limited risk but…the market seems egregiously extended…and implied vol on the puts was "real cheap" compared to what it was a month ago when the spooz was trading 100 handles lower. (When the market is in the tank people aggressively bid for puts…and the put/call skew goes crazy…when the market is surging higher insurance is "cheap" but nobody wants it!) I was also able to talk myself into believing that buying S+P puts was a bit of a "hedge" against my short bonds and gold trades…if stocks roll over here bonds and gold could catch a s/t bid. IV has been crushed the past 6 weeks as stocks have rallied so if stocks roll over here my S+P puts could benefit from rising vol as well as rising delta!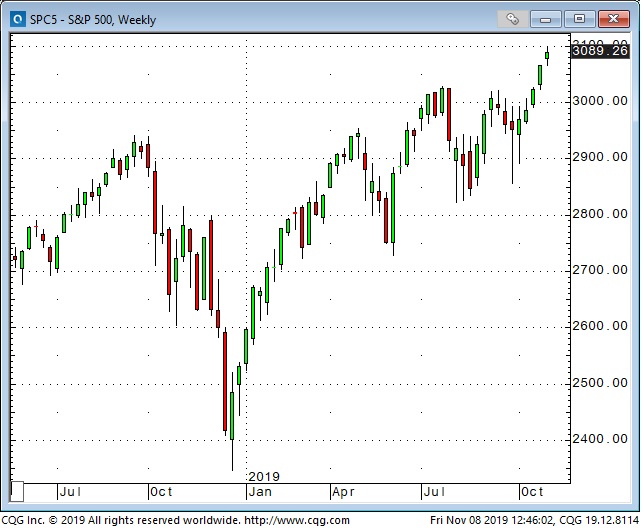 Stocks have rallied recently on trade optimism, Central Bank easing and FOMO. Trade tensions earlier this year weakened economic growth…Central Banks recognized that and eased policy (the just in time mid-cycle adjustment?) so now that trade tensions are easing and CB policy is easier stocks are rising. Surely there's more to it than that! Oh wait…here comes another Trump Tweet!
I shorted EURUSD this week. I caught a chunk of the Euro rally in early October and had been wavering a bit on my long held USD bullish views…but when the Euro dropped to 1.11 this week I had to get back short.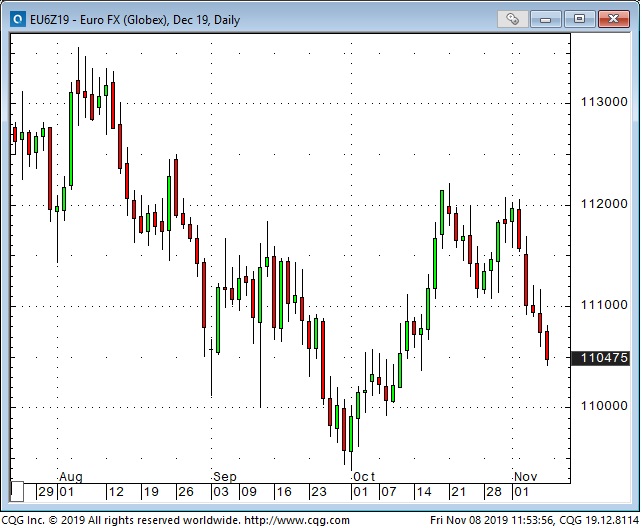 The German 10 year bund has had an impressive turn lower from the Sept 3rd KTD. Remember the talk about the Bund "pulling down" the US10Y yield as it fell deeper and deeper into negative territory? I wonder if the Bund turnaround isn't the true epicenter of the "big turn" we've seen. Compared to how much the Bund has tumbled the US10Y hasn't had much of a move…maybe a lot more to come?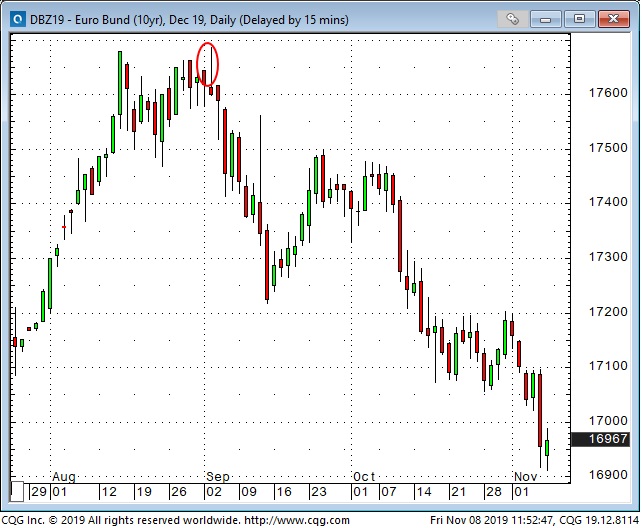 Several important currencies turned right on the KTD…other currencies paid no mind. It was interesting that currencies as diverse at Russia, Mexico and India all turned exactly on the KTD but the 2 FX markets that really caught my eye were the Chinese RMB and the EUR/YEN cross: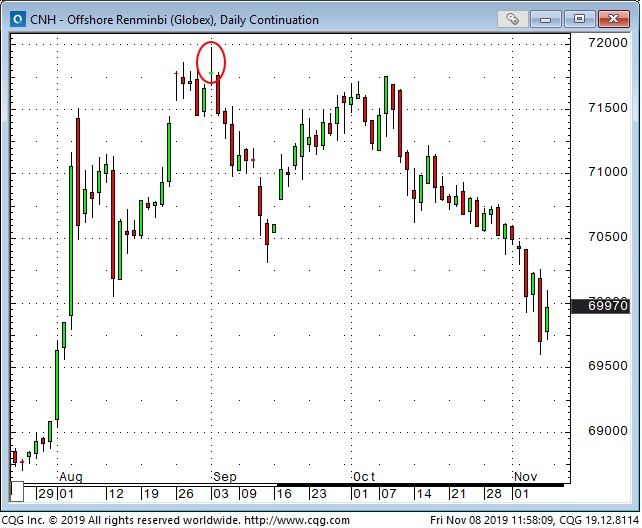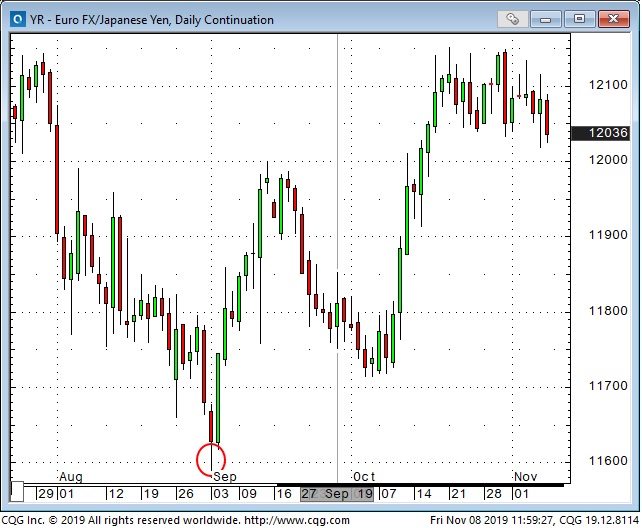 Gold, silver, platinum and precious metal mining shares reversed down on the KTD while copper reversed higher: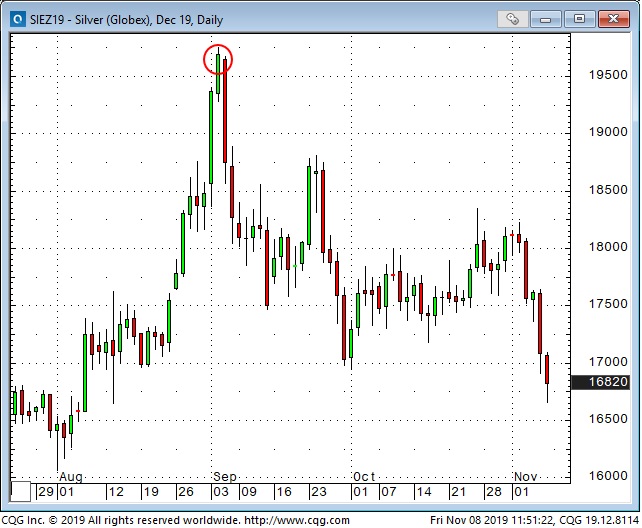 WTI reversed higher on the KTD but made new lows later…gasoline reversed higher on the KTD and has stayed higher: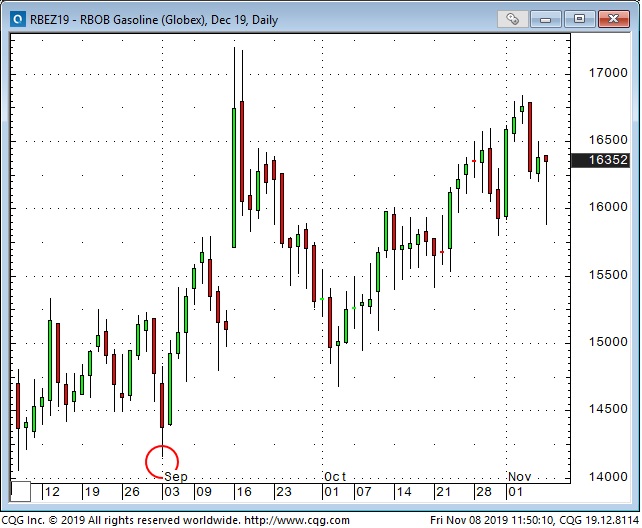 In the commodity markets soybeans, corn, livestock, cocoa, cotton, and sugar all reversed around the KTD while wheat reversed right on Sept 3.  The CRB commodity index made a sharp reversal higher about a week before the KTD.: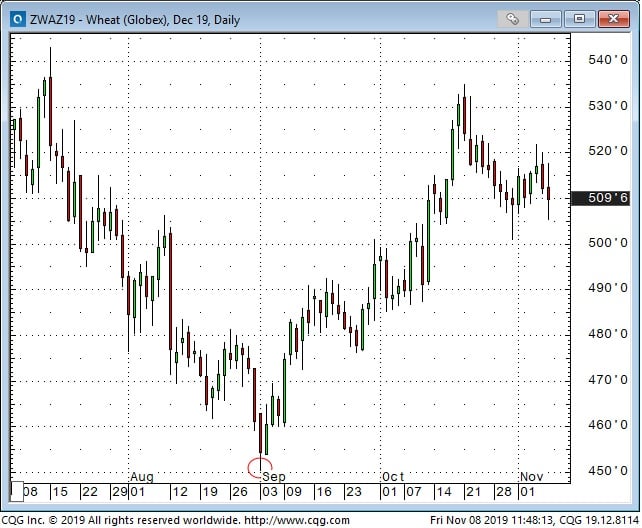 The major stock market indices didn't have a dramatic "turn" on the Sept 3rd KTD but they're all higher since then. The Japanese Nikkei has surged higher as have European bank shares…which had been really beaten up earlier this year when yield curves were inverted and bank profit margins were disappearing.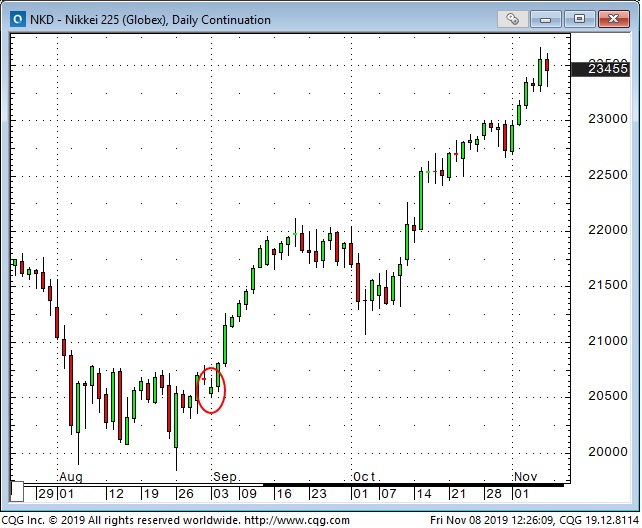 My short term trading: I took profits on my short TNotes and gold Friday. I'm going into the weekend short EURUSD, long puts on TNotes,gold and S+P…the CNN Fear and Greed index is showing Extreme Greed at 2 year highs.
I use exchange traded futures and options to trade currencies, metals, interest rates, stock indices, energy and other commodities. Please give us a call or send us an email if you'd like to know more about trading these markets.
PI Financial Corp. is a Member of the Canadian Investor Protection Fund. The risk of loss in trading commodity interests can be substantial. You should therefore carefully consider whether such trading is suitable for you in light of your financial condition. In considering whether to trade or the authorize someone else to trade for you, you should be aware of the following. If you purchase a commodity option you may sustain a total loss of the premium and of all transaction costs. If you purchase or sell a commodity futures contract or sell a commodity option or engage in off-exchange foreign currency trading you may sustain a total loss of the initial margin funds or security deposit and any additional fund that you deposit with your broker to establish or maintain your position. You may be called upon by your broker to deposit a substantial amount of additional margin funds, on short notice, in order to maintain your position. If you do not provide the requested funds within the prescribe time, your position may be liquidated at a loss, and you will be liable for any resulting deficit in your account. Under certain market conditions, you may find it difficult to impossible to liquidate a position. This is intended for distribution in those jurisdictions where PI Financial Corp. is registered as an advisor or a dealer in securities and/or futures and options. Any distribution or dissemination of this in any other jurisdiction is strictly prohibited. Past performance is not necessarily indicative of future results
STAY INFORMED! Receive our Weekly Recap of thought provoking articles, podcasts, and radio delivered to your inbox for FREE! Sign up here for the HoweStreet.com Weekly Recap.