November 30, 2019 | Trading Desk Notes November 30, 2019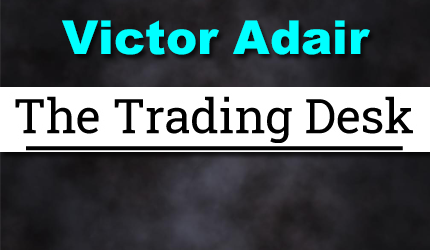 Victor Adair, author of The Trading Desk Notes, began trading penny mining shares while attending the University of Victoria in 1970. He worked in the mining business in Canada and the Western United States for the next several years and also founded a precious metals trading company in 1974. He became a commodity broker in 1977 and a stock broker in 1978. Between 1977 and his retirement from the brokerage business in 2020 Victor held a number of trading, analytical and senior management roles in Canada and the USA. Victor started writing market analysis in the late 1970's and became a widely followed currency analyst in 1983. He started doing frequent media interviews in the early 1980's and started speaking at financial conferences in the 1990's. He actively trades his own accounts from The Trading Desk on Vancouver Island. His personal website is www.VictorAdair.ca.
The S+P 500 index hit new ATHs again this week…closing higher 7 of the last 8 weeks…rising ~10% from the early October lows. YTD gains are ~25%. David Rosenberg reports that 95% of the total return YTD has come from P/E multiple expansion, with dividends accounting for 8% while actual earnings account for a negative 3%. He sees the market as "overloved, overvalued and overdone." I agree…but I also understand that it can get EVEN MORE overloved, overvalued and overdone. The CNN fear and greed index registers extreme greed.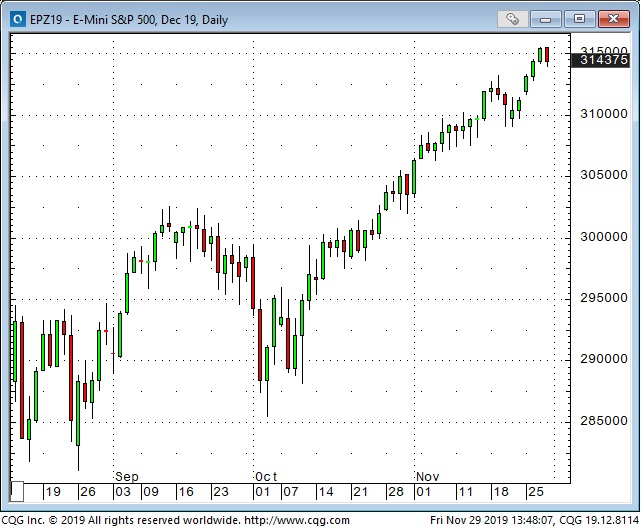 I bought S+P puts on Friday. The big rally in the stock market and falling volatility means that puts have tumbled in value…giving me a cheap way to make a limited risk bet that the stock market will correct from here. If it doesn't I'll lose a little money on my puts. If it takes a good tumble like it did last December (yikes!) both the delta and the IV on the puts will jump…meaning that I stand to make much more than I'm risking.
The bond market was sideways to lower this holiday week. In recent blogs I've written that the bond market seemed to hit a major inflection point on Sept 3rd when the US long bond traded at an All Time Low yield…and since then yields have trended higher. The fact that a lot of other markets also reversed direction on or about Sept 3rd makes that date all the more significant. I've traded the bond market from the short side since the KTD and I got back short last week after sitting out the 2 week rally off the early November lows.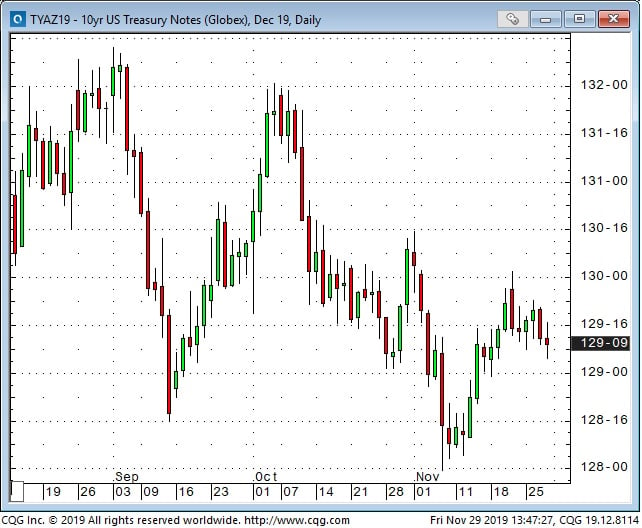 The US Dollar index briefly hit a 6 week high this week but fell back to close the week unchanged. Implied volatility in the currency markets is very low…EURO vol is below 4%…the lowest level since the Euro came into existence 20 years ago. I've previously written about the "stealth strength" of the USD Vs. some of the non-major or emerging market currencies. Lately I've been particularly interested in the weakness of currencies throughout South America…wondering if that weakness might have a contagion effect on the Mexican Peso…which has been relatively steady against USD the last 2 years while several South American currencies have tumbled. I'm currently short MEXUSD.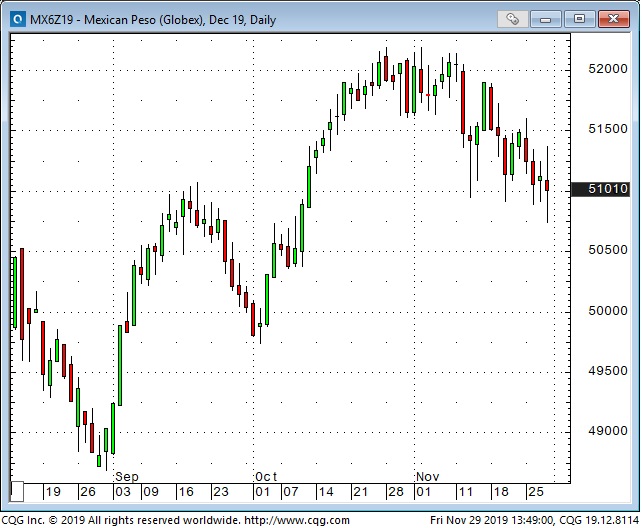 The Canadian dollar has traded almost entirely within a 3 cent range (74 – 77 cents) for over a year and has been stuck in a 2 cent range (75 to 77 cents) since June. I'm short CADUSD. If it breaks the 75 cent level that has served as a floor for the past few months I think it could take out this year's lows below 74 cents.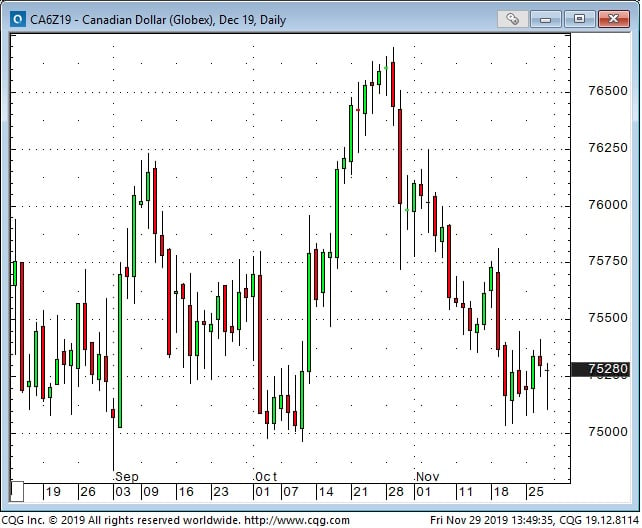 Gold has drifted down ~$100 since making 6 year highs on the Sept 3rd KTD. I've traded gold from the short side since the KTD thinking that rising interest rates would pressure gold and that the HUGE speculative long position in Comex futures left the market vulnerable to a liquidation selloff. I was stopped out of my most recent short position on Friday for a small loss when the market made new highs for the week. I may have had my stops too tight…but given that the market passed up a wonderful chance to break down this week when Comex futures closed at a 4 month low I'll sit on the sidelines over the weekend.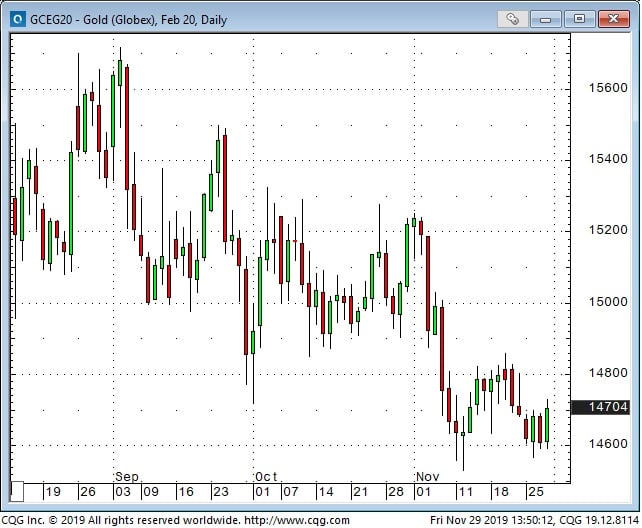 WTI crude oil hit a 2 month high this week…up ~$7.50 or ~15% from last month's lows…but tumbled more than $3 Friday. Newswire stories on Friday may have been the catalyst for the price break with speculation that next week's OPEC+ meeting might not produce/extend the production cutbacks that have helped boost oil prices.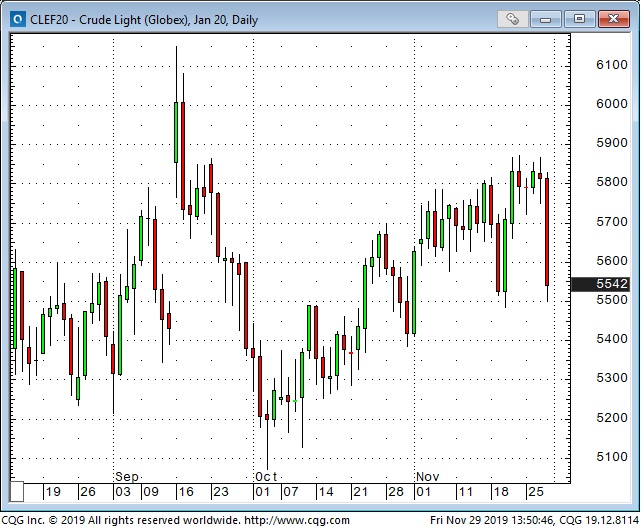 I have no position in crude oil but I've noted several times in previous blogs that at significant market turns crude oil and the stock market both reverse direction on or about the same date. Notice that both markets made lows in June, August and Sept this year, and highs in April…and notice that last year both markets made important highs in September and lows in December. Given that I'm positioned for the stock market to fall I may be "reading too much" into Friday's break in crude oil…we will see!
People often believe that a HUGE volume day validates that day's price action…and you can find lots of examples where a market had been meandering sideways on low volume and then suddenly jumped (or fell) on huge volume and kept moving in that direction. But what if a market makes a BIG move during a relatively low volume holiday period…like crude oil did this Friday when it tumbled >$3BBL? Does the low volume mean that the move is "suspect?" Maybe. Or maybe the idea that a HUGE volume day validates price action is not always right. For instance, Monday, Sept 16, following the weekend attacks on Saudi oil infrastructure saw a HUGE volume day in crude oil futures with WTI up as much as $9…but it fell steadily from those highs and 13 days later had dropped as much as $12.
Free market price discovery is the right price for a moment in time…and when that moment passes and the "facts" change then the price also changes. In previous blogs I've written that one of the ways I look for trading opportunities is to imagine how the "facts" (or perceptions) might change. I want to get in front of that change. As Gordon Gecko said in the 1987 movie Wall Street," Someone wins, someone loses. Money itself isn't lost or made, it's just transferred from one perception to another."
I use the futures market to trade currencies, metals, interest rates, stock indices, energy and other commodities. Please give us a call or send us an email if you'd like to know more about trading futures.
PI Financial Corp. is a Member of the Canadian Investor Protection Fund. The risk of loss in trading commodity interests can be substantial. You should therefore carefully consider whether such trading is suitable for you in light of your financial condition. In considering whether to trade or the authorize someone else to trade for you, you should be aware of the following. If you purchase a commodity option you may sustain a total loss of the premium and of all transaction costs. If you purchase or sell a commodity futures contract or sell a commodity option or engage in off-exchange foreign currency trading you may sustain a total loss of the initial margin funds or security deposit and any additional fund that you deposit with your broker to establish or maintain your position. You may be called upon by your broker to deposit a substantial amount of additional margin funds, on short notice, in order to maintain your position. If you do not provide the requested funds within the prescribe time, your position may be liquidated at a loss, and you will be liable for any resulting deficit in your account. Under certain market conditions, you may find it difficult to impossible to liquidate a position. This is intended for distribution in those jurisdictions where PI Financial Corp. is registered as an advisor or a dealer in securities and/or futures and options. Any distribution or dissemination of this in any other jurisdiction is strictly prohibited. Past performance is not necessarily indicative of future results
STAY INFORMED! Receive our Weekly Recap of thought provoking articles, podcasts, and radio delivered to your inbox for FREE! Sign up here for the HoweStreet.com Weekly Recap.