November 16, 2019 | Trading Desk Notes November 16, 2019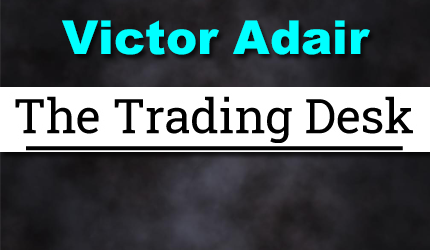 Victor Adair, author of The Trading Desk Notes, began trading penny mining shares while attending the University of Victoria in 1970. He worked in the mining business in Canada and the Western United States for the next several years and also founded a precious metals trading company in 1974. He became a commodity broker in 1977 and a stock broker in 1978. Between 1977 and his retirement from the brokerage business in 2020 Victor held a number of trading, analytical and senior management roles in Canada and the USA. Victor started writing market analysis in the late 1970's and became a widely followed currency analyst in 1983. He started doing frequent media interviews in the early 1980's and started speaking at financial conferences in the 1990's. He actively trades his own accounts from The Trading Desk on Vancouver Island. His personal website is www.VictorAdair.ca.
The runaway bull market in major stock indices continued this week with lots of new ATHs (notably Ex China and EEM…and Trannies and Russell.) I've been writing here for the past month that "if" the major indices made new ATHs a lot of people would be amazed and some cautious money managers would be "forced" to buy or risk losing AUM. Friday's price action looked like some people were writing get-me-in-at-the-market tickets.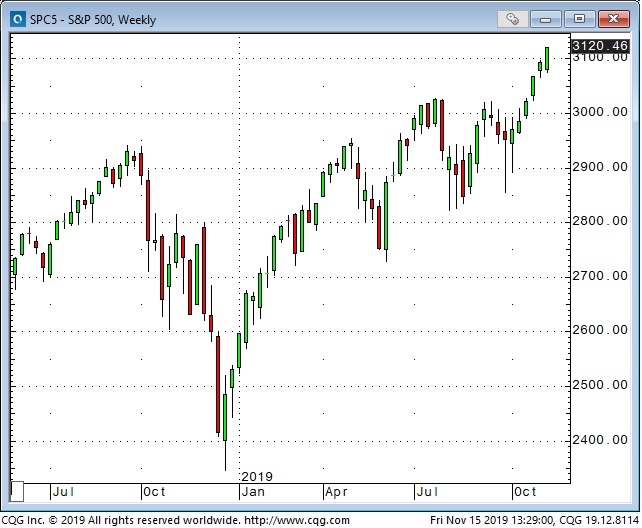 The major indices have chugged higher and Buy-Any-Dip has been handsomely rewarded. Momentum is self-reinforcing. The put/call ratio is very low. The VIX is at its lowest since Jan 2018…levels hit just before the S+P tumbled 350 points and VIX shorts got carried out. The CNN Fear/Greed index shows extreme greed at 2 year highs.
TSLA is up nearly 100% from its June lows…its ~$60B market cap is now greater than Daimler's. APPL is up ~13% in a month…up >80% YTD…its $1.17T market cap is larger than the entire US energy sector. APPL just issued Euro 2.8 Billion Green bonds with a near 0% yield. Energy related equities are now ~4% of the S+P 500…the lowest ratio in over 20 years. In 2008 with WTI near ATHs energy represented ~16% of the S+P 500.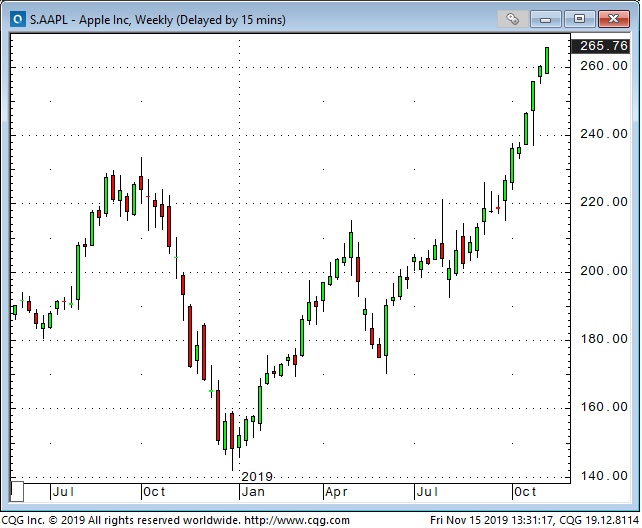 Somewhere Chuck Prince must be dancing...somewhere a value investor must be shaking his head.
European equities and ETFs had net capital inflows the past month or so after nothing but outflows for the past year. Do European stocks look cheap relative to US stocks? Are investors taking money off the table in the US and rotating into Euro stocks? Does this account for the bid in EURUSD? The Norwegian and Swedish currencies also look like they could rally.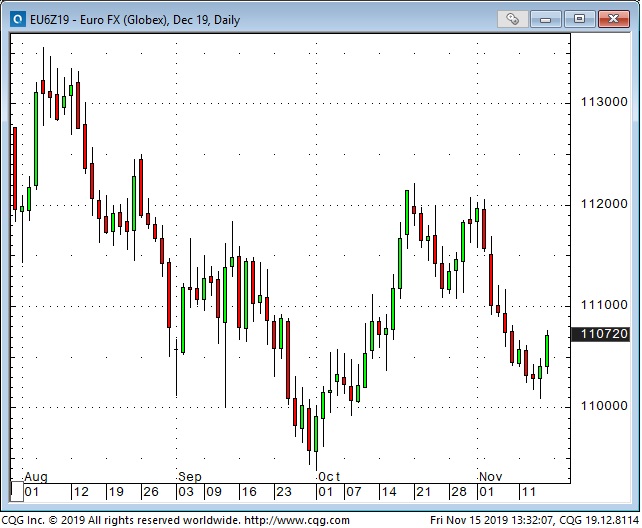 Bond markets bounced back this week after a hard sell-off last week. US bond prices have been trending lower since September 3rd when long term Treasury yields hit All Time Lows. I've written that interest rates may now be at the "Polar Opposite" of where they were 38 years ago when Volker jammed short rates to 20% to break the back of inflationary expectations. That may be true…but that doesn't mean I'll just stay short bonds because I "believe" yields will be higher a year from now. I've done well shorting TNotes the past couple of months but I'm currently on the sidelines…and I might buy'em if I think they're going to rally for a week or two.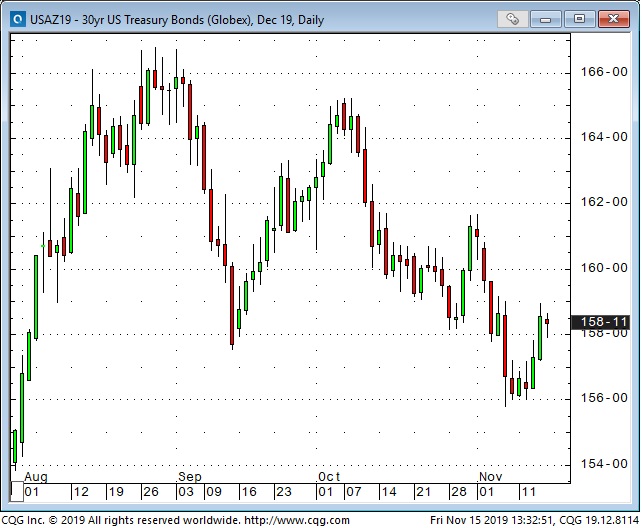 Changes in the gold price have been closely aligned with changes in the bond market, real yields and the global total of negative yield bonds for the past several months…so with bond prices bouncing back after last week's tumble it's not surprising to see gold up a bit this week. Comex open interest keeps making new highs and net bullish speculative positioning remains near ATHs.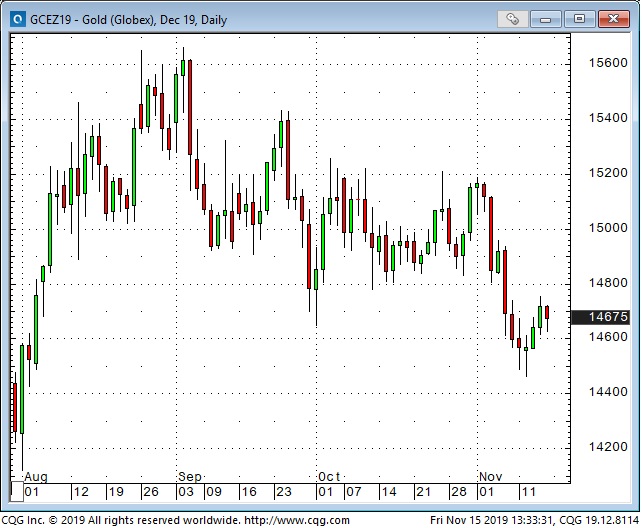 WTI Crude Oil often makes important turns in sync with the stock market. WTI made a low in early October…along with the stock market…and has since rallied ~14%…while the S+P is up "only" ~9%. WTI doesn't "look" like it's out-performing the S+P…maybe because WTI is not making new ATHs…or maybe because energy related equities are underperforming other sectors…but over the last 6 weeks WTI has out-performed the S+P.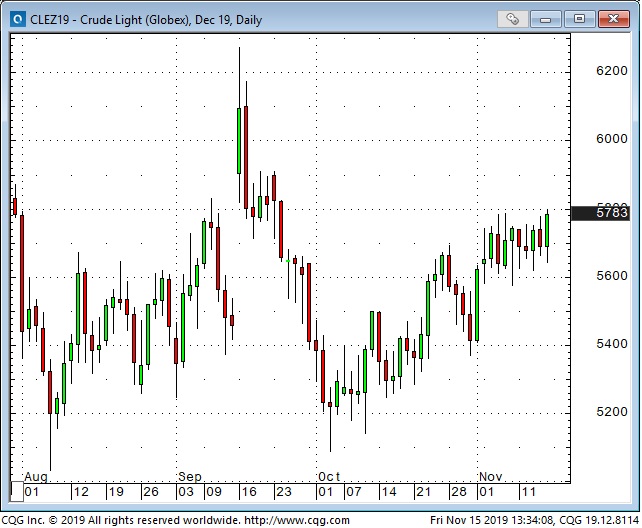 My short term trading: My best performing trades YTD have been shorting TNotes and gold in the Oct/early Nov period. I took profits on those trades last week but kept a toe-in-the-water over the weekend long puts on both gold and TNotes. I covered both those positions Monday. A small gain on gold offset a small loss on TNotes.
I sold EURUSD short last week and covered this Tuesday for a small gain. I shorted MEX Tuesday looking for possible contagion from S. America. The trade went immediately my way…I lowered my stop to just above breakeven and was stopped for a very small loss when MEX reversed higher Thursday. I shorted the Russell 2000 share index Tuesday (it's been lagging the DJIA, S+P and Nasdaq) when it couldn't sustain an early rally and covered Wednesday on the open for a nice gain. (Actually my P+L would show that the gain from the Russell trade just offset the unrealized losses I've suffered from staying with the S+P put I bought last week!)
I bought EURUSD this Friday. It made a 2+ year low in early October and made a higher low this week. If the Euro rolls over I'll be stopped for a small loss below Friday's lows. I'm going into the weekend Long EURUSD and long OTM S+P Puts!  Actually, the S+P puts are now so far out-of-the-money that they might qualify as a lottery ticket!
PI Financial Corp. is a Member of the Canadian Investor Protection Fund. The risk of loss in trading commodity interests can be substantial. You should therefore carefully consider whether such trading is suitable for you in light of your financial condition. In considering whether to trade or the authorize someone else to trade for you, you should be aware of the following. If you purchase a commodity option you may sustain a total loss of the premium and of all transaction costs. If you purchase or sell a commodity futures contract or sell a commodity option or engage in off-exchange foreign currency trading you may sustain a total loss of the initial margin funds or security deposit and any additional fund that you deposit with your broker to establish or maintain your position. You may be called upon by your broker to deposit a substantial amount of additional margin funds, on short notice, in order to maintain your position. If you do not provide the requested funds within the prescribe time, your position may be liquidated at a loss, and you will be liable for any resulting deficit in your account. Under certain market conditions, you may find it difficult to impossible to liquidate a position. This is intended for distribution in those jurisdictions where PI Financial Corp. is registered as an advisor or a dealer in securities and/or futures and options. Any distribution or dissemination of this in any other jurisdiction is strictly prohibited. Past performance is not necessarily indicative of future results
STAY INFORMED! Receive our Weekly Recap of thought provoking articles, podcasts, and radio delivered to your inbox for FREE! Sign up here for the HoweStreet.com Weekly Recap.