November 2, 2019 | Trading Desk Notes for November 2, 2019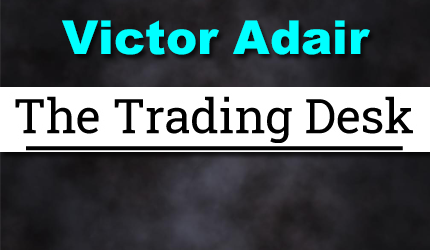 Victor Adair, author of The Trading Desk Notes, began trading penny mining shares while attending the University of Victoria in 1970. He worked in the mining business in Canada and the Western United States for the next several years and also founded a precious metals trading company in 1974. He became a commodity broker in 1977 and a stock broker in 1978. Between 1977 and his retirement from the brokerage business in 2020 Victor held a number of trading, analytical and senior management roles in Canada and the USA. Victor started writing market analysis in the late 1970's and became a widely followed currency analyst in 1983. He started doing frequent media interviews in the early 1980's and started speaking at financial conferences in the 1990's. He actively trades his own accounts from The Trading Desk on Vancouver Island. His personal website is www.VictorAdair.ca.
The Bank of Canada and the Federal Reserve both roiled markets Wednesday…even though their initial communications were exactly as expected. The BoC left interest rates unchanged but Stephen Poloz made it clear that given all the political and economic uncertainty in the world, especially outside Canada, that it wouldn't take much for the Bank to cut interest rates in the future. The Canadian Dollar fell and Canadian bonds rallied.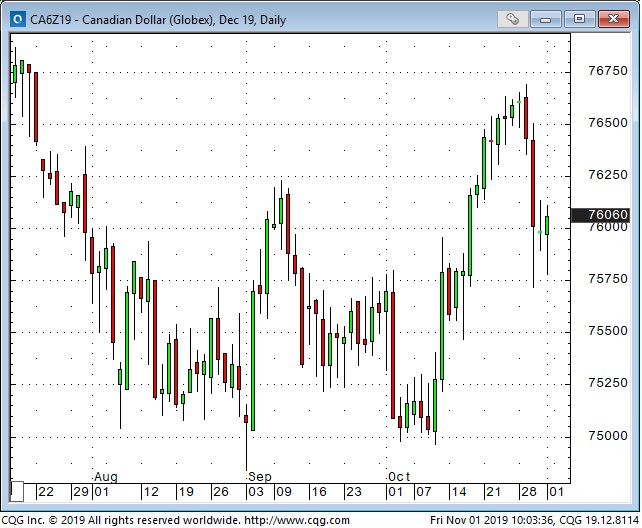 The Fed delivered the expected ¼ point "hawkish cut," but then Powell made it clear that it would take a significant jump in inflation before the Fed would consider raising rates. Net, net…a "less hawkish" Fed than expected…the US Dollar fell while stocks, bonds and gold jumped.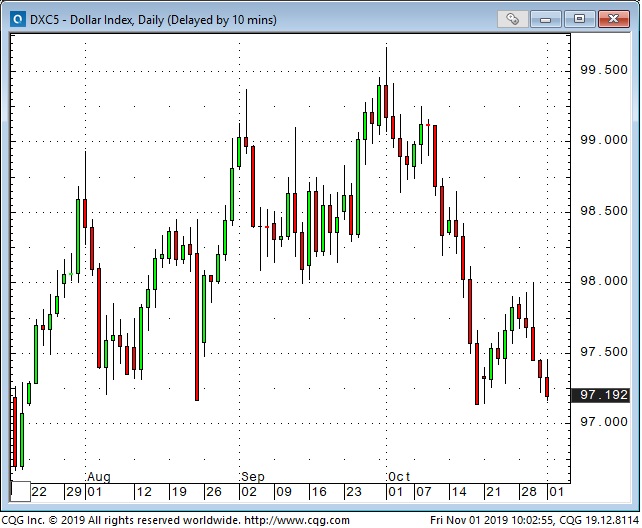 The US employment report Friday was stronger than expected...risk assets rallied…the major US stock indices surged higher…EM stock indices jumped to their best levels in >3 months as the USD Index fell to 3 month lows. Sentiment indicators are nearing extreme levels. Volatility is tumbling in stocks, interest rates and FX. In recent TD Notes I've said that a lot of people would be amazed if stock indices broke out to new ATH…that cautious money managers might be "forced" to become more aggressive or lose AUM.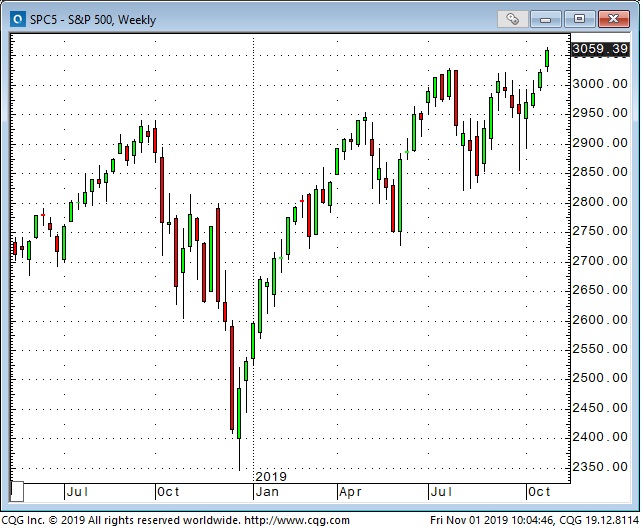 On September 3, 2019 US long bond yields hit All Time lows, the global supply of negative yielding debt hit All Time Highs, yield curves were inverted and the prevailing narrative was that the world was about to slide into another recession and Central Banks would therefore be slashing rates. That might be the way it plays out and the US 10Y yield may drop to zero or even lower…as some analysts expect. You never know…but I wonder if this environment isn't the Polar Opposite of 1981 when nobody wanted government bonds at a 15% yield because they "knew" inflation was going to rip higher and bonds were just certificates of confiscation.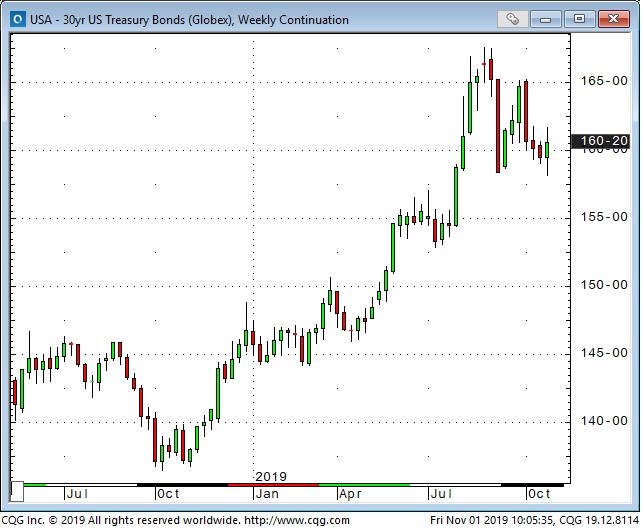 The ECB and the BOJ created the negative yielding bonds that have helped pull US yields down. But what if the ECB under Lagarde decides that taking rates deeper into negative territory isn't going to stimulate the economy…and may actually make things worse? What if her message to governments is to issue bonds (at these extraordinarily low rates) to pay for fiscal stimulus? What if her message is to cut taxes and issue more bonds? (Wait a minute…she was the head of the IMF…she's not going to propose cutting taxes!)  What if her message is that the ECB has reached the limit of what it can do and now it's time to pass the stimulus baton to the governments? Would the negative yield bond buyers who have been front-running the ECB and the SNB turn sellers?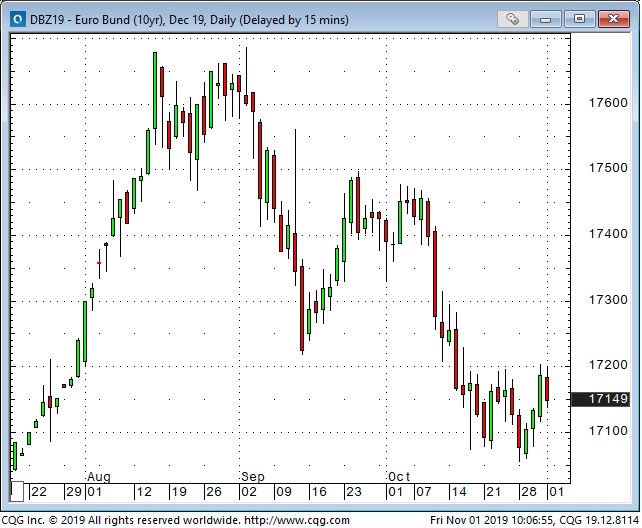 Bond prices may have registered a HUGELY important inflection point on September 3, 2019. The price action in August leading up to that date looked like "throw-in-the-towel" capitulation…on the heels of the steep rally that began last November.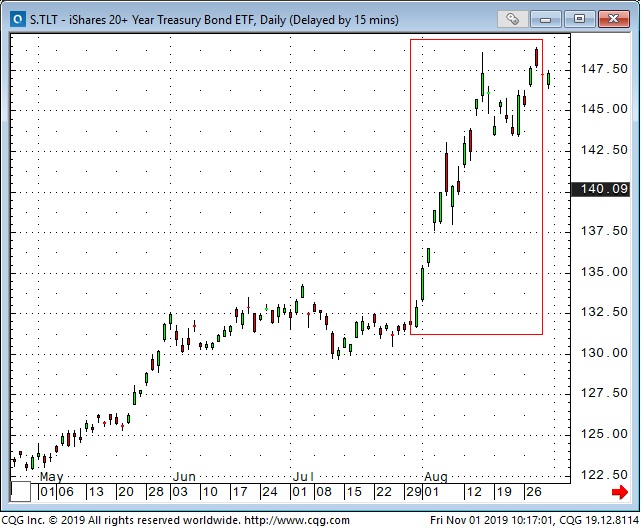 If long term interest rates did indeed stop falling on September 3rd and will be rising from now on then everything changes. Absolutely everything.  For 38 years bond yields have been falling and 2 generations of people got used to that. Like it was carved in stone. But "What if" that changes?
Shorting Japanese bonds has been a real widow-maker trade for years...so I understand that I might be dead wrong to think that bond yields could rise. But when I look at this chart I see a "lower-high" in October and that's one of my favorite bearish chart patterns. I see that bonds have bounced off the mid-September lows so that level has become important support. If the market rolls over and breaks through that support level then I think prices could tumble. If the market rallies through the October highs (or a downtrend line from the September highs) I would not stay short.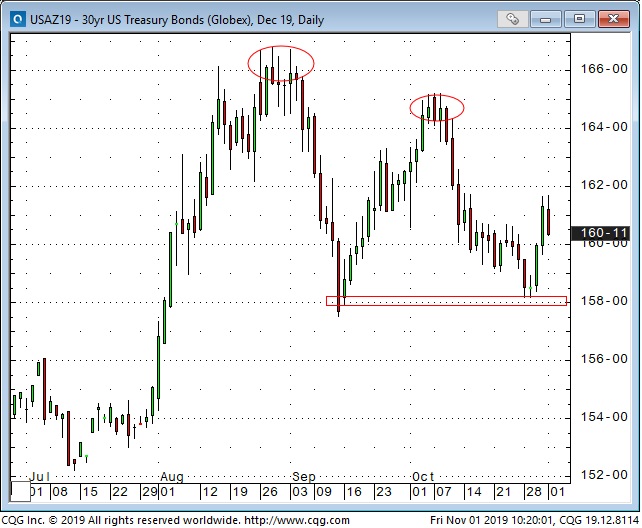 My short term trading: I've been trading bonds from the short side for the past couple of months and I'm short going into this weekend. I'm watching gold. I think it rallied ~$350 from last November to the September Key Turn Date because of falling interest rates (real and nominal) and if long term rates rise then gold may be vulnerable given the extremely bullish speculative positioning and record open interest. Short term I think gold is bid due to the weakening USD. I've been generally bullish USD for the past couple of years but I've been changing my mind. I took profits after being long Euro for a couple of weeks in October and I'm flat now. Futures market speculators are net long USD but not hugely so.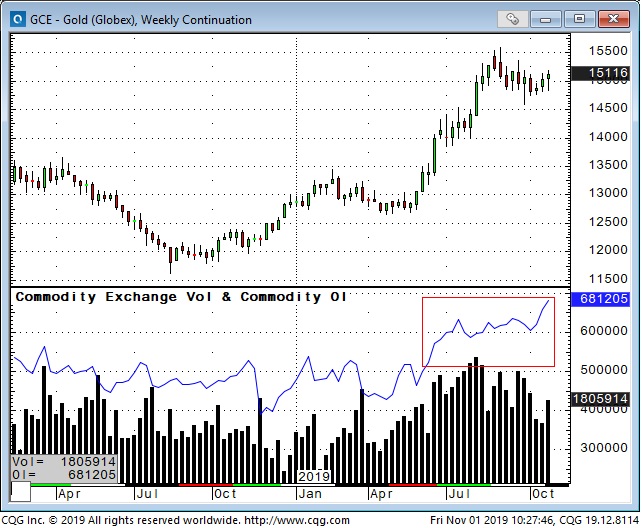 I use the futures market to trade currencies, metals, interest rates, stock indices, energy and other commodities. Please give us a call or send us an email if you'd like to know more about trading futures.
PI Financial Corp. is a Member of the Canadian Investor Protection Fund. The risk of loss in trading commodity interests can be substantial. You should therefore carefully consider whether such trading is suitable for you in light of your financial condition. In considering whether to trade or the authorize someone else to trade for you, you should be aware of the following. If you purchase a commodity option you may sustain a total loss of the premium and of all transaction costs. If you purchase or sell a commodity futures contract or sell a commodity option or engage in off-exchange foreign currency trading you may sustain a total loss of the initial margin funds or security deposit and any additional fund that you deposit with your broker to establish or maintain your position. You may be called upon by your broker to deposit a substantial amount of additional margin funds, on short notice, in order to maintain your position. If you do not provide the requested funds within the prescribe time, your position may be liquidated at a loss, and you will be liable for any resulting deficit in your account. Under certain market conditions, you may find it difficult to impossible to liquidate a position. This is intended for distribution in those jurisdictions where PI Financial Corp. is registered as an advisor or a dealer in securities and/or futures and options. Any distribution or dissemination of this in any other jurisdiction is strictly prohibited. Past performance is not necessarily indicative of future results
STAY INFORMED! Receive our Weekly Recap of thought provoking articles, podcasts, and radio delivered to your inbox for FREE! Sign up here for the HoweStreet.com Weekly Recap.