November 26, 2019 | The Seven Central Planning Institutions (which I follow)!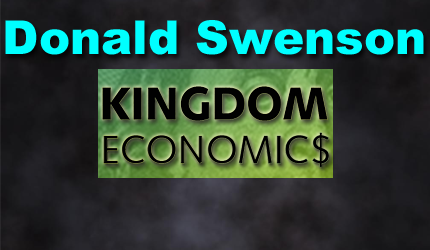 Donald B. Swenson: Born January 24, 1943, Roseau, Minnesota. Graduated H.S. 1961, Moorhead High, Minnesota. Graduated College 1968, Moorhead State University, Minnesota. Designated member of Appraisal Institute (MAI), 1974. Employed with Western Life Insurance Company, 1968 – 71; Iowa Securities Company, 1971 – 73; American Appraisal Company, 1974 – 81. Part-time teacher/valuation consultant/bartender, 1979 – 2008 (taught workshops at Waukesha County Technical Institute, Wi. and Madison Area Technical College, Wi.). Retired 2008 (part time teacher/blogger), AZ. Self educated economist/philosopher/theologian: http://kingdomecon.wordpress.com.
Our financial world is now controlled by select central planners who can use our 'virtual' monetary system to further their goals and plans. Our markets are now interconnected, global, virtual, and centrally administered. Personally, I follow seven key central planning institutions which basically determine what happens within our global markets. Capitalism has evolved into this central planning situation (mostly since the financial crisis of 2008). Let's review the seven central planners which I think are key to our future economic survival:
1. The U.S. Federal Reserve System: this institution is now the #1 central planner for the world IMO. Our dollar is the key reserve currency for the world and what happens with our dollar determines the destiny of all markets. This central planner has some 500 day traders (it's market desk) to administer trading within all our global markets.
The key policy administrator for the Fed (as it is called) is Mr. Jerome Powell. His thinking and policies are key to what happens within all our global markets. The U.S.A. is the #1 economy on our planet. You can discern the details about this central planner here:
https://www.federalreserve.gov/
2. The European Central Bank (ECB): This central planning institution is located in Frankfurt, Germany and it monitors, controls, and determines the economic and  monetary policies of the 19 nation union over in Europe (called the Eurozone). It's policies affect all the 28 nations which make up the European Union. These central planners do trade within our global markets (which are now virtual markets…all electronic).
The key policy maker for the ECB is now Cristine Lagarde who replaced the prior central planner, Mr. Mario Draghi. This central planning institution oversees the 2nd largest economy on our planet. You can witness the details here:
https://www.ecb.europa.eu/home/html/index.en.html
3. The Bank for International Settlements (BIS): this central planning institutions is located in Basel, Switzerland. Some 60 central banks are members of this institution. Monthly central planning occurs at this institution to assure that our global monetary system is coordinated and planned. A network of all global central banks is part of the system of this central planner.
Their are many policy makers for the BIS but Agustin Carstens, prior central banker from Mexico, is the current general manager. The BIS acts as a central bank for all the global central banks. It also acts as the key central planner for the planet. It's policies are meant to be implemented by all the central banks. You can witness the details about this central planner here:
4. The International Monetary Fund (IMF):  this central planner is located in Washington D.C. It has been active in global monetary affairs since the end of WWII. The institution has some 189 members who all contribute to the fund and its management. The core assets of this fund are called its 'special drawing rights' (SDR) a virtual currency made up of a weighted average of five virtual currencies (the $, euro, yen, pound, and yuan).
The chief policy maker for the IMF is now a lady called Kristalina Georgieva, a Bulgarian economist. She has replaced the prior Director, Ms. Christine Lagarde. The IMF acts to stabilize all currencies and economies on our planet. It's viewed as a key central planner for our global markets. You can witness the details of this central planner here:
https://www.imf.org/external/index.htm
5. The Bank of Japan (BofJ): This central planning institution is located in Tokyo, Japan. It works with the U.S. Federal Reserve to further monetary policy for the planet. It's QE polices have been at the center of its monetary policies since the financial crisis of 2008. Some say that this central planner owns stocks and bonds which total over 100% of GDP (according to an article in the Wall Street Journal)…some Y553.5 trillion (2018). The annual GDP was Y552 trillion in 2018. As of November 2019 it appears the balance sheet has shrunk.
The chief central planner/administrator of this global bank is Mr. Haruhiko Kuroda. I have followed his monetary expansion for the past five years. His core philosophy consists of negative interest rates and official counterfeiting of the Yen. You can get more details about this central planner here:
https://www.boj.or.jp/en/index.htm/
6. Central Bank of England (BofE): This central planner has been operating since 1694. It is located in the central city area of London. It has enormous influence on monetary affairs for the entire planet. This central planner has led the world with its QE policies and is currently creating billions of QE for its clients. The American Fed has followed the lead of this central planner since its origin in 1913.
The key policymaker for this central planner is: Mr. Mark Carney. Mr. Carney says the following about his QE policies: Quantitative easing (which I call official counterfeiting) involves the bank creating digital money for select clients. We then use this QE to buy things like government debt in the form of bonds. You may also hear it called 'QE' or 'asset purchase' – these are the same thing. The aim of QE is simple: by creating this 'new' money, we aim to boost spending and investment in the economy. QE, however, is the same as 'counterfeiting' a currency for the marketplace. Only a central bank can officially do this operation. You can see more details here:
https://www.bankofengland.co.uk/
7. The Bank of Sweden (Riksbank): This bank is reportedly the first central bank for our planet. It began operations in 1668 in Stockholm, Sweden. This bank was not permitted to print bank notes for much of its history. Today, this bank creates negative interest rates and QE (official counterfeiting of the Krona) on a regular basis. The bank recently celebrated its 300 year anniversary. This central planning institution has enormous influence on monetary affairs within all of Sweden and also the Euro economy. The Swedish Krona has been a key currency for investment  portfolios.
The key policymaker for this central planning institution is: Mr. Stefan Ingves. His current policy is: After several years of strong economic activity and inflation close to the target of 2 per cent, the Swedish economy is slowing down and the economic conditions are becoming more normal.  In line with the forecast from September, the Executive Board has therefore decided to leave the repo rate unchanged at –0.25 per cent.
Stefan says: Swedish monetary policy experiences after the global financial crisis: What lessons are there for other countries? 
Governor Stefan Ingves will hold a speech on lessons for monetary policy after the financial crisis at the MMF Monetary and Financial Policy Conference. You can review additional details here:
https://www.riksbank.se/en-gb/
Conclusion: there are some 193 central banks on our planet. The top 60 are members of the Bank for International Settlements. The key Asian banks are the People's Bank of China, which I have not followed. Another key Asian bank is the Bank of India. The Russian Central Bank may also be key to many Asian economies. The West, however, controls the overall central planning for our planet IMO. I would suggest that our Fed, the Bank of England, the IMF, and the BIS are the key planning institutions for our global markets. See my prior missives on our virtual markets which are now totally rigged via computer driven software.
Going forward, we need to think of Capitalism as mostly over. Today's Wall Street Journal had a good article on "Making Capitalism Great Again". It pointed out that Capitalism is not viewed (today) as relevant by many thinkers. Senator Rubio of Florida says the following: Capitalism needs overhauling because it no longer provides Americans with the dignity that comes from hard work, ownership and raising a family. Rubio says that an economy where politicians such as himself make more of the decisions about where capital gets invested and where businesses and workers cooperate rather than compete for resources is best.
The current mindset of our politicians is that Capitalism has changed and the future will be much different as people understand the details about this prior philosophy. Since the financial crisis of 2008, our markets have become centralized under the umbrella of central planners (select central banks). The above seven are the core planners which I follow on a regular basis. Our elected representatives are no longer in charge of monetary issues going forward. It's our central planners who determine what will happen going forward. Think on this as you review each of the above websites.
Have a great Thanksgiving Holiday. I am: https://kingdomecon.wordpress.com.
STAY INFORMED! Receive our Weekly Recap of thought provoking articles, podcasts, and radio delivered to your inbox for FREE! Sign up here for the HoweStreet.com Weekly Recap.