November 8, 2019 | Diddled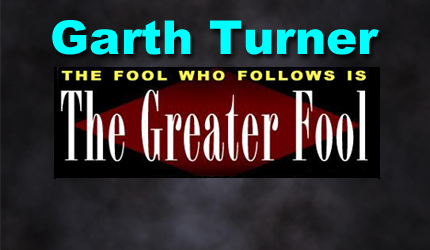 A best-selling Canadian author of 14 books on economic trends, real estate, the financial crisis, personal finance strategies, taxation and politics. Nationally-known speaker and lecturer on macroeconomics, the housing market and investment techniques. He is a licensed Investment Advisor with a fee-based, no-commission Toronto-based practice serving clients across Canada.
Did the feds lie to us prior to the election?
Hmm. Conspiracy stuff. Conservative click bait. But it's an interesting question. The job numbers for September were terrific. Ottawa announced the creation of 135,000 new positions in the two months leading up to the October vote.
Then, pffft.
Last month the country actually shed jobs (when economists expected 15,000 more). But that's just the half of it. Over 40,000 people lost their month in manufacturing and construction. More than 16,000 full-time employees with benefits were replaced by 14,000 part-timers. The biggest areas of job gains – government (20,000) and the real estate/finance biz (18,000).  Great. More civil servants and realtors.
Now, in fairness, the monthly jobs stats are as predictable as this blog. And wage gains were pretty good at more than 4%. But it sure makes an old dog suspicious.
By the way 66% of people voted on October 21st. Of those 33% (5.9 million) picked the Libs and 34.3% went for the Cons (6.1 million). So the T2 gang formed government with the support of 22% of the citizens and won 36 more seats. Can you see why Mr. Trudeau dropped his promise for electoral reform? And why Alberta's pissed?
Okay, on to something happier: Mr. Bond Market.
In case your spouse asked you during an intimate moment this morning, "Yes, but how big is the bond market, lover" here's the answer. In the US it's $10 trillion bigger than stocks. Trading is huge – $700 billion or more a day. And debt just keeps growing, as you know, with governments constantly issuing new bonds. So small changes can have big implications everywhere.
Earlier this week we told you the recession had been called off. Yay. Better-than-expected corporate profits. Good US jobs numbers (unlike ours). A steady-eddy Fed report. Easing of US-China trade tensions. The potential of tariffs being rolled back. A second term for pro-business Trump.
All of that has propelled stocks to new heights. The highs are higher. The lows are higher. Money is flowing from the margins to the centre. Bond prices have tanked as yields surge. Preferreds up. Gold plopped. No need for 'safe haven' stuff when the party's all equities. And while the quixotic president could take the punchbowl away with a single Tweet, the odds are he won't. Or if he does, he'll pivot back. The man is obsessed now with 2020.
Remember the inverted yield curve? How could you forget? That's when the amount of interest paid by short-term debt (of a few months, for example) is higher than the yield on long stuff (a decade or more). It shows Mr. B. Market is expecting future growth to dissipate, inflation to crash and the economy contract. Last summer it was all the talk as the amount of interest paid by 10-year US Treasuries plunged to 1.4%, sending bond prices surging. Money coursed from stocks to bonds. The doomers flooded into the comments section. Guts everywhere.
Now it's all changed. On Thursday the biggest jump in yields of the Trump presidency took place, and that 10-year note is again near the 2% level. In the bond world, that's big. The signal now is not for recession, but growth.
The thinking is that the Fed, in raising rates nine times, might have been a little too frisky in its monetary policy. So when the US economy staggered a bit (and as Trump sharpened the trade war) the central bankers backed off. Three rate cuts have ensued, and the expectation is America may be achieving that mythical 'soft landing.' That's when an economy cools and stabilizes after a period of growth, but avoids crashing into a job-killing crater. No smoky hole in the ground. Instead, a safe descent.
So, new records this week. Thus far in 2019 the Dow is ahead 18%. The S&P 500 is up 23%. Bay Street has added 17%. A balanced and diversified portfolio has plumped 10%, and with far less volatility.
Anything could happen to throw the numbers off. But for investors this has been a helluva year. Now that the bottom has been made for interest rates there's more certainty about what lies ahead. At least in the States.
Four years from now there will still be a President Trump. But a Prime Minister Trudeau?
STAY INFORMED! Receive our Weekly Recap of thought provoking articles, podcasts, and radio delivered to your inbox for FREE! Sign up here for the HoweStreet.com Weekly Recap.