November 18, 2019 | American Empire Slowly Collapsing! What Next?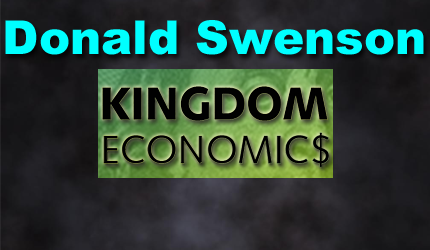 Donald B. Swenson: Born January 24, 1943, Roseau, Minnesota. Graduated H.S. 1961, Moorhead High, Minnesota. Graduated College 1968, Moorhead State University, Minnesota. Designated member of Appraisal Institute (MAI), 1974. Employed with Western Life Insurance Company, 1968 – 71; Iowa Securities Company, 1971 – 73; American Appraisal Company, 1974 – 81. Part-time teacher/valuation consultant/bartender, 1979 – 2008 (taught workshops at Waukesha County Technical Institute, Wi. and Madison Area Technical College, Wi.). Retired 2008 (part time teacher/blogger), AZ. Self educated economist/philosopher/theologian: http://kingdomecon.wordpress.com.
The evidence in our marketplace reveals that the American Empire of Might makes Right is gradually collapsing as the world becomes interconnected and global. Our digital age has revealed the flaws within the American system of government and her philosophy…and the world does not want this system (called American Democracy) going forward. America is now polarized and a negative disunity is everywhere. Our system is in collapse mode going forward. Watch the news for new evidence daily. What are some examples of this collapse that I recognize as relevant:
1. The Impeachment hearings will likely lead to a House Impeachment of our President soon. The Senate may not follow through with a formal removal of Mr. Trump from his position of President but the soap opera will continue. An accelerated collapse will be evident in 2020. This soap opera is unlikely to die as the entire political empire of America is collapsing (our ideas, values, and philosophy are not wanted by the many). American hegemony over our planet is now recognized as ineffective and undesirable for promoting real freedom, peace, and security for our planet.
2. American financial affairs are in shambles but few notice as our leaders have abandoned any efforts to solve our financial affairs. Kicking the can down the road is the mindset of our leaders. Our debt, deficits, and entitlement issues are beyond resolution (so it seems). Just look at the numbers for evidence:  http://www.usdebtclock.org.
3. Our military might is not able to solve the world's security problems. Force and bombs do not change people's beliefs about the world or about their real inner desires. Look at the mess which America has created over in the Middle East. America has been in Afghanistan for over 18 years with no resolution to the ideological issues which started the process. Bombs and missiles can not solve people's inner beliefs about themselves or their future desires about change. Force begets counter force and this leads to nothing positive for the world. A trend in motion will continue until it ends, however. The end is now obvious to those with some wisdom and discernment.
4. Look at prior democracies which America has supported which are now collapsing. Bolivia is in shambles with their democracy. Venezuela can not solve their ideological issues. Hong Kong wants real freedom and not more dictatorship. Chile, Argentina, India, Pakistan, Israel, Syria, Iraq, Iran, Russia, North Korea, all of Europe, and most of Asia can not solve their political, financial, military issues. Every nation is in turmoil and nothing can be solved using methods from the past. At some point this message must ring true for all citizens. The end of America's impositions has arrived.
5. American might and influence will soon be rejected by most of the world community. It has already started. This means that the collapse of the American Empire will accelerate in 2020. As this happens in real-time, the world system will also weaken, slow down, and gradually fragment. Fragmentation means that the game for America is now over. The ideas of America (democracy for the world) is unworkable. Democracy (as our founding fathers said) leads to Mob Rule. Mob Rule leads to collapse. Collapse is now the trend for America and also the entire world system.
6. The past efforts of America to create a world of democracy for the planet has been revealed as seriously flawed. Democracy is not real freedom. Democracy is merely 'man governing man' with the consent of the voters. This does not lead to real freedom (witness Hong Kong, Bolivia, Iran, Syria, China, and Venezuela). It leads merely to a Mob Rule over the people. America reveals this Mob Rule (now a negative polarized rule) as people watch the news from Washington D.C. Impeachment will accelerate this polarization and fragmentation.
7. The American Empire is in its final phase of collapse and this will accelerate in 2020. Those with some wisdom can discern this reality. The end game for America's hegemony over this planet is ending. The big issues are financial, political, cultural, and spiritual. The world now desires a NEW MODEL and then a NEW SYSTEM for this planet. You know my views on this. I will end this review for now. Have a great day and watch events as they change us all in the coming years!
STAY INFORMED! Receive our Weekly Recap of thought provoking articles, podcasts, and radio delivered to your inbox for FREE! Sign up here for the HoweStreet.com Weekly Recap.