November 17, 2019 | A Golden Lifeboat to Protect You from the $250 Trillion Tsunami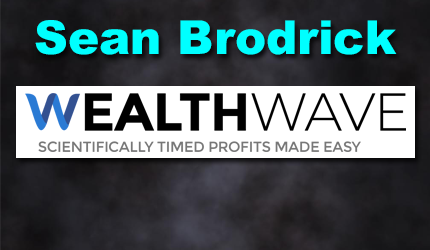 Sean is the natural resource analyst for Weiss Ratings. You can read his thoughts on gold, oil, cannabis, uranium and other natural resources at Wealth-Wave.com
There is a tidal wave of debt surging around the world.
Total global debt hit a record high of over $250 trillion in the first half of this year. The International Institute of Finance (IIF) says debt surged by $7.5 trillion in the first six months of 2019. And will soar past $255 trillion by the end of the year.
What's a humble investor to do?
I say take a tip from Noah: Get ready to ride out this massive flood of debt.
And the best way to do that is with a golden lifeboat. After all, the governments of the world can print fiat currency from the bottom of Death Valley to the top of Mt. Ararat.
But no one can print gold.
I assume you've seen my just-released video on the massive opportunities this is creating. If not, I strongly urge you to watch it this weekend.
I say that for two reasons: First because the train is about to leave the station and you could get left behind. And second because I'm taking it offline early next week. (Click here to watch it before it's gone.)
Meanwhile, the debt pile-up continues.
China and the U.S. accounted for over 60% of the increase in global debt, by the way. Sure, corporations and consumers are piling it on. The International Monetary Fund (IMF) warned last month that corporate debt levels are hurtling toward default. The IMF says $19 trillion of corporate debt in major economies (Japan, Europe, the U.S., China) is at risk of default.
That's 40%!
U.S. Government Goes Berserk for Debt
When it comes to piling on the debt, though, governments are the leaders. The IIF reports that global government debt will surge past $70 trillion this year. That's up from $65.7 trillion in 2018.
The leading offender? The U.S. government.
Yep, the U.S. government is really going above and beyond to make sure we're all drowning in red ink.
The U.S. budget deficit hit $134.5 billion last month, and the U.S. will end its fiscal 2019 with the largest deficit in seven years — $984.4 billion.
You know what they say. A billion here, a billion there … and soon it adds up to real money.
In a congressional appearance Wednesday, Federal Reserve Chairman Jerome Powell said the "federal budget deficit is on an unsustainable path, with high and rising debt."
Duh. Maybe Powell and his friends at the Fed should stop propping up the market by buying $60 billion a month in bonds — a scheme it plans to continue at least into Q1 2020, and maybe into Q2.
Just don't call it "quantitative easing."
The Fed hates that.
You'll be glad you own gold and miners when this is over.
With what's going on in the world, I'm surprised the price of gold isn't much higher already. It will get there pretty soon.
'Unsustainable' Should Scare the Pants off Anyone!
Let's go back to Powell's statement. What does "unsustainable" mean?
It means that eventually, the government won't be able to cover the interest on its debt. And that will be a crisis. It's impossible to predict when this crisis will be. But we know it's coming.
How will the government react? We don't know. But the EASIEST way to deal with the crisis is inflate our way out of it. Run those metaphorical printing presses at ludicrous speeds. And again, while the government can print money all it wants, you can't print gold.
So, gold is going to hold its value in that kind of crisis. And that's not all it has going for it.
There's also the fact that gold and miners — which are leveraged to the underlying metal and behave accordingly — have had the stuffing beaten out of them for years. They are VALUE investments now. That means the risk/reward ratio is very good.
What's more, the volatility in gold is quite low. This party hasn't even started yet.
Gold also has twin tailwinds that I've talked about in the past, central bank buying and falling real interest rates. Both are supportive of gold prices.
Finally, the technical setup for gold is very strong. Let me show you a long-term chart of gold …
You can see that gold enjoyed a massive surge from 2009 to 2011. In fact, it rallied a whopping 163%!
If that seems like a lot, you need to see this:
Gold miners — leveraged to the metal — soared 223% at the same time. And that was a broad basket of miners, as tracked by the Philadelphia Gold & Silver Index. Select individual stocks went much, much higher.
The Big Breakout
Anyway, gold peaked in 2011, and it fell hard. And for the past six years, it has built a rounded base. Now, as you can see on the chart, gold has broken out of that base.
How high can gold go? Well, look at all those bullish forces I laid out for you. I think gold can go higher than most people imagine possible.
And if we experience a real funding crisis, even a currency crisis? Well, that's when you'll really want that golden lifeboat.
That boat should be constructed not only of physical gold, but also the best mining stocks. You'll want that leverage.
You still have a little time. After all, the party in gold has only just started. But don't waste too much time getting ready to make your grand entrance.
That tsunami is coming. You'll want to ride that surge.
All the best,
Sean
STAY INFORMED! Receive our Weekly Recap of thought provoking articles, podcasts, and radio delivered to your inbox for FREE! Sign up here for the HoweStreet.com Weekly Recap.