October 28, 2019 | Welcome To The Third World, Part 30: California Burning In The Dark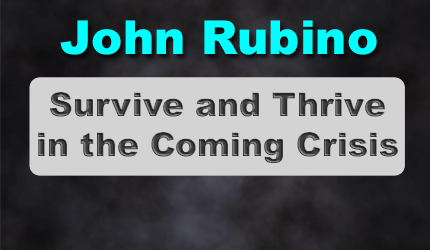 John Rubino is a former Wall Street financial analyst and author or co-author of five books, including The Money Bubble: What To Do Before It Pops and Clean Money: Picking Winners in the Green-Tech Boom. He founded the popular financial website DollarCollapse.com in 2004 and sold it in 2022.
Venezuela has suffered through recurring power outages this year, as money for routine maintenance dries up and power plant employees flee the country (and, okay, as the US practices its cyberwar skills on a vulnerable target).
Some of the blackouts have lasted as long as a week. Here's an aerial photo comparing Caracas on a normal night with a "new normal" blackout night.
Why open a post on California's blackouts with Venezuela? Because the latter is not a surprise. A socialist Latin American country is expected to spend a fair bit of time in the dark while its impoverished citizens barter cigarettes for gasoline.
Meanwhile we Americans, safe in the belief that our big systems are well-run, can't imagine ending up in such a self-inflicted mess. And yet…this month Californians are enduring rolling blackouts as the (now bankrupt) local utility tries to avert a repeat of last year's equipment-failure-caused fires that destroyed entire towns. See Paradise CA "wiped off the map" by fire.
And where America's traditional take on natural disasters is that they happen, we throw the needed resources into rebuilding, and normal life returns — that may not be possible this time:
(NBC) – As PG&E begins a second round of fire-safety power shutoffs, it warns a third, bigger blackout could be needed as soon as the weekend.

Hundreds of thousands of residents of Northern California whose power will be shut off in the next two days got even worse news Wednesday: Another, even larger, blackout is likely over the weekend.

The state's largest utility, Pacific Gas and Electric Corp., or PG&E, began shutting off electricity to nearly a half-million people Wednesday afternoon, the second massive blackout in two weeks. It said hot, dry winds and low humidity were creating a high risk of sparks and "rapid wildfire spread" from its long-neglected power lines.

The blackouts will eventually spread to parts of 17 counties — including such large communities as Santa Rosa, Sonoma and Napa but not San Francisco or San Jose — at least through Thursday afternoon and through Friday afternoon in other parts of the region, PG&E said.

In the southern part of the state, Southern California Edison began cutting off power to almost 27,000 customers on Thursday and said it was considering shutoffs to almost 400,000 more. The potential coverage area includes such large communities as San Bernardino, Malibu, Irvine, Glendale and Palm Springs but not Los Angeles itself, which is served by a separate power company. Total potential blackouts could exceed 1 million.

"Some would say, 'It's life.' But I think it's not the life we used to have," John Sikora of Placerville told KCRA. "I think it could easily be changed."

PG&E is in the largest bankruptcy proceeding in U.S. history, threatened by as much as $18 billion in potential liabilities from the role its power lines played in several highly destructive fires that burned hundreds of thousands of acres of Northern California in 2017 and 2018.

The company has warned that wide-scale rolling blackouts could be needed for as long as a decade as it races to harden its transmission systems, calling it "a multi-year journey."

"We do think that this is the new normal that we need to be prepared for," Ari Vanrenen, a spokeswoman for the utility, told NBC News during the blackouts earlier this month.
Which brings us back to Venezuela and the rest of what used to be called the Third World, where overpopulation collides with corruption and mismanagement to produce crises that never really end. Their citizens' lives are hard in ways that middle class American's can't imagine. But as the US and the rest of the developed world make basically the same mistakes – overborrowing while moving tens of millions of people to large cities and/or disaster-prone regions like Southern California and the East Coast's hurricane alley, this same combination of too many crises and not enough wealth is producing a Third World style permanent cut in living standards.
What happens next is predictable: Over-indebted governments faced with the need to bail out everyone in sight will create a tidal wave of new currency to keep the chaos at bay, leading to a collapse in those currencies' value.
California, as usual, seems to be leading the way.
STAY INFORMED! Receive our Weekly Recap of thought provoking articles, podcasts, and radio delivered to your inbox for FREE! Sign up here for the HoweStreet.com Weekly Recap.