October 2, 2019 | Warren and the End of Days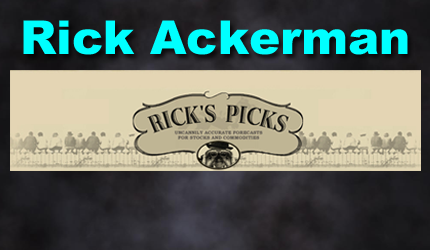 Rick Ackerman is the editor of Rick's Picks, an online service geared to traders of stocks, options, index futures and commodities. His detailed trading strategies have appeared since the early 1990s in Black Box Forecasts, a newsletter he founded that originally was geared to professional option traders. Barron's once labeled him an "intrepid trader" in a headline that alluded to his key role in solving a notorious pill-tampering case. He received a $200,000 reward when a conviction resulted, and the story was retold on TV's FBI: The Untold Story. His professional background includes 12 years as a market maker in the pits of the Pacific Coast Exchange, three as an investigator with renowned San Francisco private eye Hal Lipset, seven as a reporter and newspaper editor, three as a columnist for the Sunday San Francisco Examiner, and two decades as a contributor to publications ranging from Barron's to The Antiquarian Bookman to Fleet Street Letter and Utne Reader.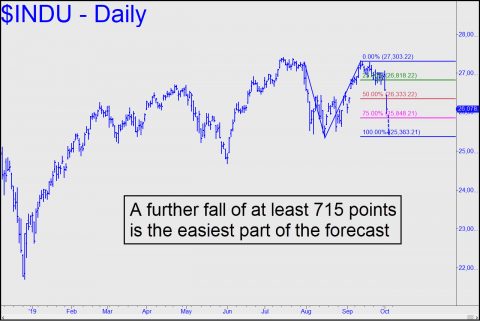 Sellers turned gutless Wednesday night after swinging a wrecking ball for most of the day. Shortly before midnight, index futures were trading moderately higher. Usually, prices move at night only when impelled by news that makes buying or selling over short stretches nearly riskless.  It wasn't news that sent the Dow Industrials plummeting nearly a thousand points over the last two days, however; rather, it was a negative drumbeat over the last several weeks that persisted for long enough to feed into a presumably minor bear cycle.
I say 'minor' in respect of a forecast I made here earlier — i.e., that the bull market would keep on chugging at least until AAPL, the key bellwether stock these days, ascends to at least 242.48. That's a $24 leap from here, equating to about 11%.  Although AAPL got slammed on Wednesday, it still closed above Friday's settlement price, showing the kind or resilience we should expect from a stock that portfolio managers revere above all others (save only Boeing, had the second 737 Max crash never happened).  Regardless of what AAPL does over the next few days, odds of the DJIA not falling to at least the 25,363 target shown (or alternative to a maximum 25,280) are close to zero in my estimation.
First, AAPL to $242
So confident am I that Apple shares will reach the $242 target in the next bull run that I have banished from my mind a long list of troubling economic developments in the U.S. and abroad.  But more bearish than any such factors is a political one: the perception that Trump is likely to lose the election. This idea has little force at the moment and is unlikely to gain in strength merely because the Democrats are intent on doing him in. Their tactics have been increasingly desperate and clumsy, and that is no way to win an election. The wild card is the stock market itself, since a prolonged downtrend could shift perceptions of the economy sufficiently to trigger the recession that is surely coming sooner or later.
That would wreck Trump's chances while boosting Elizabeth Warren's.  Some Wall Street denizen was quoted recently as saying the markets probably wouldn't open the day after a Warren victory. More realistic is that investors would have sniffed this out months before election day and discounted it with a 10,000 point drop in the Dow.  Cooler heads would eventually prevail, but when everyone came to their senses and realized that Warren was indeed in charge, the DOW would probably shed another 5,000-8,000 points. The NYSE could declare a 30-day emergency, but that would only delay Armageddon, not prevent it. GOP-leaning historians would blame Fauxcahontas for the subsequent Second Great Depression; while others — socioeconomist Bob Prechter, for one — would correctly see that her time — the end of boom times, that is — had finally arrived.
STAY INFORMED! Receive our Weekly Recap of thought provoking articles, podcasts, and radio delivered to your inbox for FREE! Sign up here for the HoweStreet.com Weekly Recap.