October 30, 2019 | Wafting Into Thin Air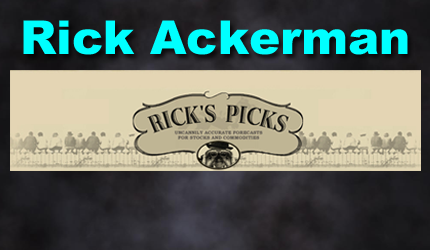 Rick Ackerman is the editor of Rick's Picks, an online service geared to traders of stocks, options, index futures and commodities. His detailed trading strategies have appeared since the early 1990s in Black Box Forecasts, a newsletter he founded that originally was geared to professional option traders. Barron's once labeled him an "intrepid trader" in a headline that alluded to his key role in solving a notorious pill-tampering case. He received a $200,000 reward when a conviction resulted, and the story was retold on TV's FBI: The Untold Story. His professional background includes 12 years as a market maker in the pits of the Pacific Coast Exchange, three as an investigator with renowned San Francisco private eye Hal Lipset, seven as a reporter and newspaper editor, three as a columnist for the Sunday San Francisco Examiner, and two decades as a contributor to publications ranging from Barron's to The Antiquarian Bookman to Fleet Street Letter and Utne Reader.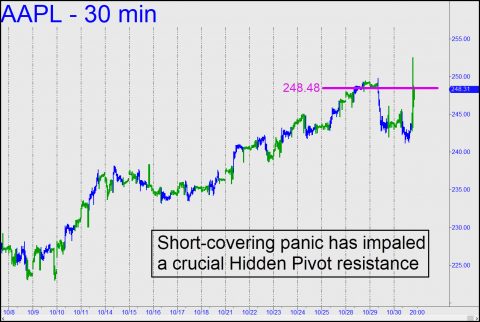 rose Wednesday on the ho-hum news of a third rate-cut in 2019. Will it be the last? Of course not; it's only a matter of time before Fed chief Powell dons his well-worn knee pads and gives Wall Street and the President whatever they want. For now, though, Powell & Co. would have us believe that the U.S. economy is doing fine and that there is no urgent reason for more easing. That's baloney, of course, even if their little white lie is somewhat mitigated by the flurry of activity in the housing sector. Refinancing and home sales have picked up with 30-year mortgages down at 3.75%, and we can be confident that real estate will remain buoyant, at least, if rates continue to fall. A point lost on the dim bulbs who report on such things is that it will come at a cost. For although marginally qualified buyers may finally have an opportunity to "own" a home, they will be getting in the door at inflated prices. This is bound to become burdensome when the next recession hits, especially if home prices fall even a little, never mind significantly. As for all of that re-fi money, that's how the Fed shakes dollars from trees to pay for free lunches, and there's no denying that it will add to household liquidity. But don't expect consumers to spend it all, or even most of it, on bling.  They can sniff a recession coming just as you and I can, and, fully ten years into a recovery cycle, they are not fooled by the stock market's autumnal exuberance.
Puttin' on the Ritz
This just in: We see that the usual suspects have seized control of AAPL in after-hours trading. The flurry of short-covering due to bullish Q3 earnings news has pushed the stock decisively past a 248.48 resistance that was drum-rolled here the other day. Yes, it's possible that by the time you read this AAPL will have detumesced sufficiently to fill buyers with remorse.  However, the bear panic will nonetheless have blown a key resistance to smithereens, smoothing a path to at least 283.97, a Hidden Pivot that lies 14% above. When the shares of the most valuable company in the world are rising so strongly, that will put a floor beneath stocks and pull the broad averages significantly higher.  Realize that it is panicky bears more than any other source of buying that helps sustain the illusion of a strong stock market. We hesitate to say "healthy" stock market because no one in his right mind could believe that the relentless buying that has occurred in recent months with the global economy tottering is healthy. However, like the bolt of lightning that brought Frankenstein to life, short-covering has caused Tesla shares that were in a death spiral to tap-dance to the Street's version of Puttin' on the Ritz. Never mind that Tesla's bullish earnings surprise was attributable in large part to dazzling accounting tricks that would cause any serious auditor to roll his eyes. Expect the dog-and-pony show to continue shamelessly as stocks ascend into the thin air amidst faltering earnings projections and diminishing real returns on funny money.
STAY INFORMED! Receive our Weekly Recap of thought provoking articles, podcasts, and radio delivered to your inbox for FREE! Sign up here for the HoweStreet.com Weekly Recap.