October 5, 2019 | Trading Desk Notes October 5, 2019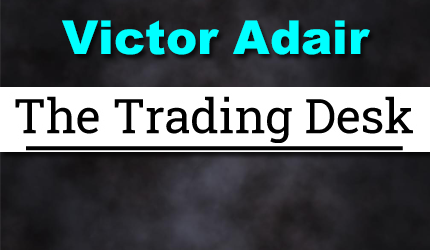 Victor Adair, author of The Trading Desk Notes, began trading penny mining shares while attending the University of Victoria in 1970. He worked in the mining business in Canada and the Western United States for the next several years and also founded a precious metals trading company in 1974. He became a commodity broker in 1977 and a stock broker in 1978. Between 1977 and his retirement from the brokerage business in 2020 Victor held a number of trading, analytical and senior management roles in Canada and the USA. Victor started writing market analysis in the late 1970's and became a widely followed currency analyst in 1983. He started doing frequent media interviews in the early 1980's and started speaking at financial conferences in the 1990's. He actively trades his own accounts from The Trading Desk on Vancouver Island. His personal website is www.VictorAdair.ca.
The major US stock indices fell sharply (DJIA down 1,200) Tuesday through Thursday as weaker-than-expected PMIs provided more evidence that the economy is slowing and as political tempers flared in Washington. The stock indices bounced back hard Thursday/Friday, recovering ~55% of the earlier losses on anticipation of more cuts from the Fed and as the key monthly employment report was generally better that expected…certainly better than feared! At the end of the week the major indices were down ~2.5% from their recent All Time Highs.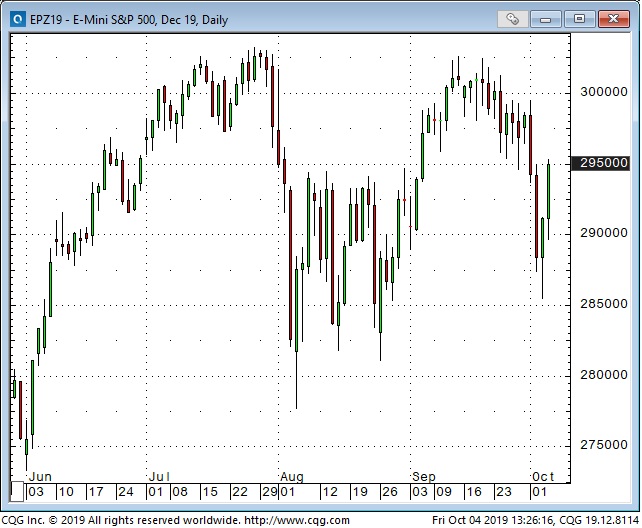 The bond market rallied every day  this week with the 10 year UST-Note yield falling to ~1.52% on recession worries, anticipation of an easier Fed and likely also on continuing capital flows from equity markets to fixed income markets.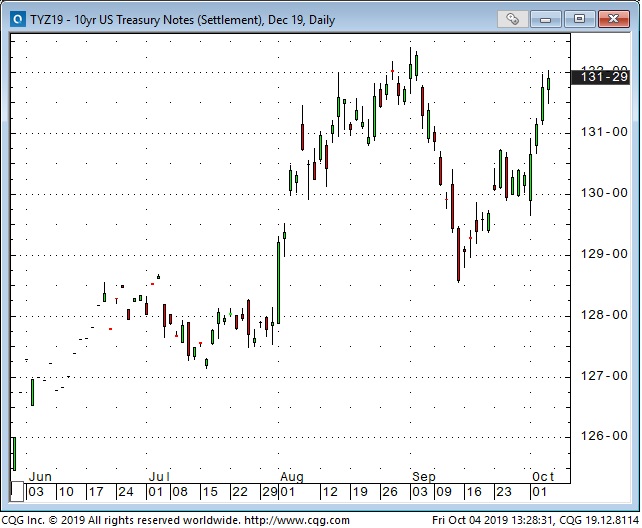 The US Dollar Index (DXY) hit a new 28 month high early in the week but fell back on anticipation of easier Fed policies and rising political uncertainty in Washington. The Index in this chart is heavily weighted with a basket of European currencies (77.3%) with additional weights from Japan (13.6%) and Canada (9.1%.) This US Dollar Index has risen ~10% since April 2018 in a choppy grinding rally…but gains against individual currencies have been uneven as the following table illustrates.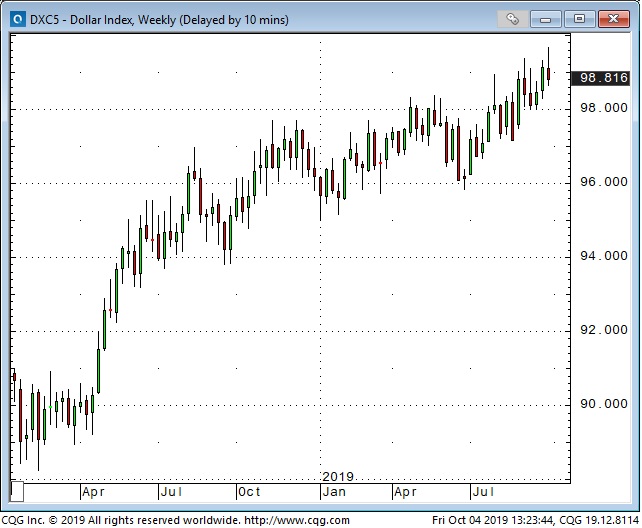 US Dollar gains against foreign currencies April 2018 to present:
Japanese Yen: zero
Swiss Franc: ~4%
Canadian Dollar: ~5%
Mexican Peso: ~6%
Indian Rupee: ~9%
Euro: ~11%
Korean Won~12%
Chinese RMB: ~13%
Norwegian Krone: ~14%
UK, New Zealand and Sweden: ~15%
Australia: ~ 16%
Brazil and South Africa: ~20%
Gold is currently up ~8% Vs. the USD since April 2018…and obviously it is up even more against all of the above currencies!
WTI crude oil jumped as much as $9 immediately following the attacks on Saudi oil facilities Sept 14 but prices have fallen back relentlessly since then with November WTI tumbling from ~$64 to a low of ~$51 this week. That market closed at $55 the day before the attacks. The price decline to this week's lows may have been accelerated by signs of slowing economic activity (less demand for crude?) and in "sympathy" with the sharp break in global stock markets (I have often noted the correlation between WTI and equity index prices…especially at significant turning points.)
Gold fell to a 2 month low ($1465) early this week as the USD Index hit new 28 month highs. I wrote last week that a decisive break below $1490 basis December could set off a "falling dominos" wave of selling given the ATH in Comex open interest and net speculative long positioning. It looked like that break was beginning to happen on Monday and early Tuesday until the PMI report triggered a wave of selling in the stock indices and the USD…and a wave of buying in bonds and gold.
Since last November gold and bonds have rallied more-or-less together...with the rally in both markets going into "over-drive" in July/August.  My view has been that falling interest rates…especially falling real interest rates have been the main driver of the gold rally. Most of the time a strong USD, such as we've seen over the past year is a headwind for gold…but not this time…gold has been rising against all major currencies including the USD. There has also been a HUGE swing in gold sentiment. One year ago Comex speculators were net short gold…for the first time in over 10 years…and the momentum of their buying accelerated as gold rallied above the $1350 highs of the past couple of years.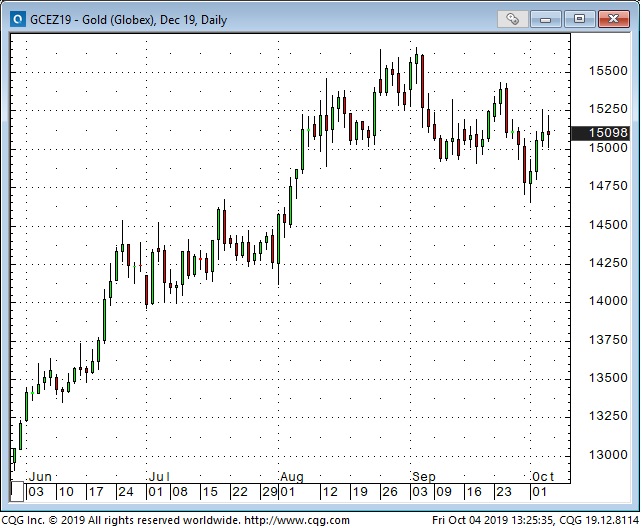 Political tensions between Trump and the Democrats ramped up this week over the impeachment issue…but I wonder if/when markets will start to anticipate a very hostile/divisive election campaign next year. Ask yourself how markets will react if they start to believe that Elizabeth Warren will become President.
My short term trading: I got back to my trading desk near the end of last week after being on the road for a week. I'd been flat while away and eased back into trading by buying S+P puts when the market looked weak Friday morning. It sold off later in the day on the "capital restrictions on Chinese investments" story but the bounce back late Friday caused me to have second thoughts. I covered the puts for a small loss when the market moved higher Monday and "totally missed" being short as the market plunged Tuesday and Wednesday. This was a great example of my idea that, "Trading is not a game of perfect!"
I shorted gold Sunday afternoon. I had written about it looking to be at risk of a break down so I positioned for that and covered for a nice ($16) gain when gold began to rally off its lows on the Tuesday ISM report.
I bought Swiss Francs near 4 month lows on the Tuesday PMI report (I could just as easily have bought gold) and sold them into the close for a nice (40 points) gain.
I took a couple of stabs at shorting gold Thursday when it failed to sustain its gains on the services PMI report but took small quick losses.
I re-shorted gold Friday and also sold WTI puts thinking that the selloff in crude was WAY overdone and WTI might catch a bid from the stock market rally. At the end of the week I'm short gold and (effectively) long WTI.
PI Financial Corp. is a Member of the Canadian Investor Protection Fund. The risk of loss in trading commodity interests can be substantial. You should therefore carefully consider whether such trading is suitable for you in light of your financial condition. In considering whether to trade or the authorize someone else to trade for you, you should be aware of the following. If you purchase a commodity option you may sustain a total loss of the premium and of all transaction costs. If you purchase or sell a commodity futures contract or sell a commodity option or engage in off-exchange foreign currency trading you may sustain a total loss of the initial margin funds or security deposit and any additional fund that you deposit with your broker to establish or maintain your position. You may be called upon by your broker to deposit a substantial amount of additional margin funds, on short notice, in order to maintain your position. If you do not provide the requested funds within the prescribe time, your position may be liquidated at a loss, and you will be liable for any resulting deficit in your account. Under certain market conditions, you may find it difficult to impossible to liquidate a position. This is intended for distribution in those jurisdictions where PI Financial Corp. is registered as an advisor or a dealer in securities and/or futures and options. Any distribution or dissemination of this in any other jurisdiction is strictly prohibited. Past performance is not necessarily indicative of future results
STAY INFORMED! Receive our Weekly Recap of thought provoking articles, podcasts, and radio delivered to your inbox for FREE! Sign up here for the HoweStreet.com Weekly Recap.