October 5, 2019 | The Precious Metal Equities Have a Good Day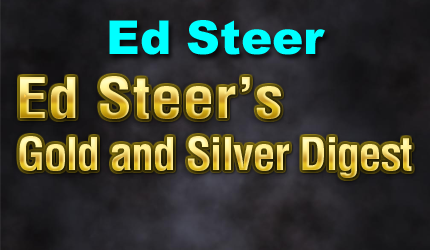 "Ed wrote the daily precious metal commentary for Casey Research starting in 2008. His stand-alone column became their most highly-rated blog [either free or paid] almost from the outset—and remained that way until he started his own subscription-based website in June of 2015."
YESTERDAY in GOLD, SILVER, PLATINUM and PALLADIUM
The high and low ticks certainly aren't worth looking up.
The gold price was closed at $1,504.00 spot, down 80 cents on the day.  Net volume was very heavy at a bit over 326,500 contracts — and there was a bit under 18,500 contracts worth of roll-over/switch volume on top of that.
The price pattern in silver was virtually the same as it was for gold, although the sell-off at 8:30 a.m. on the jobs number was a bit more severe than it was for gold.  But it bounced back — and was in the green by about a nickel by the 1:30 p.m. EDT COMEX close in New York.  However, that tiny gain was taken away in the very thinly-traded after-hours market.
The high and low ticks in silver were reported by the CME Group as $17.745 and $17.33 in the December contract.
Silver was closed at $17.51 spot, down 1 cent from Thursday.  Net volume was pretty quiet, all things considered, at about 58,500 contracts — and there was only 1,590 contracts worth of roll-over/switch volume in this precious metal.
The platinum was price was stair-stepped quietly and unevenly lower starting shortly after 10 p.m. China Standard Time on their Friday morning.  It was then sold down hard starting at 2 p.m. CEST in Zurich/8 a.m. in New York.  Its low also came at 9 a.m. EDT and, like silver, crawled higher until the COMEX close.  It was sold a few dollars lower over the next thirty minutes, before trading sideways until trading ended at 5:00 p.m. EDT.
The palladium price mostly wandered around the unchanged mark until a vicious down/up spike occurred at noon in Zurich trading.  It then traded pretty flat until 9 a.m. EDT — and its subsequent rally was capped and turned lower around 11:35 a.m. in New York.  It was sold lower until 12:30 p.m. EDT — and didn't do much of anything after that.  Palladium was closed at $1,647 spot, up 10 dollars from Thursday.
---
Here are the usual three charts from Nick that show what's been happening for the week, month — and year-to-date. The first one shows the changes in gold, silver, platinum and palladium for the past trading week, in both percent and dollar and cents terms, as of their Friday closes in New York – along with the changes in the HUI and the Silver 7 Index.
The usual 'wash, rinse, spin' cycle got interrupted.  We're back above the 50-day moving averages in both gold and silver — and it remains to be seen where we go from here.  Are we done to the downside, or are there more engineered lower prices in our futures?  We'll find out in due course…however all the signs out there point to big goings-on under the surface just out of sight.
---
So far in October, there have been an eye-watering 10,390 gold contracts issued/reissued and stopped — and that number in silver is 914.
---
Month-to-date…the last four business days…the mint has sold 2,500 troy ounces of gold eagles — 280,000 silver eagles — and 42,200 of those 'America the Beautiful' 5-ounce silver coins.
---
They arrived at that number by selling 850 long contracts, but reduced their short position by 2,848 contracts — and it's the difference between those two numbers that represents their change for the reporting week.
Under the hood in the Disaggregated COT Report, it was all Managed Money traders, plus more, as they reduced their long position by 3,553 contracts — and also added 1,178 short contracts.  It's the sum of those two numbers…4,731 contracts…that represents their change for the reporting week.
As it must be, the difference between that number — and the Commercial net short position…4,731 minus 1,998 equals 2,733 contracts…was made up by the traders in the other two categories.  The 'Other Reportables' increased their net long position by 3,817 contracts — and the 'Nonreportable'/small traders went in the other direction, decreasing their net long position by 1,084 contracts.  The difference between those two numbers is the aforesaid mentioned 2,733 contracts.
With the new Bank Participation Report in hand, Ted estimated that JPMorgan's short position is around the 22,000 contract mark…basically unchanged from the 22-23,000 contracts that he estimated their short position to be in last week's COT Report.
The Commercial net short position in silver is down to 368.9 troy ounces, little changed from the prior week's report.
So, despite the fact that silver's 50-day moving average was broken to the downside with some authority during the reporting week, the technically oriented Managed Money traders basically stood their ground and didn't sell much of anything — and therefore, the commercial traders weren't able to cover very much of their short position.
So why was that, you ask?
As you can imagine, Ted and I had quite a discussion about that on the phone yesterday afternoon — and I'll be more than interested in what he has to say in his weekly review later this afternoon.
I put forward the idea/theory that maybe the brain-dead moving average-following Managed Money traders did sell in droves…following their usual Pavlovian response to such moving average penetrations.  But that selling was masked by equally ferocious buying by the non-technical value investing Managed Money traders — and that their buying masked the true amount the former was selling.  If that was the case — and remember it's only a theory, then the rather bearish COT Report that we're looking at, may not be as bearish as it seems.
So it's impossible to know if we're done to the downside or not — and that will only sort itself out in the fullness of time — and not too much time, I hope.
---
They arrived at that number by selling 535 long contracts, but also reduced their short position by a hefty 41,992 contracts — and it's the difference between those two numbers that represents their change for the reporting week.
Under the hood in the Disaggregated COT Report, it was all Managed Money traders, plus more, as they decreased their long position by 45,518 contracts — and they also added 1,542 short contracts.  [Ted was surprised that they didn't add more short contracts than they did.] It's the sum of those two numbers…47,060 contracts…that represents their change for the reporting week.
The difference between that number — and the commercial net short position…47,060 minus 41,457 equals 5,603 contracts…was made up, as it always must be, by the traders in the 'Other Reportables' and 'Nonreportable'/small trader categories.  Both increased their net long position during the reporting week…the former by 3,609 contracts — and the latter by 1,994 contracts.  The sum of those two numbers is 5,603 contracts.
Ted figures that JPMorgan reduced their short position in gold by around 10,000 contracts during the reporting week, leaving them with a short position of about 45,000 COMEX contracts.  There's more about this in the Bank Participation Report data below.
The commercial net short position in gold is down to 30.36 million troy ounces.
Despite the improvement during the reporting week, gold is still very much in the bearish camp — and the only way to fix that situation is for the Big 8 traders to continue to engineer the gold price lower.  But whether that event is in our future, remains to be seen.  However, if/when does occur, then you'll know the reason why.
---
---
As I mentioned in my COT commentary in silver above, Ted figures that JPMorgan is short around 22,000 COMEX silver contracts…virtually unchanged from last week's COT Report.
22,000 COMEX contracts…is 110 million troy ounces of paper silver, which works out to around 47 days of world silver production the JPMorgan is short, down 1 day from last week's COT Report.
JPMorgan is still the biggest silver short on the COMEX futures market by a decent amount.  Citigroup is in second place — and not all that far behind.
---
[The October Bank Participation Report covers the time period from September 3 to October 1 inclusive.]
JPMorgan, Citigroup and HSBC USA would hold the lion's share of this short position.  But as to who other U.S. bank might be that is short in this BPR, I haven't a clue, but it's a given that their short position would not be material.  Ted mentioned on the phone yesterday that JPMorgan is short around 45,000 contracts of the total net short position held by these 4 U.S. banks as of Tuesday's COT Report.  That's just about 50 percent.
Also in gold, 28 non-U.S. banks are net short 96,587 COMEX gold contracts.  In the September's BPR, 30 non-U.S. banks were net short 114,958 COMEX contracts…so the month-over-month change shows a reduction of 18,371 contracts.
At the low back in the August 2018 BPR…these same non-U.S. banks held a net short position in gold of only 1,960 contacts!
However, as I always say at this point, I suspect that there's at least two large non-U.S. bank in this group, one of which would include Scotiabank.  It's certainly possible that it could be the BIS in the No. 1 spot.  But regardless of who this second non-U.S. bank is, the short positions in gold held by the remaining 26 non-U.S. banks are immaterial.
As in gold, the three biggest short holders in silver of the four U.S. banks in total, would be JPMorgan, Citigroup and HSBC USA.  Whoever the remaining U.S. bank may be, their short position, like the short position of the smallest U.S. bank in gold, would be immaterial in the grand scheme of things.
Also in platinum, 20 non-U.S. banks are net short 18,701 COMEX contracts in the October BPR, which is up a bit from the 16,647 COMEX contracts that 19 non-U.S. banks were net short in the September BPR.  [Note: Back at the July 2018 low, these same non-U.S. banks were net short only 1,192 COMEX contracts.]
Also in palladium, 13 non-U.S. banks are net short 2,477 COMEX contracts-which is up a decent amount from the 1,965 COMEX contracts that these same 13 non-U.S. banks were short in the September BPR.
But when you divide up the short positions of these non-U.S. banks more or less equally, they're completely immaterial…especially when compared to the positions held by the 4 U.S. banks.
However, it's obvious that JPMorgan is still the short seller of last resort — and sometimes first resort as well, in order to keep a lid on precious metal prices.
But, as always, they are in a position to stick it to the rest of the short holders in both silver and gold if they so choose — and whether they will they or they won't, remains to be seen.
And whether the current rallies in both gold and silver that began early this past week, are the indication that prices are up, up and away from here…or just a respite from continuing engineered price declines, remains to be seen as well.
I have a very decent number of stories/articles for you today — and a lot of them are certainly worth your while if you have the time over the weekend.
CRITICAL READS
The change in total non-farm payroll employment for July was revised up by 7,000 from +159,000 to +166,000, and the change for August was revised up by 38,000 from +130,000 to +168,000. With these revisions, employment gains in July and August combined were 45,000 more than previously reported.
Of note: the three-month average of private payroll gains dropped to 119,000, the smallest since 2012, which however still remains above the organic growth in the labor force. If only it also helped raise wages.
---
Preliminary Class 8 order data for September is starting to trickle in and, like the data preceding it so far this year – it's ugly.
Class 8 orders were crushed 71% in September, reaching 12,600 units, according to Baird and Morgan Stanley.
This follows a 79% plunge in August.
This makes September the 11th consecutive month of YOY order declines and the 9th consecutive month of orders below 20,000.
Class 8 orders are often seen as a pulse on the U.S. economy. Morgan Stanley analyst Courtney Yakavonis wrote in a note that she expects YOY order declines to continue into the year's end. But Baird analyst David Leiker said he was gaining "increased confidence" that a bottom in declines was likely near – but that's a story we have heard from ACT Research analysts all year and orders just continue to collapse.
The number of available used trucks continues to rise, leading to lower prices in that sector. Volvo trucks and Mack trucks are both taking two down weeks at their Virginia and Pennsylvania factories this quarter.
Donald Broughton, principal and managing partner of research firm Broughton Capital, told FOX Business in September that in 1H19 nearly 640 trucking firms failed. That equates to 20,000 trucks have been pulled off the road.
In 2018, only 310 trucking companies failed, which points to an accelerating trend that could transform into a major bust cycle for the industry in 2020.
---
Anyone who expected that the easing of the quarter-end funding squeeze in the repo market would mean the Fed would gradually fade its interventions in the repo market, was disappointed on Friday afternoon when the NY Fed announced it would extend the duration of overnight repo operations (with a total size of $75BN) for at least another month, while also offer no less than eight 2-week term repo operations until November 4, 2019, which confirms that the funding unlocked via term repo is no longer merely a part of the quarter-end arsenal but an integral part of the Fed's overall "temporary" open market operations… which are starting to look quite permanent.
What this means is that until such time as the Fed launches Permanent Open Market Operations – either at the November or December FOMC meeting, which according to JPMorgan will be roughly $37BN per month, or approximately the same size as QE1.
And remember: whatever you do, don't call it QE4!
---
Yesterday, the House Financial Services Committee released its hearing schedule for October. There is not a peep about holding a hearing on the unprecedented hundreds of billions of dollars that the Federal Reserve Bank of New York is pumping into unnamed banks on Wall Street at a time when there is no public acknowledgement of any kind of financial crisis taking place.
Congressional committees should have been instantly on top of the Fed's actions when they first started on September 17 because the Fed had gone completely rogue from 2007 to 2010 in funneling an unfathomable $29 trillion in revolving loans to Wall Street and global banks without authority or even awareness from Congress. The Fed also fought a multi-year court battle with the media in an effort to keep its giant money funnel a secret.
According to multiple sources we queried, the New York Fed has not made the names of these banks doing the borrowing available to either the Senate or House committees. And if there is push-back from the Committees, the public is not hearing about it. It was this exact kind of complacency and lack of leadership on the part of Congress in the early days of the financial crisis in 2007 that gave the Fed the guts to press a button and electronically create trillions of dollars to bail out the worst actors on Wall Street as they used large chunks of that money to reward themselves with tens of millions of dollars in bonuses and pay billions of dollars of the bailout money to lawyers to block their being prosecuted for fraud.
Journalists also failed to properly alert the public to the impending crisis – even when warning bells were loudly clanging.
There are only two ways to look at what is happening today. It starts with basic math. As of June 30 of this year, the four largest commercial banks held more than $5.45 trillion in deposits. The breakdown is as follows: JPMorgan Chase has $1.6 trillion; Bank of America clocks in at $1.44 trillion; Wells Fargo has $1.35 trillion; and Citibank is home to just over $1 trillion.
With $5.45 trillion in deposits, why isn't there enough liquidity to make loans in the billions. Either the big banks are backing away because of something they see on the horizon or something very troubling has happened to their liquidity.
---
First it was the shocking junk bond fiasco at Third Avenue which led to a premature end for the asset manager, then the three largest U.K. property funds suddenly froze over $12 billion in assets in the aftermath of the Brexit vote; two years later the Swiss multi-billion fund manager GAM blocked redemptions, followed by iconic U.K. investor Neil Woodford also suddenly gating investors despite representations of solid returns and liquid assets, and most recently the ill-named, Nataxis-owned H20 Asset Management decided to freeze redemptions.
Fast forward to today, when the recently shuttered Arrowgrass Capital Partners became the latest fund to remind investors just how toxic the threat of illiquid securities is, when it slashed the valuation of its stake in Britain's oldest surviving amusement park, piling further losses on investors in Nick Niell's closed hedge fund.
---
M2 "money" supply surged $70.2 billion last week, the strongest advance since the week of January 11, 2016. Notable to be sure, but apparently not worthy of a headline or article. Moreover, M2 was up $262 billion in 10-weeks and $575 billion over 22 weeks. The Fed's weekly H.6 "Money Stock and Debt Measures" report presented a 13-week seasonally-adjusted M2 growth rate of 8.5%.
Let's focus on the extraordinary $575 billion M2 growth over the past 22 weeks (that receives zero attention). This was the second strongest (22-week) monetary expansion in U.S. history, trailing only 2011's "QE2" period (Fed expanded holdings by $600 billion) where M2 expanded as much as $616 billion over 22 weeks. M2 growth peaked at $530 billion (over 22 weeks) in February 2009 during the Federal Reserve's inaugural QE operation.
I have posited that a bond market "melt-up" was instrumental in what has been a period of extraordinary Monetary Disorder. A weakening global economic backdrop along with escalating trade war risks and fragile markets spurred a dovish U-turn by the Fed, ECB and global central banks generally. The global yield collapse was largely fueled by a combination of speculative excess and risk market hedging. Such strategies have focused on safe haven sovereign and investment-grade corporate debt as instruments that would see rising prices in the event of a "risk off" backdrop and resulting central bank rates cuts and QE.
The surge in speculative leverage – exemplified by enormous "repo" market expansion – created a self-reinforcing surge in marketplace liquidity, of which a portion flowed into the "money" supply aggregates (notably through the expansion of commercial bank saving deposits and institutional money fund assets). Moreover, it's my view that the abrupt September reversal of market yields and the prospect of end-of-quarter liquidity challenges spurred a reversal of some leveraged holdings that quickly manifested into a liquidity shortage and spike in overnight funding costs.
Federal Reserve Credit jumped $83.9 billion last week to $3.893 TN, the strongest weekly Fed balance sheet expansion since March 2009. This pushed four-week Federal Reserve liquidity operations to $170.5 billion – taking Fed Credit to the highest level since the week of April 17th.
I view the eruption of acute repo market instability as an urgent signal of mounting financial market instability. The Fed seemingly agrees.
---
---
The end of the stock market boom…is unpredictable. But each passing day brings us a day closer to when it will crash and burn.
What will set it off? Hints of a forthcoming recession? A bad turn in the on-going trade war with China? A collapse of the Chinese economy? Or a sudden surge in the polls by Elizabeth Warren?
With Biden tainted by corruption… and Sanders by age and infirmity, Ms. Warren is the likely Democratic candidate.
The Democrats will blame the crash on Mr. Trump. The president will point the finger at the Fed… and the Democrat's impeachment plan.
But a stock market crash will be more damaging to Mr. Trump than to the Democrats. It will call into question the one thing people still feel they can trust about the president – that he understands money.
---
Russia's largest oil company Rosneft has set the euro as the default currency for all new exports of crude oil and refined products.
The United States has not ruled out imposing sanctions on Rosneft over its involvement in trading oil from Venezuela. Rosneft has been reselling the oil from the Latin American country to buyers in China and India and thus helping buyers hesitant to approach Venezuela and its state oil firm PDVSA because of the U.S. sanctions on Caracas, and, at the same time, helping Venezuela to continue selling its oil despite stricter U.S. sanctions.
Rosneft's move was seen by traders and analysts as a future hedge against potential new U.S. sanctions on Russia and/or its oil industry.
---
The stone, found at Alrosa's Nyurba site in Siberia, weighs just 0.62 carats, with an internal cavity of 6 cubic millimeters holding another crystal of just 0.02 carats, the miner said in a statement. It's the first diamond of that nature to ever be found and may be more than 800 million years old, Alrosa said, citing scientists.
The Russian gem producer has also made other rare finds in recent years. In August, it said it plans to sell a 14.83-carat pink gem, named The Spirit of the Rose, that is expected to fetch one of the highest prices ever for a diamond.
Alrosa plans to send the Matryoshka diamond to the Gemological Institute of America for further analysis, a spokesman said. There are no details yet on how much the gem may be worth.
---
Sales of gold jewelry have been booming during the first few days of the National Day holiday break, boosted by a festive shopping mood, a busy wedding season and an upward growth trend of gold prices.
The week-long break, also known as the Golden Week, appears to be a golden business opportunity for retailers. The sales value of gold jewelry during this period can be twice or even three times higher than during a regular week, and many retailers are offering discounted prices to attract more consumers, industry experts observed.
As of Wednesday noon, gold prices stood at $1,498.93 per ounce on the back of weak U.S. manufacturing data. The precious metal continues to be a traditional safe-haven for investors amid economic uncertainties.
In the first six months, gold consumption in China reached 523.54 metric tons, down 3.3 percent year-on-year, with a declining consumption of gold bars and coins.
Yet, the spending on gold jewelry during the period has increased steadily. About 359 metric tons of gold were sold from January to June, edging up 1.97 percent year-on-year, according to the China Gold Association.
---
Following a strong first eight months of the year, the precious-metals complex may be in the process of offering investors one final chance to enter on attractive terms before lurking systemic risks erupt into breakaway price action. Year-to-date through September 30, 2019, gold prices rose 14.8% but fell 5.2% from peak levels in late August.  Standard technical analysis suggests that bullion prices may revisit the 200-day moving average currently at $1,360, which is down 7.6% from the month-end close of $1,472 to shatter investor confidence that was just beginning to find some legs following a six-year nuclear winter of non-performance.  This would make sense, based on excessively bullish sentiment, overbought RSI's, Fibonacci retracements, head-and-shoulders breakdown, and the rest of the usual array of technical analysis.
Gold's breakout from a six-year base in June of this year may have signaled a secular turning point for interest rates, inflation and hard assets in general.  It seems quite plausible to us that it is gold's turn to climb to record highs against the U.S. dollar.  It is already advancing in every currency, the definition of a gold bull market, and has summited to record highs against the AUD, CAD, EUR, GBP, and Yen.  Famed non-gold bug economist David Rosenberg (Gluskin Sheff) recently stated that $3,000 gold would not come as a surprise.  It would certainly not surprise us.
In the weeks ahead, according to conventional technical analysis, the precious-metals complex may be due for a well-deserved rest, considering the torrid first eight months of 2019. We would guess another four to six weeks before an important bottom. However, we suggest that investors keep their eye on the big picture and take advantage of any possible near-term weakness to build exposure.  This is a dip that needs to be bought.
The PHOTOS and the FUNNIES
STAY INFORMED! Receive our Weekly Recap of thought provoking articles, podcasts, and radio delivered to your inbox for FREE! Sign up here for the HoweStreet.com Weekly Recap.