October 25, 2019 | The Big Miss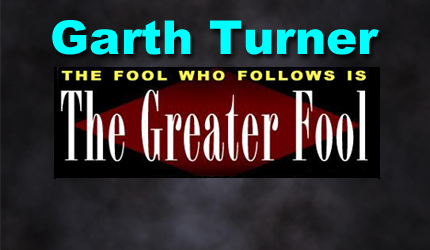 A best-selling Canadian author of 14 books on economic trends, real estate, the financial crisis, personal finance strategies, taxation and politics. Nationally-known speaker and lecturer on macroeconomics, the housing market and investment techniques. He is a licensed Investment Advisor with a fee-based, no-commission Toronto-based practice serving clients across Canada.
As predicted here, Mad Max is gone. Liz May's also toast – a fact she acknowledged a couple of days ago. Now more doubts are being raised about young Andrew Scheer, since the Libs managed to pummel him with his own social conservative principles. Despite Lavalin, Jody, India, deficits, ethics and blackface, Trudeau retained government even when losing the popular vote. The country is polarized. Wexit happened. More separatists sit in Parliament.
And what about the election's fallout on personal finances?
More on that in the weeks ahead when we discern if T2 will be cowtowing to the Dippers, running up the deficit and trying to pay for it with a higher capital gains tax plus more burden on corps. In the meantime, we're already seeing what the vote did to real estate.
Sales and prices in most markets plumped during a campaign in which every major party promised to shower buyers and owners with goodies. Even the Tories – supposedly the party of fiscal restraint and market forces – suggested opening the borrowing floodgates by gutting the stress test and bringing back 30-year mortgages. What a disaster that might have been.
Well, what now?
We know the Libs will be pushing ahead with the enhanced shared-equity mortgage, letting first-timers buy digs worth up to $800,000 in the Bubble Cities, ensuring the bubbles remain. It's hard to know how many moisters will plug into this, but the very notion the government will suck off up to 10% of a mortgage has had an impact. More showings mean more offers, more demand and price pressure. That's just the way things work.
The Libs have already increased the borrowing limit on the Home Buyers Plan, letting young couples raid their RRSPs of $70,000 for a downpayment, with no tax consequences. There's more money now for retrofitting homes, and the new national tax on non-Canadian buyers – the first time the feds have directly taxed real estate ownership. Let's not forget the T2 government is a minority and will need the support of the BQ or (more likely) NDP to pass a budget. Such propping-up might come with strings, such as enacting Dipper policies to return 30-year mortgages or double the tax credit for new buyers.
It all adds up. Even in an uncertain world of Trump, Brexit, Syria and trade wars, this stuff is having an impact. You could see that this week in the latest projections by CMHC, Canada's federal government housing cabal. These guys predict Toronto prices, for example, will be 10.5% higher (average price hitting just under $1 million) in 24 months.
This is, of course, a pox. It's triple the inflation rate and double wage growth. This would push affordability down, even if mortgage rates stay at current depressed levels. Leverage increases, debt rises and personal finances become more precarious. If there is a recession two or three years out, a lot of people may be sorry they embraced loans to buy a peak asset.
The feds say prices will roar thanks to increasing employment and population growth, both from immigration and internal migration. At the epicentre, at least in the GTA, will be condos.
States CMHC: ""We are already seeing demand for the more affordable types of homes like condo apartments and townhouses. That's an area that has really picked up steam. I don't think demand ever dissipated in Toronto but it has sort of shifted from the singles to the condos. The sales-to-listings ratio in condos is in what we call the sellers' territory nearing 70 per cent so there's a little heat in that market. That's where properties aren't staying long in the market. There's rapid price growth in that area."
Fine. We get it. The kids can't afford singles and drift to condos. Demand rises. Prices grow. Political pressure to 'do something' about unaffordable real estate and the high rents it begets grows. Leaders make stupid promises. They get elected. Incentives follow. More demand. Prices rise. And here we are.
So once again competition for condos is heating up. It's entirely possible in 2020 we could see 2016 prices exceeded – even with the stress test in place and insured mortgages halted at 25 years.
Is this a permanent condition? Will any corrections going forward be like the one just ended – short?
I doubt it. But who knows? When governments keep doing silly-ass things like giving buyers a 25-year holiday from part of their mortgage payments or letting them divert pension money to buy inflated houses how can anyone be certain what lies ahead? We know personal finances suck. We know debt's at an historic crest. We know the savings rate has crashed. We know financial illiteracy abounds and that retirement savings are melting. We know the Mills are a demographic bubble.
All that spells risk. You can embrace it or not. But if real estate hits a new high next year, thanks to artificial stimulus, make damn sure you're buying on a solid foundation. Don't shovel all your net worth into a condo. At a minimum, fill that TFSA and stay invested. Lock in your mortgage rate. Do the rent/buy math. Don't count on steady appreciation, remember to price in closing costs and be aware of the rising burden of ownership. Know the Rule of 90.
Best guidance: never buy a one-bedroom condo if you're in a relationship. Bad move. Like voting, apparently.
STAY INFORMED! Receive our Weekly Recap of thought provoking articles, podcasts, and radio delivered to your inbox for FREE! Sign up here for the HoweStreet.com Weekly Recap.