October 28, 2019 | Nominal New Highs Reached – Skilled Traders Should Still Be Cautious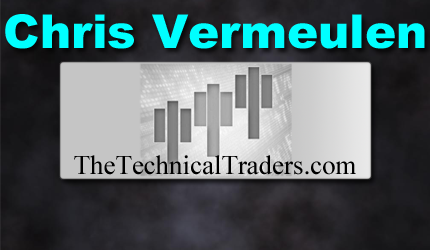 Chris Vermeulen has been involved in the markets since 1997 and is the founder of TheTechnicalTraders.com. He is an internationally recognized technical analyst, trader, and author of the book: Technical Trading Mastery. Chris has developed trading strategies that incorporate technical analysis, position-sizing, and risk management to boost performance while reducing portfolio risk.
The US Stock market rallied on Friday, October 25, on TESLA earnings crushing expectations as well as news that any positive US trade deal outcomes could see almost immediate removal of future tariffs that are scheduled to be implemented near the end of October.  This was enough for the markets to rally from the start of trading and continue to push higher until near Noon in NY.  After new highs were reached, the markets contracted a bit headed into the close.
Gold shot up early this morning before the news related to the US trade deal hit.  Our opinion is that this is a natural advancement in precious metals that is not new related or muted by some external factors.  Precious metals have been setting up a sideways FLAG formation for over 2 months and we believe the apex/breakout move is near.
Oil was somewhat flat to close out the week and closed trading near $56.63.  The past three days we have seen oil rise from the $53 level to the current price levels, but we believe oil is still fundamentally oversupplied and that price will continue to weaken over time.
The real question before all of us right now is will this new nominal high represent a new breakout bullish price trend heading into a US Presidential Election cycle, or is this more price rotation within a defined price range?
If you consider all the shifting aspects of the US political and economic landscape as well as the current geopolitical and economic factors, we believe any real breakout move will come as we get closer to November 2020 – not now.  We believe this is still price rotation and we believe the NQ is the likely cause of this new nominal price high on Friday.  Tesla crushed earnings and that set a positive tone for Friday's trading.
Transportation Index Daily Chart
The TRAN, Transportation Index, is still trading near current resistance and has not shown any true new price high yet.  It will be interesting to see how the markets open up early next week and what news may drive a new price trend by then.
Mid-Cap Sector Daily Chart
The Mid-Cap has failed to rally to recent price highs which suggest this is not a broad market rally.  We would want to see more defined price advancement across all sectors and above recent price highs to call this a broad market rally/breakout
Pay attention to the new that originates this weekend.  We don't believe a deal will be reached with regards to trade as quickly as some others may believe and we still believe the next 12+ months of the US Presidential election cycle will be full of surprises.  We may start to get more clarity of a true price trend after the New Year (2020).  Until then, we're staying cautious of these price rotations and picking our trades.
I urge you visit my Wealth Building Newsletter and if you like what I offer, join me with the 1-year subscription to lock in the lowest rate possible and ride my coattails as I navigate these financial markets and build wealth while others lose nearly everything they own during the next financial crisis. Join Now and Get a Free 1oz Silver Bar!
I can tell you that huge moves are about to start unfolding not only in metals, or stocks but globally and some of these supercycles are going to last years. A gentleman by the name of Brad Matheny goes into great detail with his simple to understand charts and guide about this. His financial market research is one of a kind and a real eye-opener. PDF guide: 2020 Cycles – The Greatest Opportunity Of Your Lifetime
As a technical analysis and trader since 1997, I have been through a few bull/bear market cycles. I believe I have a good pulse on the market and timing key turning points for both short-term swing trading and long-term investment capital. The opportunities are massive/life-changing if handled properly.
Chris Vermeulen
www.TheTechnicalTraders.com
STAY INFORMED! Receive our Weekly Recap of thought provoking articles, podcasts, and radio delivered to your inbox for FREE! Sign up here for the HoweStreet.com Weekly Recap.