October 16, 2019 | Lessons from Anon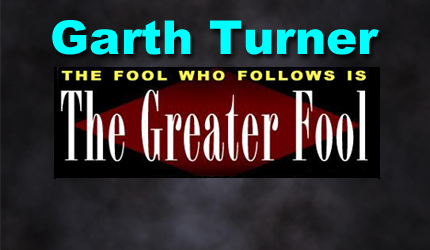 A best-selling Canadian author of 14 books on economic trends, real estate, the financial crisis, personal finance strategies, taxation and politics. Nationally-known speaker and lecturer on macroeconomics, the housing market and investment techniques. He is a licensed Investment Advisor with a fee-based, no-commission Toronto-based practice serving clients across Canada.
The real estate establishment's in high gear. CREA says sales and sentiment have returned to normal. Re/Max issued a media release stating cannabis has been good for housing prices (at least in the weedopolis of Smiths Falls). Realtor boards in Toronto and Vancouver are pumping 'balanced' markets. And apparently there's an election on, with politicians promising joy to every moister making an offer.
But here at GreaterFool we're no rubes. This ain't our first rodeo. We've been around the block.
Residential real estate is no financial panacea. It's not a retirement strategy. Not even a financial plan. Putting all your eggs in the housing basket can yield losses as quickly as it can profits. There's a reason this pathetic blog is always yammering on about diversification and balance – it works. Here are two blog dogs to give you their stories…
"Please leave me anonymous," says Mr. Anon, who now lives in Ontario. "No suck up, either.
Between 2001 and 2007 he owned a house in Fort McMurray, Alberta, the jewel of the oil sands and scene of a typical property boom and bust.

"Here are some specs from my experience.

1. 1983 Sold new $110,000.00
2. 1992 Sold $130,000.00
3. 1996 Sold $130,000.00
4. 2001 Sold $220,000.00 to me (scared shitless).
5. 2007 Sold $549,900.00 Bought by a nice couple with no money down, a 40 year mortgage insured by the CHMC. It cost them $50,000.00 in insurance. He had to replace a fence all around the property with vinyl ($$) and a 100' x 5' wood retaining wall with brick ($$).
6. 2013 Sold $638,000.00 Very fortunate to get their principal back after all costs.
7. 2019 October Sold $400,000.00

"Just thought I would share this…"
Hmm. Reminds me of the motto of this blog – the fool who follows is the greater fool. Real estate valuations are determined primarily by demand, which is often based on buyers' flimsy grasp of economic and financial realities, sautéed in emotion and sprinkled with spousal angst. This must be the only commodity (other than gold) which people crave more as it rises in price. Bubbles breed buyers. Busts are lonely. And never think the Fort Mac experience is unique, with no lessons for other places, like the LM or 905. It's not.
Now, speaking of the centre of civilization, here's a blogger with a lesson from 416. "Thought you might find this exercise interesting," he says. "If you choose to write about it, anonymity is requested."
What is it with this secrecy thing? Sheesh. Anyway, here's the report…
"My wife and I were considering buying a co-op or condo for my mother-in-law, mostly to give her some stability and a break from the vagaries of the private rental market in Toronto. I sat down over the weekend and crunched the numbers.

"Current rent: $1,470 / month for a one-bed in a central area of Toronto, where she is away from the downtown chaos, but has easy access to subway and streetcar.

Assumed cost of the condo: $500k
Downpayment: $125k (we have the cash to buy outright, but could not see the logic in even contemplating this in the current interest rate environment)
Amortization: 20 years
Mortgage rate: 2.8%, assuming increases of 0.5% at each five-year renewal. Might be pessimistic, but who knows, we'd still be in a pretty low rate environment at year 20 under this assumption.
Assumed annual 3% increase in real estate values (again, who knows…)
Assumed 4.5% investment return net of fees
Assumed 27% capital gains rate / average 30% tax on investment portfolio (likely flawed, since I accrued the tax liability on the portfolio annually, whereas much of the tax would be deferred as capital gains, but still…)
2.5% annual increases in property tax and condo fees
2% annual increase in rent
15% upcharge on condo fees to assume some kind of special assessment over the 20 years

"Long story short, owning under this scenario is an absolute train wreck horror show.

"Factoring in interest, principal, condo fees, taxes, opportunity cost of the money not invested (both downpayment and the delta between monthly carrying costs), capital gains on the sale of the condo, land transfer tax, real estate commissions, the full picture, there is a $600k shortfall between owning and renting, in favour of renting.

"Yes, at year 20 the condo is mortgage free, but there is no scenario in which that $600k hole reasonably gets filled back in.

"We're happy to own our house in Toronto, even though it's now even clearer that it makes no financial sense to do so (we have an approx. $3.5 million house in Toronto, with a $750k mortgage that we could pay off tomorrow but feel that would be irrational when those funds can stay invested). Our house is significantly less than half of our total assets, so we are lucky enough to be able to afford irrationality, but for those who can't I was really struck by just how toxic real estate is to financial health."
And that about sums it up. (a) If you won the birth lottery and got into real estate ownership a few decades ago, be thankful. (b) If you managed to buy property on the cheap before mortgage rates crashed and the hormones erupted, fall to your knees in gratitude. (c) If you think this experience will be repeated, give your head a shake. There are times when it makes sense to borrow a bundle and shoulder the huge costs of buying and keeping a home. This is not one of them.
No matter what the realtors tell you or the politicians fabricate – and even with mortgage rates in the ditch – buying a first home in a major market is a dodgy proposition. Do it because you're smitten, emotional, nesting or pushed into it. Just don't call it a plan.
STAY INFORMED! Receive our Weekly Recap of thought provoking articles, podcasts, and radio delivered to your inbox for FREE! Sign up here for the HoweStreet.com Weekly Recap.