October 11, 2019 | Gold Gifts Traders With Another Rotation Below $1500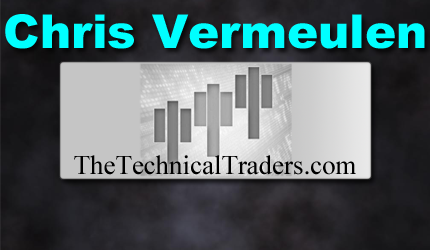 Chris Vermeulen has been involved in the markets since 1997 and is the founder of TheTechnicalTraders.com. He is an internationally recognized technical analyst, trader, and author of the book: Technical Trading Mastery. Chris has developed trading strategies that incorporate technical analysis, position-sizing, and risk management to boost performance while reducing portfolio risk.
Positive expectations related to the US/China trades negotiations on October 10th prompted a moderately strong upside move in the US major indexes and the stock market.
Additionally, the precious metals fell in correlation to the upside move in the US stock market and presented another opportunity for skilled technical traders to look for entries below $1500 in Gold and below $17.75 in Silver.
We can't stress the importance of this critical $1500 price level in Gold as a key level for all traders to watch.  It has continued to provide key support for Gold since the price rally that initiated in late April 2019.  We believe this level will act as a relatively strong price "floor" going forward and any price activity below $1500 could represent a very opportunistic entry area for skilled traders.
Back in early September, we authored this research post highlighting what we believed would happen going forward 30 to 60+ days for Gold.  At that time, the price of Gold has just rallied above $1500 for the first time in 2019.
We alerted our followers that we believed Gold would stall near the $1550 level, move briefly towards the $1475 to $1500 level, set up a new momentum base near the $1500 price level and begin a new rally soon after this base was complete.  You can read this research post here: https://www.thetechnicaltraders.com/global-market-chaos-means-precious-metals-will-continue-to-rise/ .
Gold Weekly Chart from Our September 2nd Research Post
This is a Gold Weekly chart from that September 2 research post.  We still believe our research from that post is accurate and we believe this new move below $1500 is an incredible opportunity for skilled traders that understand the real potential of the future of precious metals.
120 Minute Gold Chart Showing Price Correction Warning Before it happened
This 120 Minute Gold chart showing the early price decline on October 10, 2019 and highlighting the $1500 price support zone in RED illustrates how price has continued to find this level acting as strong support and how price has, in the past, moved through this level and back above it to form the new "momentum base/bottom" near October 1, 2019.
We believe any move below $1500 (or more precisely – $1495) is a very strong entry point.  Obviously, a price move to lower levels would be even better.  Currently, as long as price stays above the Momentum Base level (near $1463), then we consider the October 1 price rotation the true momentum base "low".
Current Daily Chart of Gold – Support Zone, and Forecast
This Daily chart highlights the same $1500 price support zone and clearly illustrates why we believe any price move below $1500 is a very strong opportunity for skilled traders.  The next leg in Gold should push prices above $1700 (possibly higher).  Longer-term, we believe the fear and uncertainty in the global markets will not subside until well after the 2020 US Presidential election cycle completes.
Concluding Thoughts:
Therefore, we have at least 12 to 16+ months of continued fear driving investor uncertainty in precious metals and as the US political chaos heats up, so will precious metals.  At this point, we believe Gold has just started to "lift-off" in terms of the ultimate upside potential over the longer term.  We've discussed the potential of Gold reaching above $3750 and we believe this target level is very valid.
Yesterday I talked about how to trade and where gold, silver and miners were within their bul/bear market cycle which may surprise you. Listen to my thoughts in this Podcast here.
Play these moves accordingly.  This may be the last time you see Gold trading below $1500 for quite a while.
As a technical analysis and trader since 1997, I have been through a few bull/bear market cycles. I believe I have a good pulse on the market and timing key turning points for both short-term swing trading and long-term investment capital. The opportunities are massive/life-changing if handled properly.
Be sure to ride my coattails as I navigate these financial markets and build wealth while others lose nearly everything they own during the next financial crisis.
STAY INFORMED! Receive our Weekly Recap of thought provoking articles, podcasts, and radio delivered to your inbox for FREE! Sign up here for the HoweStreet.com Weekly Recap.