October 2, 2019 | Dow Jones May Have Already Bottomed But SP500 & Nasdaq Have Further To Go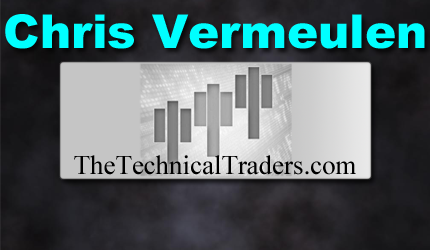 Chris Vermeulen has been involved in the markets since 1997 and is the founder of TheTechnicalTraders.com. He is an internationally recognized technical analyst, trader, and author of the book: Technical Trading Mastery. Chris has developed trading strategies that incorporate technical analysis, position-sizing, and risk management to boost performance while reducing portfolio risk.
Have you been following our research?  Were you prepared for this move like we were?  Did you profit from this incredibly quick and volatile downside price move in the US markets?  What is it going to do to the foreign markets and what next?
Our team of researchers has been all over this setup many months before it happened.  In fact, we issued a research article on September 30 suggesting our predictive modeling system was warning of a big price rotation in the NQ and ES.  On September 21, we authored another research article suggesting a "massive price reversion may be days or weeks away".  On September 7th, we authored yet another article suggesting "US STOCK MARKET HASN'T CLEARED THE STORM YET"
In case you missed our research, read and follow our work below.  While others may have completely missed this week's breakdown move, we called it more than 30+ days ago and provided very clear and concise information for all of our followers to know what was about to breakdown in the markets.  Our morning coffee video analysis recap is the one thing… that single investment that's going to turn into the greatest investment you've every made for your trading and investments.
If you find that you get analysis paralysis from reading too many articles from various news and trading sites feel free to do your self a favor just skip reading 5- 10 articles a day and being confused about what to do next get our Daily 8 Minute Technical Analysis of all the major markets and commodities. Forget the news and follow the markets with our proven technical analysis methods.
September 30, 2019: PREDICTIVE MODELING SUGGESTS BROAD MARKET ROTATION IN THE NQ & ES.
September 25, 2019: DEMOCRATS LAUNCH FORMAL IMPEACHMENT – WHAT SHOULD TRADERS EXPECT?
September 24, 2019: IS SILVER ABOUT TO BECOME THE SUPER-HERO OF PRECIOUS METALS?
September 23, 2019: IS THE TECHNOLOGY SECTOR ABOUT TO BREAK LOWER?
September 21, 2019: MASSIVE PRICE REVERSION MAY BE DAYS OR WEEKS AWAY
September 17, 2019: VIX TO BEGIN A NEW UPTREND AND WHAT IT MEANS
September 7, 2019: US STOCK MARKET HASN'T CLEARED THE STORM YET
August 30, 2019: TRANSPORTATION INDEX POINTS TO STOCK MARKETS WEAKNESS
August 13, 2019: GLOBAL CENTRAL BANKS MOVE TO KEEP THE PARTY ROLLING – PART III
Dow Jones Daily Price Chart
Now for the really good stuff, the YM may have already reached its lowest point and may begin to form a bottom near the 26000 levels.  This is the predicted downside price target level from our ADL predictive modeling system and it only took two big down-days to reach this level.  We really need to pay attention to how the markets react at this point and the YM will be key to understanding if the rest of the ADL predictions about the ES and NQ are likely to play out as we suggested.
Daily SP500 Index
This ES chart highlights the downside price move to the 2880 level, our projected price target, and initial support level.  At this point, the ES has fallen, just like the YM, to levels that may prompt some price support.  We do believe the ES will fall further, possibly targeting the 2800 price level, before finding any real support.
Read the research articles listed in today's research post.  We've been well ahead of this move the entire time and we called this move perfectly using our predictive modeling systems, Fibonacci price modeling systems, and other tools.  Our researchers have the ability to see into the future sometimes without predictive modeling tools.
In fact, we already have an idea of what will happen over the next 3 to 5+ years, but the price is our ultimate tool of choice.  We allow price to dictate what it wants to do, then use our predictive modeling tools to align price movement with our technical and predictive analysis – that is our secret, and you can't get it anywhere else on the planet.
As a technical analysis and trader since 1997, I have been through a few bull/bear market cycles. I believe I have a good pulse on the market and timing key turning points for both short-term swing trading and long-term investment capital. The opportunities are massive/life-changing if handled properly.
Be sure to ride my coattails as I navigate these financial markets and build wealth while others lose nearly everything they own during the next financial crisis. Join Now and Get a Free 1oz Silver Round or Gold Bar!
I can tell you that huge moves are about to start unfolding not only in metals, or stocks but globally and some of these supercycles are going to last years. This quick and simple to understand guide on trading with technical analysis will allow you to follow the markets closely and trade with it. Never be caught on the wrong side of the market again and suffer big losses. PDF guide: Technical Trading Mastery
Chris Vermeulen
www.TheTechnicalTraders.com
STAY INFORMED! Receive our Weekly Recap of thought provoking articles, podcasts, and radio delivered to your inbox for FREE! Sign up here for the HoweStreet.com Weekly Recap.