October 31, 2019 | Could be Worse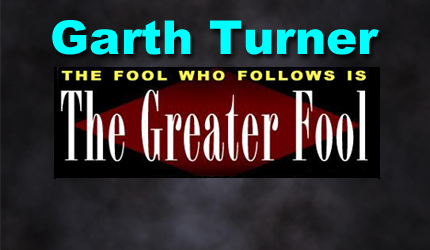 A best-selling Canadian author of 14 books on economic trends, real estate, the financial crisis, personal finance strategies, taxation and politics. Nationally-known speaker and lecturer on macroeconomics, the housing market and investment techniques. He is a licensed Investment Advisor with a fee-based, no-commission Toronto-based practice serving clients across Canada.
It's been one of those weeks. Whew. Where to start?
The president of the USA is being impeached, but will likely survive it. Trump might even welcome it, letting him play David to the deep state's Goliath. Mr. Market still thinks Republicans will own the White House next year and that Elizabeth Warren's a commie.
Interest rates are not plunging, dropping or going negative. Get over it. The Bank of Canada held the line, making no cut and saying it, "will be monitoring the extent to which the global slowdown spreads beyond manufacturing and investment and pay close attention consumer spending and housing activity–as well as to fiscal policy developments."
In the States the Fed trimmed a quarter point (the third one), then said it's done. No need for those four more nips that were expected just a few months ago, since the economy is doing fine, unemployment is the best in half a century, corporate profits are ducky and consumer confidence high.
Stock markets have been in record territory. Volatility (as measured by the Vix) is as interesting as Saskatchewan. The interest rate cuts of the last few months are just now working their way through the US economy, while inflation, incomes and spending are as expected. In short, expect more record highs.
What's a likely scenario this Halloween, 2019?
Trump will look horrible as the impeachment hearings go public, but his voting base won't care. The president will do something radical in 2020, with likely candidates being (a) an abrupt end to the China trade war, igniting markets or (b) a broad-based personal tax cut, igniting markets.
He wins the election after the Democrats have vivisected themselves and picked the wrong person.
The next interest rate moves by the Fed are up, not down. Bond yields shoot higher along with the capital value of preferred shares. The Bank of Canada looks like a genius for having remained calm and stoic when other CBs were spreading more stimulus than Beyoncé.
Rising rates bring a crisis to Ottawa, where the T2 gang has opened up the spending spigots, goosing the deficit and plumping the debt. Rising debt servicing costs wreak havoc with the fiscal plan, causing the feds to up taxes. All the 1%ers riot, but nobody notices. Meanwhile Peter MacKay shivs Scheer, takes over the Cons, and keeps Trudeau up at night with the thought of fighting Progressive Conservatives, instead of dinos.
Mortgages are never again 3% or less. The stress test rate goes up. Real estate stalls.
Jason Kenney loses 25 pounds, gets a black horse named "Wexit" and rides bare-chested with a Glock in his belt from Edmonton to Calgary prior to the Alberta referendum.
Or, not.
In any case, the winds of change are howling. Those who counted on a recession and falling markets will probably be disappointed. The bank will never pay you to take a mortgage, like in Denmark. And the longer than Donald Trump stays in office, the bigger corporations will grow and the more California will burn.
There's plenty to be scared about. Just not what you thought.
STAY INFORMED! Receive our Weekly Recap of thought provoking articles, podcasts, and radio delivered to your inbox for FREE! Sign up here for the HoweStreet.com Weekly Recap.