September 12, 2019 | Trump Tweet Steers the Fed into Uncharted Waters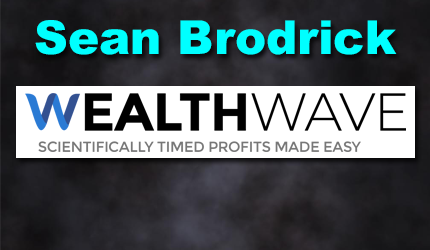 Sean is the natural resource analyst for Weiss Ratings. You can read his thoughts on gold, oil, cannabis, uranium and other natural resources at Wealth-Wave.com
A recent pair of tweets from President Trump is pushing the Federal Reserve into uncharted waters.
Sure, that raises some risks. But there's also the potential to ride a big wave of profits.
First, here are the tweets …
In case you can't read it, President Trump tweeted …
"The Federal Reserve should get our interest rates down to ZERO, or less, and we should then start to refinance our debt. INTEREST COST COULD BE BROUGHT WAY DOWN, while at the same time substantially lengthening the term. We have the great currency, power, and balance sheet…..

"….The USA should always be paying the lowest rate. No Inflation! It is only the naïveté of Jay Powell and the Federal Reserve that doesn't allow us to do what other countries are already doing. A once in a lifetime opportunity that we are missing because of 'Boneheads.' "
Does that mean President Trump is calling for the Fed's benchmark interest rate to go below zero? Yes.
That's obvious because other central banks, including the European Central Bank, Swiss Central Bank, etc., already have negative interest rates.
If "the USA should always be paying the lowest rate," then that means the president wants our rates to be less than zero.
And when it comes to 10-year government bond yields, the U.S. also pays more than competitors.
Uncle Sam's 10-year yield is 1.733%. In Britain, it's 0.642%. In Italy, 1.026%. Germany, negative 0.547%. Japan, negative 0.225%. France, negative 0.244%.
Trump's demand puts the Fed in a bind …
The Federal Open Market Committee meets next week. It's widely expected to cut rates. But not to zero or below.
The market is expecting — thanks to hints from the Fed — for another 25-basis-point cut. This would continue the cutting the Fed started on July 31 … the cutting that came after nine rate hikes.
The market is currently pricing in a 92% chance of a 25-basis-point cut in interest rates when the FOMC meets on Sept. 18. That would cut the Fed Funds rate to 2%.
What about the presidential push for much lower rates? Many on Wall Street expect the "boneheads" President Trump named at the Fed to push back. But that's not realistic. The Fed under Jerome Powell is spineless. The Fed cut in July because President Trump badgered Powell relentlessly in a series of tweets.
So, if I were a betting man, I would wager that Powell will continue to cut rates. So why is that a bad thing? I mean, low rates are good, right?
Here are the problems …
It can depress economic growth. When interest rates go down, people who live on fixed incomes must save more, not spend more. This lack of spending can actually cause the economy to contract. For an example of that, see Japan.
In fact, anyone depending on decent bond yields — pension funds, for example — can really get squeezed by rate cuts.
It can cut capital flows into the U.S. Right now, we are paying more interest than most, so that's not a problem. But if other central banks start raising rates, that could divert investments that might otherwise go into the U.S.
If we go into recession, we're screwed. Recessions typically require a FOUR PERCENT reduction to get the economy moving again. That's why the Fed was raising rates in the first place, to give it breathing room in case a recession required an economic boost.
On the bright side, if we do go into recession, the president might get his wish. Because then the Fed might have no choice but to move to negative interest rates.
There are other pluses and minuses, but those are the big ones.
Wall Street is Already Bracing
for Zero Rates and Below
Jamie Dimon, the chairman of JPMorgan Chase (JPM), says that when it comes to negative interest rates, at his company, "we're thinking about how to be prepared for it."
JPMorgan is the largest of the big four American banks, so it would likely feel the impact of Zero Interest Rate Policy (ZIRP) or even Negative Interest Rate Policy (NIRP) first.
Related post: What would you do with your money if the Federal Reserve deposit rate was a negative 0.4%?
"Obviously, you've got to worry about the long-term effect of those interest rates," Dimon said in an interview with CNBC. "But it's hard. There are businesses it doesn't affect at all. And there are businesses where it just sucks into your margin and there's very little you can do about it."
You can bet if Dimon and JPMorgan Chase are bracing for sub-zero rates, the rest of Wall Street is considering this, too.
How You Can Profit
If rates go lower, the U.S. dollar will suffer. That's because investments in U.S. dollars pay less and less interest, making the currency less attractive.
So the solution for investors is to hold assets that will keep real value. I'm talking about assets that can't easily be printed, like …
Real Estate. You can't print land. (I recently wrote about how healthy medical properties are looking lately.)
Select Stocks. Specifically, those that pay dividends. Companies that have a habit of growing dividends will be even more attractive, as bond yields go to zero. And money that flees bonds for the stock market could drive stocks up generally.
Gold, silver and miners. You can't print gold, either. And those companies leveraged to gold could do very well.
We've recently seen gold prices and mining shares pull back. That's a normal zig-zag in the course of a new bull market. I think those pullbacks can be bought. And we're coming up to a great entry opportunity.
The monetary policy ship is setting sail. Our captain, President Trump, is setting course for uncharted waters.
Many stocks will hit the rocks. But if you pick the right lifeboats, the next wave of profits might be yours.
All the best,
Sean
STAY INFORMED! Receive our Weekly Recap of thought provoking articles, podcasts, and radio delivered to your inbox for FREE! Sign up here for the HoweStreet.com Weekly Recap.