September 28, 2019 | Trading Desk Notes September 28, 2019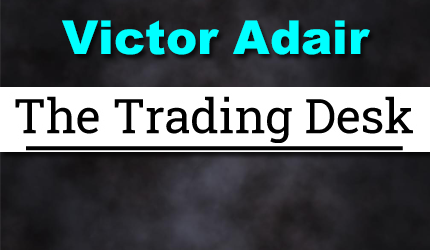 Victor Adair, author of The Trading Desk Notes, began trading penny mining shares while attending the University of Victoria in 1970. He worked in the mining business in Canada and the Western United States for the next several years and also founded a precious metals trading company in 1974. He became a commodity broker in 1977 and a stock broker in 1978. Between 1977 and his retirement from the brokerage business in 2020 Victor held a number of trading, analytical and senior management roles in Canada and the USA. Victor started writing market analysis in the late 1970's and became a widely followed currency analyst in 1983. He started doing frequent media interviews in the early 1980's and started speaking at financial conferences in the 1990's. He actively trades his own accounts from The Trading Desk on Vancouver Island. His personal website is www.VictorAdair.ca.
Political turmoil is having an out-sized impact on markets these days and it's hard to not get sucked into trading on the latest political news flash or tweet. It's not that the tweets and news flashes can't move markets…they obviously do…but I want to trade the market not the tweet.
For instance, I've been thinking that the S+P looked like it could break down after failing to make new highs earlier this month. I got short Friday morning and my position was "helped along" by reports that Trump was considering restrictions on American investments in China and also restrictions on Chinese companies listing on American exchanges. I think this report is negative for the S+P because it ramps up tensions with China but I didn't get short because of this news flash…I got short because the market look vulnerable.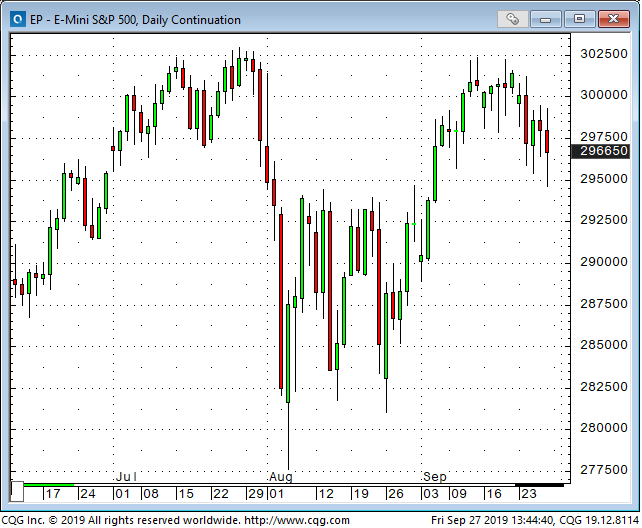 The WTI crude oil market spiked as much as $9 following the attacks on the Saudi oil facilities. Within a couple of days WTI had fallen back ~$6 from the spike highs and at this week's lows had given back all of the spike gains. The jump in prices was a "risk premium" driven by fears of further attacks/reprisals, talk of $100 oil and worries that 5% of the world's daily production would be offline for an unknown amount of time. Prices quickly fell back from the spike highs when there were no more attacks and no reprisals, on reports that Saudi exports would not be reduced and that the damaged facilities would be repaired in short order. This week the "risk premium" was further reduced by talk of a Saudi/Yemen ceasefire and possible US/Iran talks.
The attacks highlight the vulnerability of oil supply from the mid-east…and the $9 spike in WTI prices was an understandable emotional reaction…but the quick subsequent drop in prices from the spike highs may give us a better insight into the real world supply/demand picture. Geo-political flashes often follow a similar price trajectory.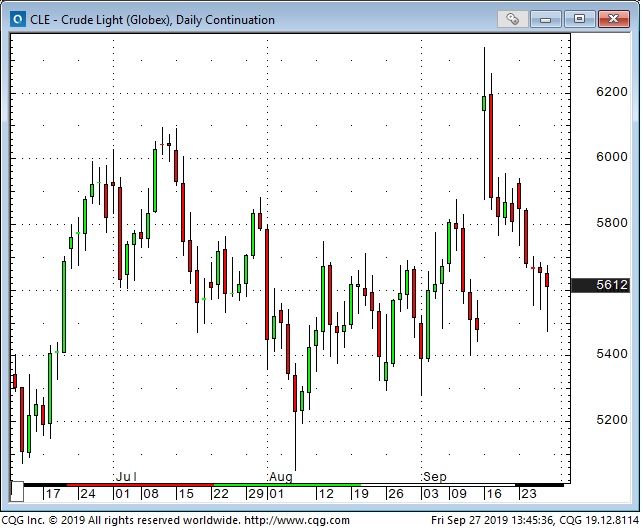 The US Dollar Index closed this week at a new 28 month high. American interest rates are higher than those in other developed countries and capital continues to flow to the USA for safety and opportunity.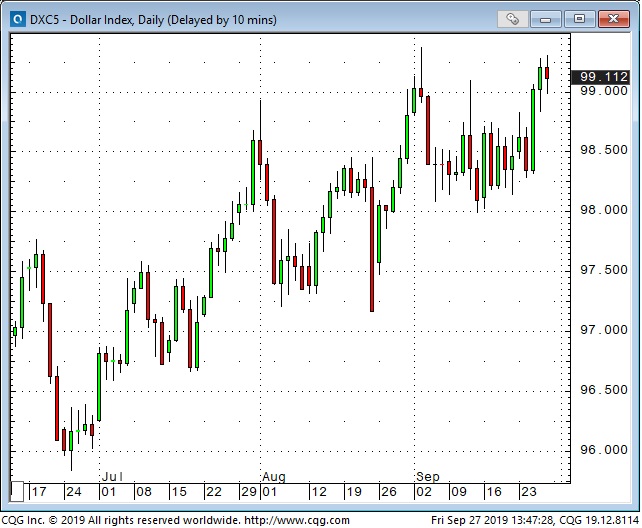 The Canadian dollar has traded in a narrow 1 cent range (75 to 76 cents) for most of the last 2 months with the Federal election now less than a month away.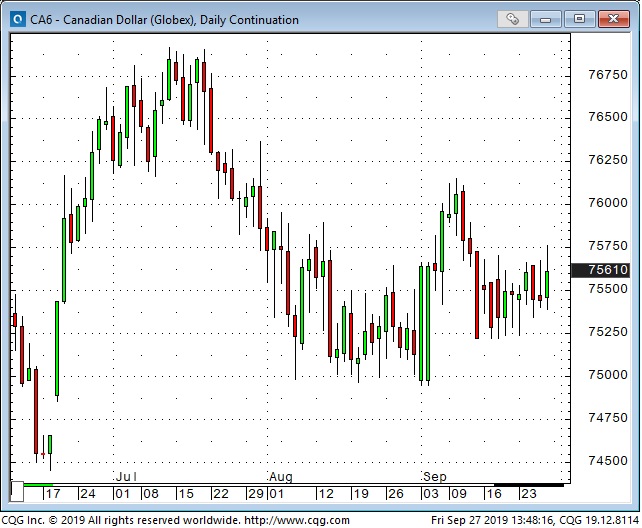 Gold has looked as though it could break down below $1490 a few times over the past 3 weeks but hasn't done so. Open interest hit an All Time High earlier this week and net speculative long positions are also near All Time Highs…meaning that a decisive break below $1490 could set off a "falling-dominos" wave of speculative selling.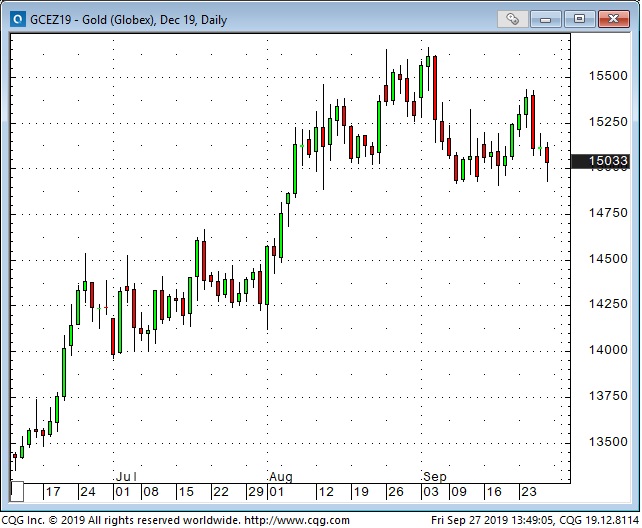 PI Financial Corp. is a Member of the Canadian Investor Protection Fund. The risk of loss in trading commodity interests can be substantial. You should therefore carefully consider whether such trading is suitable for you in light of your financial condition. In considering whether to trade or the authorize someone else to trade for you, you should be aware of the following. If you purchase a commodity option you may sustain a total loss of the premium and of all transaction costs. If you purchase or sell a commodity futures contract or sell a commodity option or engage in off-exchange foreign currency trading you may sustain a total loss of the initial margin funds or security deposit and any additional fund that you deposit with your broker to establish or maintain your position. You may be called upon by your broker to deposit a substantial amount of additional margin funds, on short notice, in order to maintain your position. If you do not provide the requested funds within the prescribe time, your position may be liquidated at a loss, and you will be liable for any resulting deficit in your account. Under certain market conditions, you may find it difficult to impossible to liquidate a position. This is intended for distribution in those jurisdictions where PI Financial Corp. is registered as an advisor or a dealer in securities and/or futures and options. Any distribution or dissemination of this in any other jurisdiction is strictly prohibited. Past performance is not necessarily indicative of future results
STAY INFORMED! Receive our Weekly Recap of thought provoking articles, podcasts, and radio delivered to your inbox for FREE! Sign up here for the HoweStreet.com Weekly Recap.