September 21, 2019 | Trading Desk Notes for September 19, 2019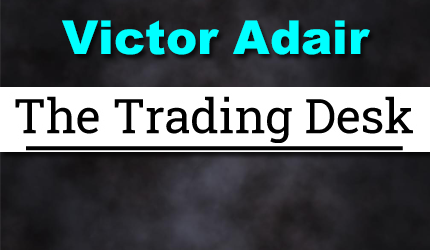 Victor Adair, author of The Trading Desk Notes, began trading penny mining shares while attending the University of Victoria in 1970. He worked in the mining business in Canada and the Western United States for the next several years and also founded a precious metals trading company in 1974. He became a commodity broker in 1977 and a stock broker in 1978. Between 1977 and his retirement from the brokerage business in 2020 Victor held a number of trading, analytical and senior management roles in Canada and the USA. Victor started writing market analysis in the late 1970's and became a widely followed currency analyst in 1983. He started doing frequent media interviews in the early 1980's and started speaking at financial conferences in the 1990's. He actively trades his own accounts from The Trading Desk on Vancouver Island. His personal website is www.VictorAdair.ca.
The attack on the Saudi oil processing facilities caused WTI to jump $8 to ~$63 when markets opened Sunday afternoon…but within a couple of days WTI fell back ~$5 to ~$58. The price jump was attributed to a risk premium build, fears of more attacks and/or retaliation, talk of $100 oil, as well as to the assumed loss of 5% of the world's daily production for an indefinite time. The fall back to ~$58 was attributed to lack of more attacks and/or retaliation, and word from the Saudis that they would draw down reserves to maintain exports and would have the facilities more-or-less back to normal within a couple of weeks.
Uncertainty about the source/cause of the attacks, the tempered response by the Americans and the Saudis (well, tempered in terms of what we might have heard!) and the "self-sufficiency" aspect of American oil production also contributed to WTI falling back from its highs. I have to think that some American producers saw an $8 jump as a gift and sold into that rally to hedge production.
The reaction to the Saudi attack in other markets was relatively muted.  Gold jumped ~$20-25 but fell back ~$30 within a couple of days…US stock market indices fell off a bit but recovered quickly and were trading above last week's close by Thursday. Safe haven bonds, which had tumbled the previous week, got a small safe haven bid and the US Dollar rose a bit…but quickly gave back those gains and chopped sideways for the rest of the week.
The Federal Reserve cut the Fed Funds target rate by 25 basis points, as expected, but the FOMC was certainly not unanimous in making that decision nor are they unanimous in their forecasts of future activity. That reflects the "mixed bag" of economic reports…for instance, the global economy looks to be slowing, the US trucking industry is slowing, Fedex shares have tumbled back to last December's lows on weak forward guidance…but employment remains strong, consumer confidence is strong and housing is strong…the Home construction ETF (ITB) is up >50% from last December's lows at its best level ever save for January 2018.
The net takeaway was a "hawkish" cut…meaning that the widely anticipated 3rd cut from the Fed this year is no certainty.
The Quote of the Week: When Powell was appointed Chairman I said, "It's going to be a new Fed under Powell…he's not going to be an "easy money" Chairman like Greenspan, Bernanke or Yellen."  But during the past few months I wondered if I'd been wrong about that…maybe he was going to "cave" as the uncertainty from the trade wars weakened the global economy and markets called out for MORE cuts. But at yesterday's presser he didn't look like a guy who was going to be rushed into slashing rates. His behavior reminded me of Danielle DiMartino Booth recently telling Keith McCullough that, " Powell is a Bond Vigilante at heart." I liked that. I think the world needs more bond vigilantes.
My short term trading: I took profits on my short TNotes early this week but gave back half those gains when I covered my gold puts at a loss. I think I was right to buy gold puts last Friday with the market near its lows of the past month and looking like it could break lower. I could see gold following the break in bonds…I had thought the tumble in real rates the past few months had been "the" cause of the gold rally and now that real rates were rising gold was at risk of falling. I also thought that the huge net long spec position added to the risk of a snowballing break.
When I saw the news of the attacks on Saudi oil facilities I thought both gold and bonds could jump on a safe haven bid. I was glad I had somewhat hedged my short TNote position by shorting OTM puts and I was really glad I owned gold puts and wasn't outright short! I was surprised (and grateful) at the more-muted-than-expected reaction in bonds and gold on Sunday afternoon / Monday morning. I felt like I'd ducked a bullet. By Tuesday, as markets calmed, and knowing that I was going to traveling by Thursday I decided to just get flat.
PI Financial Corp. is a Member of the Canadian Investor Protection Fund. The risk of loss in trading commodity interests can be substantial. You should therefore carefully consider whether such trading is suitable for you in light of your financial condition. In considering whether to trade or the authorize someone else to trade for you, you should be aware of the following. If you purchase a commodity option you may sustain a total loss of the premium and of all transaction costs. If you purchase or sell a commodity futures contract or sell a commodity option or engage in off-exchange foreign currency trading you may sustain a total loss of the initial margin funds or security deposit and any additional fund that you deposit with your broker to establish or maintain your position. You may be called upon by your broker to deposit a substantial amount of additional margin funds, on short notice, in order to maintain your position. If you do not provide the requested funds within the prescribe time, your position may be liquidated at a loss, and you will be liable for any resulting deficit in your account. Under certain market conditions, you may find it difficult to impossible to liquidate a position. This is intended for distribution in those jurisdictions where PI Financial Corp. is registered as an advisor or a dealer in securities and/or futures and options. Any distribution or dissemination of this in any other jurisdiction is strictly prohibited. Past performance is not necessarily indicative of future results
STAY INFORMED! Receive our Weekly Recap of thought provoking articles, podcasts, and radio delivered to your inbox for FREE! Sign up here for the HoweStreet.com Weekly Recap.