September 8, 2019 | The Entire Financial World Is In My 'Head'!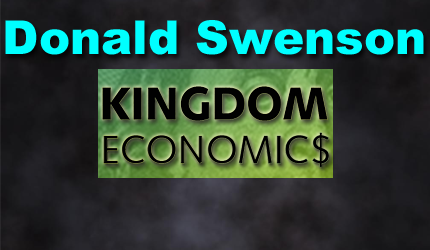 Donald B. Swenson: Born January 24, 1943, Roseau, Minnesota. Graduated H.S. 1961, Moorhead High, Minnesota. Graduated College 1968, Moorhead State University, Minnesota. Designated member of Appraisal Institute (MAI), 1974. Employed with Western Life Insurance Company, 1968 – 71; Iowa Securities Company, 1971 – 73; American Appraisal Company, 1974 – 81. Part-time teacher/valuation consultant/bartender, 1979 – 2008 (taught workshops at Waukesha County Technical Institute, Wi. and Madison Area Technical College, Wi.). Retired 2008 (part time teacher/blogger), AZ. Self educated economist/philosopher/theologian: http://kingdomecon.wordpress.com.
Let's think about today's financial world and compare it to our prior world of physical monies. For most of my life I lived with physical monies (paper notes and metal coins). I also viewed gold coins and silver coins as money. But today, my financial world is inside my 'head'. Everything has changed (mostly since the 2008 financial crisis). What do I mean?
Look at this image to discern what has happened in just the past 10 years:

Today, I walk the streets with my smart phone to witness my monies, my investments, and my savings. I buy and sell with my smart phone. I trade with my smart phone. Most people around our planet also use their smart phone for all their financial affairs. All this has emerged (mostly since 2008). We live within the computer screen (cyberspace) for our financial affairs.
I walk the streets and review my investments via my smart phone. My entire financial world is now within the screen (cyberspace). So what does this mean? I would suggest that I now live (financially) within my 'head'. My entire financial world is within my 'head'. There is no outer existence to the 'dollar' or any other cyber currency. All is virtual and within my 'head'. Amazing! Who comprehends?
I now trade silver and gold within this virtual environment called cyberspace. I can purchase a virtual gold stock or I can purchase a real physical bar/coin. I buy virtual mining stocks with my smart phone. Most investors now purchase virtual ETF'S and virtual stocks as representations of physical gold. My entire financial world is now within cyberspace. What a change (mostly since 2008). So what is cyberspace?
Cyberspace is this virtual world which lives within my consciousness (my 'head'). This world of 1's and 0's has become the world of finance since 2008 (mostly). It's a world within my 'imagination'. It's virtual. It's non-physical. It's living within me (my 'head'). I now live within my 'head' for all my financial affairs (mostly). My smart phone has replaced paper notes, metal coins, silver bars, and gold bars. I am living in a world of symbols and abstractions. I call this living within my 'head'.
I sit in front of a screen to manage all my financial affairs. I sit in front of a screen to gather information for my decision-making. I can launch a cruise missile from the virtual screen within my 'head'. I think and then interpret what I think about. My entire world is becoming virtual and metaphysical. It's all happening in real-time as I live my life in today's cyber world of images, objects, and symbols. Our money is now a mental symbol which lives within my 'head'. What a change from yesteryear.
Cyberspace is part of my extended consciousness. It has no existence within our material world of atoms and electrons. It's metaphysical and inner. Cyber money is now ubiquitous and will soon replace all physical/material monies. Sweden is currently 97% digital. America is nearly 95% digital. Most of the planet is now digital and our people live within their inner self (their 'head'). Where is the physical money today? Who uses physical money for goods and services? It appears that we are all living within our 'heads'. All this emerged since 2008 (mostly).
This pundit (Doug Casey) claims that silver, gold, and paper notes are still money. But is this valid today? Who uses these physical monies for their goods and services? I used to use these outer monies (prior to computers) but today I use the virtual/digital symbols ($$$$$) as my representations of money. Money has become virtual and lives within my 'head'. What a change from yesteryear. Will the world go back to physical monies? I don't think so. The virtual world is here and it will continue to grow and expand IMO. It's all part of this 'mark of the beast' system which is emerging (globally).
To buy and or sell I will need a number and an identity code. A world bank will monitor and control my buying and selling. My actions will be monitored and followed by official authorities (operating behind closed doors). Without the number and code I will be refused entry into this 'beast' system. Is this freedom and happiness? It does not appeal to me. I will try to avoid buying into this system when it arrives (probably soon). Barter will be my alternative. I used to barter in my youth. It works if people desire it to work.
Barter is where I trade a good for a good, a service for a service, and payment is outside the official money system. It will be my alternative when this 'beast' system arrives. Our official authorities will attempt to force everyone into this 'beast' financial system. Most will buy into the system. But many will discover alternatives to the official mandates. Barter is the answer IMO. Those with wisdom will work to avoid enslavement to the 'beast' financial system. I will be one of these renegates.
No money is no problem. Barter can occur if people desire an alternative to the enslavement of this coming 'beast' financial system. I will promote barter in my area. I will not bow to the official authorities who desire my enslavement. Freedom must prevail and in America barter can become the alternative to virtual money enslavement. Think for yourself on these issues of survival. The official authorities will attempt to enslave us all. But we do have alternatives. Barter is one alternative! Have a great day!
STAY INFORMED! Receive our Weekly Recap of thought provoking articles, podcasts, and radio delivered to your inbox for FREE! Sign up here for the HoweStreet.com Weekly Recap.