September 5, 2019 | The Blip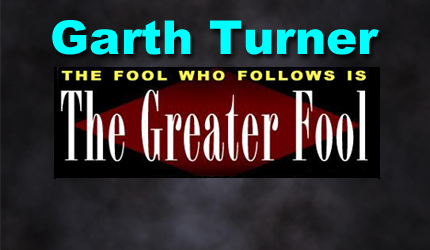 A best-selling Canadian author of 14 books on economic trends, real estate, the financial crisis, personal finance strategies, taxation and politics. Nationally-known speaker and lecturer on macroeconomics, the housing market and investment techniques. He is a licensed Investment Advisor with a fee-based, no-commission Toronto-based practice serving clients across Canada.
Let's leave our usual agenda of relationship counselling, canine management, race-baiting, Trump-watching and religious confusion to review the housing market, especially in the hipster havens of 416 and Van. After all, what happens there has a big influence on all of the extended GTA/Ont and the LM/Island. In one way or another, this impacts almost half the national population.
By the way, the real estate boards representing these two regions alone contain more than 65,000 real estate agents and brokers. Over the past decade we've let housing eclipse manufacturing in terms of the Canadian economy. In fact you can throw in the oil& gas sector, and real estate still wins. All based on  hormones, house lust, flipping, specking and the bank of Mom. Scary.
But here we are in the final months of 2019. The economy's okay. Financial markets are okay. Corporate profits and job creation are okay. House prices have touched 2016 levels. The stress test is wearing off. There's a big federal election in a few weeks. And mortgage rates have skidded uncontrollably lower.
Given that, real estate should be on fire. But, at best, it's smouldering.
Yesterday we quickly reviewed the latest stats form the Land of House-wrecking Dippers, a.k.a BC. Prices there have declined for 15 months running. But sales have been rising. More on that in a moment.
As for the giant six-million-person GTA market, where life probably began with the first condo sale 3,000 years ago in the fertile Humber Valley, the signals are decidedly mixed. Last month sales were ahead of those a year ago (13%), but took a big dump from July levels  (-10%). Significant. As for price, the realtors made noise about a 3.6% year/year increase (not so hot when inflation is 2%+). But at $792,600 the average house was actually $15,000 cheaper the previous month. Meanwhile the number of available listings also fell – by 3%.
This means in a month when mortgage rates plopped and supply tightened both sales and prices fell. That, comrades, is why headlines are misleading. You can trust the Audi Brigade to always bury the real news (current market trends) when it's less favourable that the eternal message (FOMO). As stated above, to have this level of equivocation in the market when a $500,000 mortgage carries for just $2,200 a month is telling.
Have we reached peak house, with 70% ownership rates and an unrepayable, steaming, growing mountain of household debt? Are people simply unaware of just how cheap money has become? Has this pathetic blog's warning about a one-horse financial strategy finally resonated with the masses? Did the stress test peel off 20% of all the buyers?
Well, Vancouver-based housing guru and technical analyst Dane Eitel has some thoughts on that. That stress test (the rate's currently 5.19%) benched a ton of moister buyers, he rightly says, and that helped push prices lower. (BC has seen a far more significant plop than Ford Nation.) Now with lower prices and the stress test waning a bit, some of those buyers are back. But, he adds, it will not last. It's a trap.
"We at Eitel Insights believe sellers should take advantage of this temporary market. We have been stating for the last quarter that this stress test mitigation would come, now that it is in play, we feel obligated to warn that this is a blip in the markets evolution lower. Before you know it the average sales prices will officially break the ten year uptrend and the market will be sent lower with a significant test of $1.4 million likely in 2020."
Van's price plop de-stresses Millennials
So the recent pop in sales is an aberration, and there's likely more increased activity to come this autumn, says the analyst, "as old sellers hop back on the bandwagon believing the market has turned.
"This will again cause a further imbalance between buyers and sellers. Once the sidelined buyers have purchased there is no pent up demand following them and prices will indeed head lower while inventory grows."
In other words, a time to sell. No time to buy – unless you believe the current mortgage rate bargains will end.
And what are the odds of that?
Higher than you think. The world is not deflating. Money is not going to zero. There is no recession lurking off the coast. The bond market may well have gotten its panties in a twist anticipating economic slowdown, panicked central banks and oodles of stimulus.
But check out what's happening. The Hong Kong thing looks far better now and it's likely Beijing won't smash the shining city. The US and China will be talking in Washington in a few weeks. Crazy Boris in Britain has just had his butt handed to him. No hard Brexit. Maybe no Brexit at all. The Bank of Canada didn't drop its rate this week, for good reason. Stock markets are rapidly retracing, on the way to new highs.
Remember – Trump's a political animal. He won't throw the 2020 election by having it occur in the middle of a job-sucking recession. He consistently uses the stock market as a proxy for his presidency. Just this week he said it would be 10,000 points higher (40%) without the trade war – and this is a war he's planning on ending.
Why would central banks eviscerate rates, throw gas on the fire and blow their ammo (to mix a few metaphors) when fiscal and trade policy will do the job for them?
Nah, I'm not buyin' it. And neither should you.
STAY INFORMED! Receive our Weekly Recap of thought provoking articles, podcasts, and radio delivered to your inbox for FREE! Sign up here for the HoweStreet.com Weekly Recap.