September 19, 2019 | Olivia Newton-John Gets Physical with Marijuana — & Other Bullish News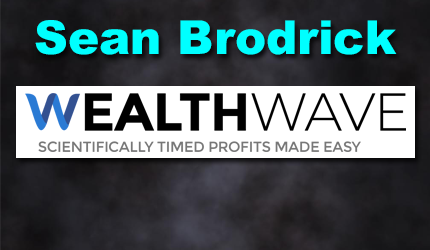 Sean is the natural resource analyst for Weiss Ratings. You can read his thoughts on gold, oil, cannabis, uranium and other natural resources at Wealth-Wave.com
Cannabis stocks got kicked down the stairs for the past couple weeks, putting a red-ink endcap to a "blood in the streets" summer. But there are reasons to think a big rally is coming. And if history is any guide, it's a surge you don't want to miss.
There are a bunch of things pinging my radar right now.
Reason #1: Seasonal Rally is Around the Corner
Let's start with a weekly chart …
Looking at this chart, you can see that, sure, cannabis stocks are in a bear market. Down 35% from highs made in March. Ouch! On the other hand …
It sure looks like we're going to see a double-bottom. The low that the ETFMG Alternative Harvest ETF (NYSE: MJ) made in August has not been violated, despite relentless selling in leading names. Indeed, this is a great place for a bounce.
Seasonally speaking, cannabis stocks rally in autumn. I told you about that in my Sept. 7 column, when I gave you "5 Good Reasons to Buy Cannabis Stocks This Fall," and that hasn't changed.
So what could trigger a rally?
Reason #2: Celebrity Endorsements
America loves celebrities, right? Well, more and more of them are lining up to say they've gone to pot. In July, I told you how actor Patrick Stewart, who played Captain Picard on "Star Trek" and Doctor X in the "X-Men," endorses medical marijuana.
Other pro-pot celebrities include Seth Rogan, Miley Cyrus, Brad Pitt, Whoopi Goldberg and Matthew McConaughey. Alright, alright, alright!
A celebrity who recently endorsed pot is Olivia Newton-John. It turns out the crooner of "Physical" and other top songs of the '70s and '80s has recurring stage 4 breast cancer.
The pain from her tumor was so bad, Newton-John had to turn to morphine. But Newton-John says she was able to wean herself off that addictive drug — and manage her pain — by using cannabis oil.
Marijuana was used for medicinal purposes for at least 3,000 years. For the past 82 years, research on it was banned by the government. But as more and more celebrities come out to say it cures what ails them, that is going to improve public support in a hurry.
Speaking of which …
Reason #3: Public Support is Soaring
A whopping 59% of Americans say that cannabis should be legal. That's according to a poll from CBS News.
You might say that public support for marijuana has hit a new high.
By a wide margin, Americans say alcohol is more dangerous than pot. And six in 10 Americans think legalizing marijuana should be left up to each individual state. You know who else believes that? President Trump, that's who.
This will all come to a head in the 2020 elections. Recreational legalization will be on the ballot in a dozen more states. That includes Florida, the third-most populous state in the nation.
Reason #4: Mitch McConnell Leans on FDA for CBD Products
I've written in the past how Mitch McConnell is very pro-hemp and CBD. CBD is the non-psychoactive, medically proactive kissin' cousin to THC. I've explained the details about why some people think CBD a wonder drug. You might say McConnell wants his home state of Kentucky to go from being the blue-grass state to the green-grass state.
And just this week, it was revealed that the senator is asking the FDA to "issue a policy of enforcement discretion with regard to certain products containing CBD" within 120 days.
That could allow CBD products to leapfrog years of regulatory red tape.
Also, the bill funding the FDA and the U.S. Department of Agriculture (USDA) already sets aside $2 million for research and regulatory activities on hemp-derived CBD products. What's more, the USDA is expected to release its broader hemp regulations soon.
The market is ignoring this news so far. But I have to wonder when traders will wake up and smell the CBD-infused coffee about how much potential there is in stocks leveraged to hemp and CBD.
Because that's when select stocks could REALLY blast off.
Reason #5: Market is Going to Get Much Bigger
The market for all legalized cannabis, including CBD, is expected to quintuple from $8 billion in 2018 to $41 billion by 2025. That's according to new data from Nielsen.
The survey firm assumes 75% of U.S. adults will have access to legal marijuana by 2025. I think they're probably right.
Other researchers, like BDS Analytics, believe that full legalization will come sooner. BDS targets 2021 for legalization of all forms of cannabis?
Who's right? Who knows! But I do know this:
Capitalism is a powerful force. And that could drive legalization across America.
There are many more forces than this lining up to push cannabis stocks higher. I'll be talking about them this weekend at the Toronto MoneyShow. If you're not there, check out my Marijuana Millionaire Portfolio. It's where I talk about my best ideas first.
All the best,
Sean
STAY INFORMED! Receive our Weekly Recap of thought provoking articles, podcasts, and radio delivered to your inbox for FREE! Sign up here for the HoweStreet.com Weekly Recap.