September 29, 2019 | Old Dogs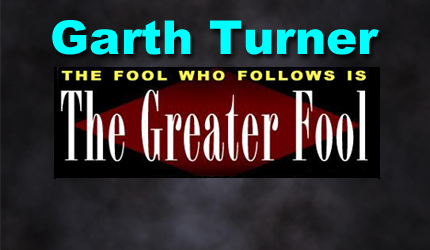 A best-selling Canadian author of 14 books on economic trends, real estate, the financial crisis, personal finance strategies, taxation and politics. Nationally-known speaker and lecturer on macroeconomics, the housing market and investment techniques. He is a licensed Investment Advisor with a fee-based, no-commission Toronto-based practice serving clients across Canada.
Patrick is 48 and single, renting. His brother Les is 41, two kids, house and mortgage. Mom lives in a little condo, no financing, no savings. Dad has dementia. He's in the hospital and not coming home. This family's in crisis.
P reads the blog, contacted me for help and let me know his folks have owned a rental house in DT Toronto for more than half a century. It brings in about forty grand a year – which supports the parents – and is worth $2 million, even in its deferred-maintenance state. Dad's minimum care in a dodgy public facility will cost a little under $3,000 a month. Alzheimer's is an expensive affliction, in addition to being a personal hell. More respectful and attentive care in a private facility in the GTA costs about eight grand a month.
The sons have no money, or are unwilling to spend it on a failing father. Nor does she. So, I said, stating the obvious, the rental real estate has to go. Sell it, invest the proceeds and you'll have enough to care for the guy with dignity, and still support mom.
And then, the second crisis. Tax.
Although Mom agreed the real estate should be sold, Les (he has POA) is apoplectic at seeing a chunk of his inheritance disappear in tax, then the capital eroded by nursing home bills. Despite the absolute windfall gain on this house, and the fact it's been generating GIC-level, fully-taxable gains, the guy is balking at a sale.
So what is the liability?
It's the sale price ($2 million) less the adjusted cost base (ACB), divided by half and taxed at his parents' marginal rate. The ACB is not only what it cost fifty years ago (maybe $200,000) but also the addition of improvements made along the way which were not claimed against rental income, plus the sale commission. So, let's say the capital gain ends up being $1.7 million. Half of that is free, and half added to income – thus $850,000 is the taxable amount.
If that were added to mom's income in 2019 she'd end up in the 54% tax bracket and have to hand over about four hundred thou of the sale price, keeping $1.6 million, or 80%. Not so bad. If she and her husband bought the property jointly in the 1970s with money they both contributed, the gain could be split between them. But, thanks to our 'tax-the-rich' system, the bill would not be reduced.
The after-tax proceeds of more than a million and a half, if invested conservatively, could kick out about six grand a month. That's enough to handle the long-term care facility bills now, then move dad into better surroundings when the 24/7 care need kicks in, with a minor erosion in capital. Mom can stay where she is. Her husband gets the best possible attention. Almost all of the capital is preserved for her eventual needs and possibly her estate.
But guess what? Les says no. Too much tax.
"The question is simple," I told Pat. "How are you going to finance your father's care? Your brother's attitude disgusts me if he's more worried about taxes on a windfall gain he had nothing to do with rather than the care of your parents. You can tell him that."
And I guess he did. The real estate sale was halted. The trail went cold.
There are about 750,000 people in Canada now with Alzheimer's or dementia. That compares with 81,000 deaths a year from cancer. But cancer cases are diminishing. Dementia is an epidemic. In a decade the number afflicted will be close to a million, with an increase of 66% in new cases. This is a function of demographics (9.6 million Boomers) and longevity.
There's no treatment and no cure. Nobody gets over Alzheimer's. Nobody gets better. The decline can take a decade or more, and early-onset patients may be afflicted in their forties or fifties. Cognitive ability degrades and in the end nobody functions on their own. Often caregivers – usually elderly spouses – suffer immensely as they struggle to look after someone whose path leads to absolute dependence. The best care possible is not at home. It's in a facility staffed with people who aren't figuring things out for the first time. And that costs money. Big money. Every family should be aware of this, and prepare.
Ensure you have power of attorney for yourself, and that your parents have done the same. Make sure there's a will. Don't have a relative as the executor – unless she is a probate and estate lawyer. As you age, simplify your life. Shed assets. Raise cash. Become less encumbered and more liquid. Sell the cottage. Ditch the boat. Spell out the beneficiaries of your RRSPs and the successor holders of your TFSAs. If you have business interests or other assets consider having a secondary or even tertiary will. Get some insurance to cover probate costs or outstanding mortgage balances.
Tell your partner if this stuff happens to you, to skip the heroics. Alzheimer's patients belong in a care facility, not wandering off from the front door into traffic. But financing the long goodbye is daunting. It takes advance thought, and action.
As Patrick found, it cannot wait for a crisis – when human nature never fails to disappoint.
STAY INFORMED! Receive our Weekly Recap of thought provoking articles, podcasts, and radio delivered to your inbox for FREE! Sign up here for the HoweStreet.com Weekly Recap.