September 22, 2019 | Give Spot Some CBD!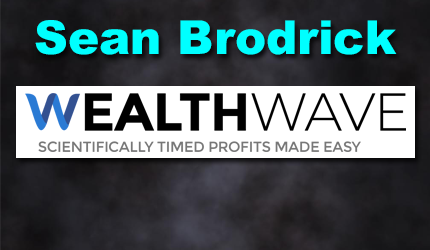 Sean is the natural resource analyst for Weiss Ratings. You can read his thoughts on gold, oil, cannabis, uranium and other natural resources at Wealth-Wave.com
Many people are using CBD now, for everything from soothing anxiety to managing pain from arthritis. Heck, CBD can even reduce seizures.
Anecdotal evidence shows it helps with a lot of health problems. So these days, many pet owners are starting to wonder: If my pet is in pain, will CBD work for him or her, too?
A recent Cornell University study found that once the right dosage is determined for a pet, the answer is yes! Some consumers have had success in using CBD oil for dogs to help relieve a variety of ailments.
And it's gearing up to be a big market. Currently, pet-specific CBD products represent only $25 million out of the current $22 billion CBD industry. But that's going to grow.
According to an article by Pet Food Industry, 39% of dog owners and 34% of cat owners said approve of CBD supplements for their pets.
Dr. Joseph Wakshlag — leader of the Cornell study — and his colleagues found that more than 80% of the dogs in the study saw a significant decrease in pain and improved mobility.
Now hold on, you might say …
Is it LEGAL to give CBD to dogs?
Yes. And if you're confused about what CBD is, and whether it is legal, here's a two-minute overview:
Cannabis plants, including marijuana and hemp, produce a group of chemical compounds called cannabinoids.
Tetrahydrocannabinol, or THC, is the stuff that gets people high.
Cannabidiol (CBD) is non-intoxicating, but has some health benefits.
The 2018 Farm Bill legalized hemp, which contains very little THC and a lot of CBD. As long as it has less than 0.3% THC and is grown by licensed farmers, hemp is legal.
Related post: Microdosing, and 2 other potential game-changers in marijuana
Regulation of CBD, whether derived from hemp or not, is under the FDA's jurisdiction. This results in a weird grab bag. The FDA won't allow CBD to be added to food or drinks sold across state lines. But it will allow it to be put into cosmetics, oils, tinctures and other supplements.
That's why CVS and Walgreens can sell CBD oil now, but not CBD-infused drinks.
A plethora of websites sell hemp-derived CBD for pets now. Honest Paws is probably the best-known. There are others. A simple Google search will find plenty of them.
Related post: The coming rush to build cannabis brands: Big rewards for investors
However, in most states, veterinarians are not allowed to prescribe or recommend a cannabis product for your pet. So, you'll need to check local laws to see what products are legal and how to determine a proper dose.
To help with this problem, one veterinarian after another has come out with dosage charts so people don't end up megadosing their Dachshund. Here's an example …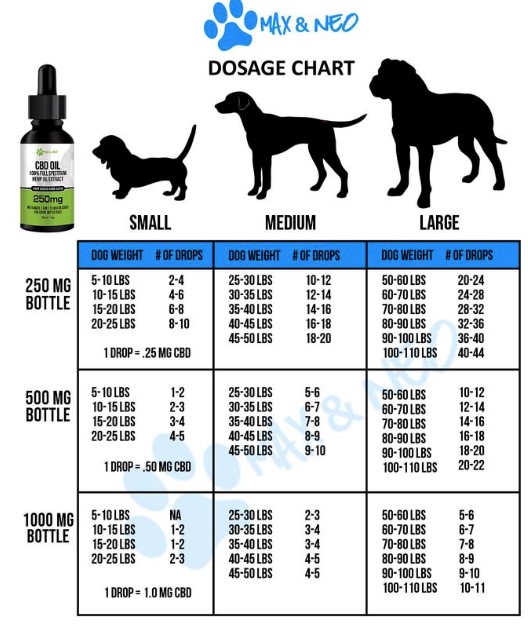 Source: MaxAndNeoCBD.com
Source: MaxAndNeoCBD.com
Vets are also urging caution when picking CBD products for Fido. Since the market isn't well-regulated, CBD products can contain THC, which is toxic to cats and dogs.
Technically, to be marketed as CBD, a product must have less that 0.3% THC. Recommended best practice when giving CBD to a pet would be to stick to products with absolutely 0% THC.
I can see giving a dose to a dog being a pretty easy endeavor. My dog will eat anything that falls in her mouth, except my fingers. (Good dog!) So, putting a couple drops under her tongue would be easy.
As for a cat — well, if your cat is anything like mine about taking medicine, you're on your own, buddy. Invest in Band-Aids.
Speaking of Investments …
According to the Brightfield Group, the CBD pet market is forecast to surge to a market size of $1.16 billion by 2022. So yeah, there are companies lining up to profit from that trend.
I'll give you three ideas.
First, although this may not be exactly the right time to buy, take a look at Charlotte's Web Holdings. It has a market cap of $1.3 billion. It sells a lot of CBD, and it also sells products specifically for pets. Charlotte's Web turns hemp extracts into chews, balms, and flavored and unflavored oils for dogs. In Q4, the company's revenues from animal nutrition products grew by 126%.
Second, when the time is right, look at Curaleaf. This vertically integrated, U.S.-based cannabis company has a market cap of $3.3 billion. It has 44 dispensaries in 12 different states. Importantly for this story, on May 10, Curaleaf announced its entrance into the pet market with the launch of Bido, a line of hemp-based CBD treats and oils for pets.
Third, don't miss the chance to read my just-released report, The Great Cannabis Cash Machine for Investors. It shows you, step by step, how you could start with just $30,000, build it into a nest-egg of $1.4 million AND pull out an average of $19,996 in spending cash per month.
All the best,
Sean
STAY INFORMED! Receive our Weekly Recap of thought provoking articles, podcasts, and radio delivered to your inbox for FREE! Sign up here for the HoweStreet.com Weekly Recap.