September 26, 2019 | 'Get Me Out'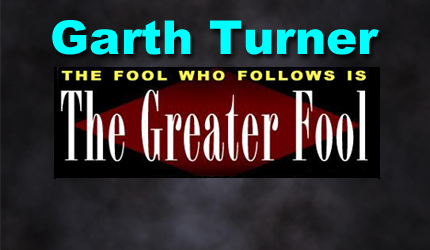 A best-selling Canadian author of 14 books on economic trends, real estate, the financial crisis, personal finance strategies, taxation and politics. Nationally-known speaker and lecturer on macroeconomics, the housing market and investment techniques. He is a licensed Investment Advisor with a fee-based, no-commission Toronto-based practice serving clients across Canada.
There was a money show in the Big Smoke a few days ago. Suspicious DIY investors in hoodies wandered around booths full of hungry salesguys for stocks, weed, crypto, insurance, brokerages and funds. Same old story. Everybody wants to make out like a bandit. Nobody wants risk.
When it comes to investing, nothing changes. Ever. Fear and greed motivate. Of those, fear's the strongest. Science has proved we gain less pleasure from a big win than we suffer in pain over a big hit. So fear of loss drives people to make decisions which are… nuts, actually. So many folks are willing to risk future security in order to escape short-term pain. Apparently humans have the attention span of gerbils and the endurance of moths.
What are the worries du jour? Trump. Boris. Brexit. Iran. Hong Kong. Recession. But it's really volatility and the sense that just because markets are high they have to fall. As usual, we have a thin grasp of history and an overload of BNN.
So I work with some smart, steady people. Their job is to manage money in a disciplined, non-emotional, mathematical and goals-oriented way. They're wicked boring. But when a client says they want an income of $100,000 in retirement in 13 years, my colleagues plot a path leading to that goal. Then they stick to it. Bumps and shudders happen. Assets swell and shrink. Markets gyrate. The news floods in. Adjustments are made. Portfolios tweaked. But never is their panic, rash action or the rush to an exit.
And that, in a nutshell, is the difference between a professional investor and the hoodies.
Here's a small example – the words of my colleague Ross to a lady who, in a panic said, 'I want off the rollercoaster. Take me to cash. A GIC. I can't take it.' She's currently receiving investment income from her portfolio and will need to do so for decades. My pal clearly explained what the consequences of emotion would be.
Garth has stated numerous times in the blog that emotions should never drive financial decisions, which is precisely why you pay us to manage your assets.

*         Over the past 20 years, GICs have lost money after taxes and inflation, meaning you need to take on market risk to actually grow your wealth over time. In other words, the only guarantee from a GIC is that you'll lose purchasing power.

*         Bear markets aren't actually as scary as the media would suggest, as the average loss in a bear market is -27% and lasts about 14 months in duration, while the average gain in a bull market is 144% and last 54 months in duration (See chart 2). Staying invested over the long-term will allow you to reach your financial goals, while market timing will hurt you. Last year we hit bear market territory on the S&P/500 and your portfolio finished the year down only 3.7% after fees, therefore your portfolio is already designed to handle difficult periods in the capital markets. Finally, the last two bear markets were the worst bear markets over the past 60 years, so it's unlikely that the next one will be as severe.
*         I realize there's an abundance of negative sentiment in the news today, but if you look at the hard data things don't look so bad. In the U.S. specifically, unemployment rates are hovering around 50 year lows, housing starts and new home sales massively beat to the upside in recent prints, and consumer confidence/spending remains elevated (70% of economic activity). At the same time, the Federal Reserve has cut interest rates, twice, into what is a robust U.S. economy. There has never been a global recession without the U.S. involved. In Europe things look a bit more bleak, however the ECB just cut interest rates and initiated another round of Quantitative Easing, meaning they injected a huge amount of stimulus into the European economy. China is cutting their lending rates as well, another form of stimulus.  The three largest economic centers in the world are now adding stimulus to promote growth (good for the stock market).

*         Keeping a long-term perspective is key. Below are 2 scenarios for your portfolio:

o   1) where you are earning 5.5% annualized (your return since inception), drawing $25,000 per year, with a 2% rate of inflation and
o   2) where you are earning 2% (GIC return), drawing $25,000 per year, with a 2% rate of inflation.
o   In scenario 1 your money will last 35 years, while in scenario 2 your money will last  21 years, a difference of 14 years in portfolio longevity!
So, what did she decide?
She bailed. Despite the increased odds of running out of income: "It all comes back to the rollercoaster ride.  Just not interested. Take that money out of the market and put us into cash."
Over the almost-a-decade this pathetic blog has existed there's been a debt ceiling crisis, an oil collapse crisis and a Trump crisis. Markets have suffered several 20%+ declines. In the midst of each people have reacted in the same way. When things go down they believe they'll hit zero – just as folks buy houses during bubbles believing they'll inflate forever.
In the real world markets rise over 70% of the time. Booms outlast busts. Economies swell more than they contract. Growth is the norm, recessions rare. Shocking events always fade into haze. Fear, it turns out, does not protect you. It costs.
STAY INFORMED! Receive our Weekly Recap of thought provoking articles, podcasts, and radio delivered to your inbox for FREE! Sign up here for the HoweStreet.com Weekly Recap.