September 2, 2019 | Fear of FOMO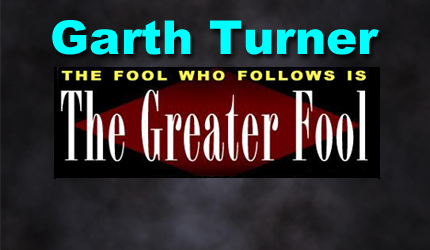 A best-selling Canadian author of 14 books on economic trends, real estate, the financial crisis, personal finance strategies, taxation and politics. Nationally-known speaker and lecturer on macroeconomics, the housing market and investment techniques. He is a licensed Investment Advisor with a fee-based, no-commission Toronto-based practice serving clients across Canada.
No cut for the Bank of Canada this week. But it looks like one's certain the day before Hallowe'en. The Fed in the States is also expected to drop the price of money next month, then four more times by the US presidential election.
We'll get to mortgage rates in a minute.
First, does this mean we're pre-recessionary, that you need to convert your ETFs to cash, buy half-inch particle board for the windows, get a genset and lots of ammo? Well, extra rounds are always welcome, but this economic slowdown stuff is vastly overstated. Especially in Canada. That's why our central bank is unlikely to follow the Fed this week, and may cut again only once in 2020. If it does, it will be insurance against the Americans, not a reaction to conditions here.
"A reckless US administration is blatantly protectionist and jeopardizing business plans to invest, hire and expand in a much more uncertain policy framework," Scotiabank economists said on Monday. "The case for taking out insurance against such greater uncertainties by emphasizing a risk management approach that Poloz [Bank of Canada boss] constantly references is stronger than it was in 2015." Back then, you'll remember, the Ploz chopped twice to mitigate a drop in world oil prices.
A hefty reason our bankers don't want to trim rates is housing. After years of trying to cool the market down, there's big concern too-cheap money could ignite another orgiastic borrowing-buying cycle. Already home loans are scraping bottom, thanks to competition among lenders. A 5-year mortgage now is only 2.3% if you're a penniless moister with 5% down and an insured high-ratio loan, or 2.5% if you have lots of money, tons of equity and take an uninsured conventional one. (Like that makes sense…)
This is a stunning drop of almost a full 1% in 2019, which even outpaces the plop in bond yields. If those bonds keep on shedding, it's possible five-year mortgages could dip close to 2%. The last time anything close to that happened frenzied buyers were sitting in their cars outside while greedy sellers sorted through a pile of hot offers on the kitchen table. This, trust me, is not what the Bank of Canada, the regulators nor the politicians want repeated. It would set up a mama of a correction once the economy does reset.
Of course, if Trump does a China deal, then brings in a new tax cut to win the election, everything changes. Cuts becomes hikes. Don't bet against it.
$     $     $
Hate realtors? Loathe showings, nosy neighbours, high selling commissions and people with nice hair driving Audis?
The revolution sweeping them away is already seeping into major US cities, propelled by the tech-driven Millennials and millions of people fed up with the current paleo way of purchasing and selling houses. It's called iBuying. Changes everything, sort of.
The ground zero test city is Phoenix, where iBuying outfits OfferPad, Zillow Offers and Opendoor are doing about 1,000 monthly transactions – more than a toehold in the market. Here's how it works:
If you want to sell your digs, you go on online with the iBuyer, fill out a form and hit Submit. Shortly thereafter an offer materializes, conditional upon an appraisal. You agree, the appraiser comes, then the iBuyer has the right to ask for whatever repairs are needed to justify the offered prices. You do the work and get the deal. Or you accept the deal, minus the value of the repairs, and close.
The advantages are clear: no strangers tromping through your house. No staging. No sprucing up the place before listing. No ridiculous 5% commission (plus HST). No unhappy closing date forced on you. No offers conditional upon home inspection, or financing. No buyer backing out at the 11th hour.
But in return iBuyers offer lower prices, insist on those repairs, and charge closing fees. Still, if you need to sell, it's a sure thing. Real estate's biggest headache – illiquidity – is wiped away. In Phoenix is looks like this is a hot development, with four in ten sellers actually initiating the process, and requesting an iBuyer offer.
And what about the poor realtors?
Looks like a bunch of them have shifted their business model, and now represent the seller to the iBuyer – getting competing iBuyer offers, giving advice, organizing repairs and coordinating the deal. That's right. It's hopeless.
STAY INFORMED! Receive our Weekly Recap of thought provoking articles, podcasts, and radio delivered to your inbox for FREE! Sign up here for the HoweStreet.com Weekly Recap.