September 1, 2019 | Bang-up, Bullish News as Gold Trends Higher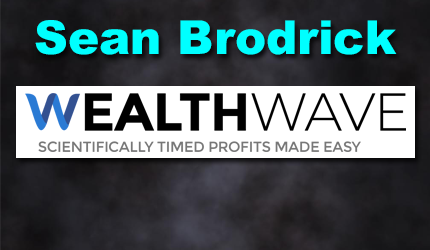 Sean is the natural resource analyst for Weiss Ratings. You can read his thoughts on gold, oil, cannabis, uranium and other natural resources at Wealth-Wave.com
Did you see gold prices hit a new six-year high this week?
Then they jumped on the slip 'n' slide to lower prices. That's not a big surprise. What we should be watching is the trend, which is zig-zagging higher.
This is a good time to look at some gold and silver charts. I think you'll find them quite bullish.
First, let's look at a chart of gold vs U.S. real yields. That is, the yield on U.S. 10-year Treasuries minus inflation.
The black line is the price of gold. The blue line is the real yield, which you can see has gone sharply negative.
That's because the yield on the 10-year Treasury was recently 1.47%. Not only is that the lowest since mid-2016, but it's less than inflation.
That means that U.S. real yields are negative. And that is lighting a fire under gold prices.
Why? Because one of the complaints bears make about gold is that it pays no interest. Well, now, neither does the U.S. 10-year, not when you take inflation into account.
And investors big and small are cluing in. Here's a chart showing physical exchange-traded funds (ETFs) that hold gold and silver. They're stacking up ounces.
Gold holdings are the blue line here, silver ETF holdings are the black. So far this year, ETFs have added 7.79 million troy ounces of gold to their stockpiles, and 111.8 million ounces of silver.
Boy, people are stacking up a lot of silver, right? Well, that's because it is so cheap compared to gold. Why, just last week, gold traded at 93.33x the price of silver. That was an all-time high.
So, let's take a look at the gold-silver ratio, and see how that looks …
It sure looks like the gold-silver ratio is peaking. And this is happening just as the price of silver is bottoming. We need follow-through. But this looks very bullish to me.
Here's the thing: One of the best signals for a bull market in both gold and silver is when the gold-silver ratio peaks. That's because the peak comes when people hate metals … and hate silver most of all.
But as the new bull starts, buyers come back … and they start buying more silver than gold. That drives up silver's relative value.
You see, silver is the drama queen of precious metals, always over-doing things on the upside and the downside.
I expect the pullback in gold and silver to go on for a bit longer. But that next buying opportunity will come.
When it does, be ready. Subscribers to my Wealth Megatrend service already have three of the best names, and I'll add more at the right time. In addition, they're privy to specific "BUY" and "SELL" recommendations from me to maximize gains and minimize potential losses. Click here to see for yourself.
If you're doing this on your own, do your own due diligence.
The best is yet to come. Have a great holiday weekend. And if you're in harm's way of the hurricane bearing down on Florida, say safe.
All the best,
Sean
STAY INFORMED! Receive our Weekly Recap of thought provoking articles, podcasts, and radio delivered to your inbox for FREE! Sign up here for the HoweStreet.com Weekly Recap.