September 7, 2019 | Another Brazen Attack on All Four Precious Metals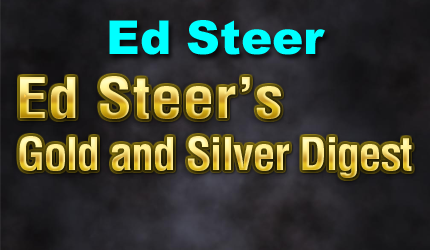 "Ed wrote the daily precious metal commentary for Casey Research starting in 2008. His stand-alone column became their most highly-rated blog [either free or paid] almost from the outset—and remained that way until he started his own subscription-based website in June of 2015."
YESTERDAY in GOLD, SILVER, PLATINUM and PALLADIUM
The gold price crawled a bit lower until around 11 a.m. China Standard Time on their Friday morning, but was back at the unchanged mark shortly after 1 p.m. CST.  Once the afternoon gold fix in Shanghai was put to bed around 2:15 p.m. over there, it was mostly down hill into the COMEX open — and the 8:30 a.m. jobs report in Washington.  It took off higher from there, but was capped and turned lower at 9:45 a.m. in New York….then didn't do much of anything until 12:45 p.m.  "Da boyz' showed up in force at that juncture — and it was sold down hard into the 1:30 p.m. EDT COMEX close.  It drifted a bit lower in after-hours trading until a minute or so after 3:30 p.m. — and the gold price didn't do much after that.
The low and high ticks were recorded as $1,504.50 and $1,529.60 in the October contract — and $1,510.70 and $1,536.20 in December.
Gold was closed at $1,506.50 spot, down another $12.20 on the day.  Net volume was beyond Mars at around 515,000 contracts — and there was a hair under 31,000 contract worth of roll-over/switch volume in this precious metal.
Silver's price path was directed in a similar fashion as gold's…with some inconsequential variations.  It was bounced off the $18 spot mark on at least four occasions that one can spot on the Kitco chart below, although Kitco recorded the low spot price as $17.92.
The high and low ticks in this precious metal were reported by the CME Group as $18.89 and $18.06 in the December contract…an intraday move of over 4 percent, the second outrageous intraday move in a row.
In most respects that really mattered, the price pattern in silver was guided through the Friday session in a similar manner as both silver and gold.  Its attempt to break above unchanged during morning trading  in New York was capped as well — and its fate was also sealed at 12:45 p.m. EDT.  Platinum was closed at $948 spot, down 10 bucks on the day.
The major difference in palladium's price path was that it was beaten lower in price for an hour and change before trading began on the COMEX in New York.  Its sharp rally after that was capped at, or just before, the afternoon gold fix in London — and the rest is just the same as the other three precious metals.
It was the second day in a row where there was zero correlation between the currencies and what precious metal prices were doing.  In fact, the dollar index and the precious metals rallied together for a while shortly after the job numbers came out…at least until 'da boyz' appeared.
As I said in Friday's column — and it's worth repeat again here now…for every seller, there is a buyer — and it's a given that the buyers on Friday…like the ones on Thursday…were the strongest hands of all, as John Q. Public is nowhere in sight.
---
Here are the usual three charts from Nick that show what's been happening for the week, month — and year-to-date. The first one shows the changes in gold, silver, platinum and palladium for the past trading week, in both percent and dollar and cents terms, as of their Friday closes in New York – along with the changes in the HUI and the Silver 7 Index.
---
---
In the other silver ETFs, there was 483,788 troy ounces deposited in SIVR — and another 495,560 troy ounces found its way into Sprott's PSLV.  On the withdrawal side, there was 118,352 troy ounces removed from Deutsche Bank's XAD6 silver ETF.  In the gold ETFs, there was a net 84,410 troy ounces deposited on Friday.
Month-to-date…four business days…the mint has sold 2,000 troy ounces of gold eagles — 500 one ounce 24K gold buffaloes — and 11,000 silver eagles.  How pathetic is that?
---
But as I pointed out in my Friday column, this report — and the companion Bank Participation Report…are hopelessly out of date after Thursday's price action, plus what happened on Friday.  I'm just going to hit the highlights in both of these reports, as delving into them in depth is a total waste of my time writing it — and yours, in reading it.
They arrived at that number by reducing their long position by 5,322 contracts, but they also reduced their short position by 2,325 contracts — and it's the difference between those two numbers that represents their change for the reporting week.
Under the hood in the Disaggregated COT Report it was all Managed Money traders plus a bunch more, as they increased their long position by 1,897 contracts — and they reduced their short position by 3,197 contracts as well.  It's the sum of those two numbers…5,094 contracts…that represents their change for the reporting week.
With the new Bank Participation Report in hand, Ted calculates JPMorgan's short position at round 25,000 contracts…up 5,000 from last week's COT Report.
The Commercial net short position in silver, as of Tuesday's cut-off, now sits at 84,678 COMEX contracts, or 423.3 million troy ounces of paper silver.
As I've already pointed out, this silver data is now irrelevant.
---
They arrived at that number by reducing their long position by 1,149 contracts — and they increased their short position by 2,786 contracts.  It's the sum of those two numbers that represents their change for the reporting week.
In the Disaggregated COT Report, it was all Managed Money traders, plus a bit more, as they increased their long position by 6,906 contracts — and they also increased their short position by 1,996 contracts.  It's the difference between those two numbers…4,910 contracts…that represents their change for the reporting week.
The commercial net short position in gold is back up to 33.77 million troy ounces…wildly bearish on its face.
Like with the COT Report for silver, this report for gold is ancient history as well.
---
In the COT Report above, the Commercial net short position in silver was reported as 423 million troy ounces.  As mentioned in the previous paragraph, the short position of the Big 8 traders is 508 million troy ounces.  The short position of the Big 8 traders is larger than the total Commercial net short position by 508 minus 423 equals 85 million troy ounces.
The reason for the difference in those numbers…as it always is…is that Ted's raptors, the 30-odd small commercial traders other than the Big 8, are net long that amount.
As I mentioned in my COT commentary in silver above, Ted figures that JPMorgan is short around 25,000 COMEX silver contracts…up 5,000 from the prior week's COT Report.
25,000 COMEX contracts is 125 million troy ounces of paper silver, which works out to around 53 days of world silver production, up from the 45 days they were short in last week's COT Report.  As of Tuesday's cut-off, JPMorgan was by far the biggest silver short on the COMEX futures market.  Citigroup is in second place — and not that far behind.
All the data above is also ancient history because of the price action on Thursday and Friday, but it does put a stake in the ground for the highs before the engineered price decline began.
---
[The September Bank Participation Report covers the time period from August 7 to September 3 inclusive.]
JPMorgan, Citigroup and HSBC USA would hold the lion's share of this short position.  But as to who other two U.S. banks might be that are short in this BPR, I haven't a clue, but it's a given that their short positions would not be material.
Also in gold, 30 non-U.S. banks are net short 114,958 COMEX gold contracts.  In the August's BPR, 29 non-U.S. banks were net short 132,469 COMEX contracts…so the month-over-month change shows a reduction of 17,511 contracts.
However, as I always say at this point, I suspect that there's at least two large non-U.S. bank in this group, one of which would include Scotiabank.  It's certainly possible that it could be the BIS in the No. 1 spot.  But regardless of who this second non-U.S. bank is, the short positions in gold held by the remaining 28 non-U.S. banks are immaterial.
At the low back in the August 2018 BPR [for July]…these same non-U.S. banks held a net short position in gold of only 1,960 contacts!
As in gold, the three biggest short holders in silver of the five U.S. banks in total, would be JPMorgan, Citigroup and HSBC USA.  Whoever the remaining two U.S. bank may be, their short positions, like the short positions of the two smallest U.S. banks in gold, would be immaterial in the grand scheme of things.
Also in platinum, 19 non-U.S. banks are net short 16,647 COMEX contracts in the September BPR, which is up another 19 percent from the 14,013 COMEX contracts that these same 19 non-U.S. banks were net short in the August BPR.  [Note: Back at the July 2018 low, these same non-U.S. banks were net short only 1,192 COMEX contracts.]
It's obvious that these banks, both U.S. and foreign, have been going short against the Managed Money trader during this big rally in platinum…which may have ended on Wednesday.
Also in palladium, 13 non-U.S. banks are net short 1,965 COMEX contracts-which is up a bit from the 1,576 COMEX contracts that 15 non-U.S. banks were short in the August BPR.
But when you divide up the short positions of these non-U.S. banks more or less equally, they're completely immaterial…especially when compared to the positions held by the 4 U.S. banks.
Of course all the above data belongs in the scrap heap along with the COT data from this week as well.  But as I said in Friday's commentary, I was going to report on it regardless.
However, it's obvious that JPMorgan is still the short seller of last resort — and sometimes first resort as well, in order to keep a lid on precious metal prices.
But, as always, they are in a position to stick it to the rest of the short holders in both silver and gold if they so choose — and whether they will they or they won't, remains to be seen.  I also get the impression that the engineered price decline that began on Thursday did not involve JPMorgan.  It was one or all of the other Big 7 commercial shorts.  But as Ted pointed out on the phone yesterday, JPMorgan was certainly in the thick of it covering every short contract they could — and going long hand over fist at the same time.
I have a decent number of stories/articles for you today, including a few that I've been saving for my Saturday column for length and/or content reasons.
CRITICAL READS
Well, make that 9 of the past 11 and even with census hiring, because moments ago the BLS reported that in August, a total of just 130K payrolls were added, with hiring for census accounting for 25,000 of the total, sharply below the 160k expected. Oddly, the picture presented by the Household Survey was vastly different, with the number of employed workers surging by 590K, to 157.878 million as the labor force soared by 571K, suggesting the U.S. has a way to go before hitting full employment.
On a year-over-year basis, the rate of growth payroll growth was just 1.4%, the lowest since August 2011.
---
Confident in the Washington backstop, GSE securities will continue to trade with meager risk premiums. This distortion creates extraordinarily attractive profit opportunities for equity investors clamoring for a so-called "privatization." As before, cheap financing costs and the gross under-reserving for future losses would create the illusion of sound and highly profitable institutions. These "private" companies would surely reward investors with strong earnings growth and dividends, ensuring a hopelessly insufficient capital base for the downside of the cycle.
The Trump administration punted. Yet I would prefer to see these institutions remain under the Treasury umbrella rather than be part of some sham "privatization." The administration should, however, at the very minimum demand a moratorium on expansion. It would take years, but Fannie and Freddie exposures could be meaningfully reduced. I won't hold my breath. Cheap mortgage Credit has been a staple for U.S. economic and financial systems now going on three decades. One of many historic market distortions that these days passes as normal and sustainable.
---
Here we are in month 121 of the longest business expansion in history-albeit the weakest one. The unemployment rate is at 3.7%, and they've already thrown in the towel and have cut the rates. This morning the federal funds rate is 2.12%.
They've got no room left to go. Now, people say they could go negative. They will not go negative in the United States. If they actually tried to drive interest rates in the short end of the market into negative territory-and finally crush whatever life is left in the savers and retirees of America-people would be descending on Washington with pitchforks and torches. So that won't happen.
So, they basically have this huge balance sheet in conjunction with the other central banks of the world. Collectively, they have driven bond yields to rock bottom. I would say we're now in the mother of all bond bubbles in history.
They've practically destroyed the bond market in terms of any meaningful price discovery and any meaningful economic content of the yields. You have $16 trillion of investment-grade sovereign debt trading at negative yields. You have even the entire US yield curve as the only bond market left with a positive number in front of the yield, and now we're under 2%. They're close to destroying the bond market completely.
So, if they try to go big time with a new round of QE, that will blow up the bond market. There's no doubt about it.
I think that will be a calamity and will generate an unprecedented collapse of the entire global financial system.
---
The about-to-retire head of the very special Bank of England, Mark Carney, delivered a remarkable speech at the recent annual meeting of central bankers and finance elites at Jackson Hole Wyoming on August 23. The 23-page address to fellow central bankers and financial insiders is clearly a major signal of where the Powers That Be who run world central banks plan to take the world.
---
On September 11, 2001, at 5:20 PM, the 47-story World Trade Center Building 7 collapsed into its footprint, falling more than 100 feet at the rate of gravity for 2.5 seconds of its seven-second destruction.
Despite calls for the evidence to be preserved, New York City officials had the building's debris removed and destroyed in the ensuing weeks and months, preventing a proper forensic investigation from ever taking place. Seven years later, federal investigators concluded that WTC 7 was the first steel-framed high-rise ever to have collapsed solely as a result of normal office fires.
Today, we at Architects & Engineers for 9/11 Truth are pleased to partner with the University of Alaska Fairbanks (UAF) in releasing the draft report of a four-year computer modeling study of WTC 7's collapse conducted by researchers in the university's Department of Civil and Environmental Engineering. The UAF WTC 7 report concludes that the collapse of WTC 7 on 9/11 was caused not by fire but rather by the near-simultaneous failure of every column in the building.
[F]or the first time since 9/11 the federal government is taking steps to hear evidence that explosives may have been used to destroy the world trade centers.
The Lawyers' Committee for 9/11 Inquiry successfully submitted a petition to the federal government demanding that the U.S. Attorney present to a Special Grand Jury extensive evidence of yet-to-be-prosecuted federal crimes relating to the destruction of three World Trade Center Towers on 9/11 (WTC1, WTC2 and WTC7).
After waiting months for the reply, the U.S. Attorney responded in a letter, noting that they will comply with the law.
Finally, after nearly two decades of ridicule, dismissal, and outright intolerance of information contrary to the "official story" of what happened on 9/11, the public may finally learn the truth of what happened and who was behind it.
---
It's been a wild week in Westminster as U.K. Prime Minister Boris Johnson and Opposition Leader Jeremy Corbyn made dubious history. Johnson became the first Prime Minister in history to lose his first four votes in Parliament and Corbyn became the first Opposition Leader to turn down a general election.
If you think the Brits have lost their minds over Brexit, you would be wrong. Everyone involved is acting with complete rationality, playing the cards they are dealt.
These political machinations may seem obtuse but they will have enormous effects on the economic futures of the U.K. and the EU. Investors need to understand what is really happening to position themselves properly.
Johnson had no clear mandate to govern and is only Prime Minister because Corbyn refused to call a general election when he had the chance back in June. He didn't do this because while he may be a pathetic Marxist, he's not a complete fool.
The European election results were clear to everyone that if a General Election occurred, Nigel Farage's Brexit Party and the Conservatives would command an unassailable majority in the House of Commons and Brexit on British terms would commence.
That dynamic is still in play today, and that's why Corbyn's Labour Party abstained from Johnson's call for a General Election.
---
Mario Draghi is expected to go big in a final stimulus push as European Central Bank president, overriding protests from among his ranks that tools such as bond purchases aren't yet needed.
More than 80% of economists surveyed by Bloomberg predict officials will announce more quantitative easing next week. They see the ECB's deposit rate being reduced by 10 basis points to a record-low minus 0.5% in September, and expect a second cut of the same magnitude in December.
By easing, the ECB would join a wave of policy-loosening by central banks as the global economy cools because of protectionism and geopolitical tensions. The U.S. Federal Reserve might follow a week later with its second rate cut of the year, and the Swiss National Bank is seen as likely to reduce its key rate further below zero if the ECB acts.
---
Collapsing demand and plunging shipping container rates have led to pain for carriers who sail their vessels along the route. This is the second time Maersk and MSC have suspended the circuit, and the last time this happened was last fall.
Maersk and MSC adopted a similar strategy last year, suspending AE2/Swan Asia to North Europe loop from September to December, this was right around the time when stock markets across the world crashed from October to December, on fears the world economy was slowing. It just so happens that the global synchronized slowdown is much worse this year, likely the world has entered a manufacturing/trade recession in late summer 2019.
---
It has taken me years to tell these stories. The emotional and moral wounds of the Afghan War have just felt too recent, too raw. After all, I could hardly write a thing down about my Iraq War experience for nearly ten years, when, by accident, I churned out a book on the subject. Now, as the American war in Afghanistan – hopefully – winds to something approaching a close, it's finally time to impart some tales of the madness. In this new, recurring, semi-regular series, the reader won't find many worn out sagas of heroism, brotherhood, and love of country. Not that this author doesn't have such stories, of course. But one can find those sorts of tales in countless books and numerous trite, platitudinal Hollywood yarns.
With that in mind, I propose to tell a number of very different sorts of stories – profiles, so to speak, in absurdity. That's what war is, at root, an exercise in absurdity, and America's hopeless post-9/11 wars are stranger than most. My own 18-year long quest to find some meaning in all the combat, to protect my troops from danger, push back against the madness, and dissent from within the army proved Kafkaesque in the extreme.
American soldiers fight and die at the whims of career-obsessed officers as much they do so at the behest of king and country. Sometimes its their own leaders – as much as the ostensible "enemy" – that tries to get them killed. The plentiful sociopaths running these wars at the upper and even middle-management levels are often far less concerned with long-term, meaningful "victory" in places like Afghanistan, than in crafting – on the backs of their soldiers sacrifices – the illusion of progress, just enough measurable "success" in their one year tour to warrant a stellar evaluation and, thus, the next promotion. Not all leaders are like this. I, for one, once worked for a man for whom I – and all my peers – would run through walls for, a (then) colonel that loved his hundreds of soldiers like they were his own children. But he was the exception that proved the rule.
The madness, irrationality, and absurdity of my colonel was nothing less than a microcosm of America's entire hopeless adventure in Afghanistan. The war was never rational, winnable, or meaningful. It was from the first, and will end as, an exercise in futility. It was, and is, one grand patrol to my own unnecessary outpost, undertaken at the wrong time and place. It was a collection of sociopaths and imbeciles – both Afghan and American – tilting at windmills and ultimately dying for nothing at all. Yet the young men in the proverbial trenches never flinched, never refused. They did their absurd duty because they were acculturated to the military system, and because they were embarrassed not to.
After all, lower caters to higher…
---
As had been widely previewed in China's official financial press in recent days, on Friday the PBOC announced it would cut the required reserve ratio (RRR) for all banks by 0.5% effective Sept. 16 (and by 1% for some city commercial banks, to take effect in two steps on Oct. 15 and Nov. 15), releasing 900 billion yuan ($126 billion) of liquidity in the PBOC's first broad and targeted RRR cut since 2015, helping to offset the tightening impact of upcoming tax payments.
With the Chinese economy slowing drastically in recent months, with various economic indicators at multi-decade lows, the RRR cut was aimed at supporting demand by funneling credit to small firms and echoes the earlier cuts this year. Indeed, as Bloomberg notes, China's economy softened substantially in August after poor results in July, and will likely deteriorate further in the remainder of the year. Trade tension between China and the U.S. expanded onto the financial front recently after China allowed the currency to decline below 7 a dollar, prompting the U.S. to name it a currency manipulator.
---
Gold is up more than 21% on the year and is trading at levels not seen since 2013.
During the interview, Greenspan focused on an interesting fundamental he thinks is driving both the bond and gold markets – the aging population. He said there has been a shift in time preferences as people recognize they will likely live longer and they will need to finance those longer lives. This, he says, is increasing the demand for hard assets like gold.
Historically, gold has served as an inflation hedge and a wealth preserver. It makes sense that investors concerned about maintaining their savings well into the future would turn to gold. This is especially true given the likelihood of increasing inflation as the Federal Reserve continues to try to prop up the economy with low interest rates and quantitative easing.
The PHOTOS and the FUNNIES
STAY INFORMED! Receive our Weekly Recap of thought provoking articles, podcasts, and radio delivered to your inbox for FREE! Sign up here for the HoweStreet.com Weekly Recap.