August 25, 2019 | What to Do When the Bulls are Wrong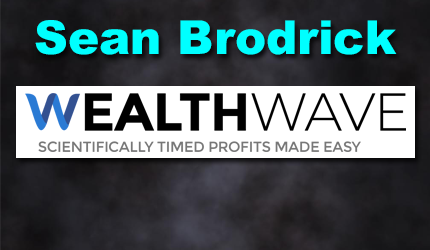 Sean is the natural resource analyst for Weiss Ratings. You can read his thoughts on gold, oil, cannabis, uranium and other natural resources at Wealth-Wave.com
I want to share something with you. It's about being wrong … and realizing you're wrong. And what you should do then.
Let me start by saying I'm generally an optimistic person. That comes from hanging around miners. Miners — gold, silver, copper, cobalt and their brethren — are the world's biggest optimists. They get out of their bunks every day, for a dozen years, thinking they can turn a patch of dirt into a mine.
That is a very, very hard thing to do. Sometimes they are quite successful. More often than not, they dig a lot of holes for nothing. So, of course miners are optimists.
This boundless optimism is why you'll hear people say a gold mine is "a hole in the ground with a liar on top of it." That's cute, but not correct. Most miners are NOT liars. They are just dyed-in-the-wool optimists.
And sometimes, optimism fails.
The latest failure (for me) was in uranium. After taking two nice rounds of gains in Energy Fuels (NYSE: UUUU), I decided to exit our latest position in the stock with a loss on April 29. Why?
Many people in the uranium industry — including executives at Energy Fuels — told me things they hoped would happen that just did not happen. In particular, the global price of uranium was not going higher.
They also said that the section 232 petition filed by Energy Fuels and Ur-Energy (NYSE: URG) was very, very likely to result in the U.S. government imposing quotas on foreign uranium, or price supports for U.S. produced uranium.
On April 14, the Commerce Department submitted a report to President Trump that advised that uranium is being imported into the U.S. in such quantities as to threaten America's national security. So, that seems like protective tariffs or a quota would be a no-brainer, right?
The price of uranium didn't agree. It went lower after the Commerce report, and uranium stocks went nowhere. Worse than nowhere. The stocks went down.
That told me that insiders in Washington knew the real news wasn't good.
And sure enough, on July 16, President Trump rejected the request for an import quota or tariff.
Let's look at the price of uranium  …
You can see that uranium prices slid all the way into June. While they've recovered a bit, they're still lower than they were in March.
How about Energy Fuels? I told my Supercycle Investor subscribers to get out on April 29. Let's look at that  …
Sure, we took a loss. But Energy Fuels is now down 46% BELOW where we sold it.
I made this move, by the way, in the face of constant optimism from people in the uranium industry, as well as associated investors and speculators. They all told me I was a fool for selling. That the big rally was just around the corner.
They weren't lying. They were just overly optimistic. And boy, that can destroy your investment capital. Like a depleted uranium tank round right between the eyes.
In the latest twist, Reuters just reported that Japanese utilities continue to sell uranium fuel into an already depressed and oversupplied market. Many people thought the Japanese would stop as they turned on more reactors, which were all shut down after the Fukushima nuclear disaster.
Japan had 54 nuclear reactors operating before Fukushima. Now, it turns out that Japan is permanently shuttering 40% of its facilities, and just nine of the 33 remaining have restarted.
Reuters reports: "With reactors also being closed in the United States, Germany, Belgium and other countries, traders and specialists say the market is likely to remain depressed for years."
Years. Ouch.
Sure, there are a lot of factors that can affect the global uranium markets. But for now, things look bearish.
Yeah, I'm glad we sold Energy Fuels. Even though we took a loss on that latest round. Hey, the first two times we owned we made nice gains. If you can keep your wins bigger (and more frequent) than your losses, you'll enjoy a long and successful investing career.
So, what do we learn from this?
Believe Price Action, Not Hype. One thing I tell my subscribers is that the news isn't nearly as important as the market's reaction to that news. When a stock goes up on what should be bearish news, that is VERY bullish. Likewise, when a stock goes down on what should be bullish news, it is time to sell.
Keep Your Losses Small. We limit the amount we invest in any one position. After all, you can always add to a winning position. But if a trade turns against you, a small position size actually helps.
Ask Yourself an Important Question Every Day. And that question is: "Why am I holding this stock (or fund)?" If the reason you bought it no longer exists — if you have to come up with new rationales to keep holding — then it is time to look for an exit.
Know When to Take Profits. This is really the hardest part. We like to let winners run, right? But you can tell by the price and volume action when a rally is fading. Through your own research, you can decide whether it's just a short-term pullback, or if the trend is over. And if the trend is over, you want to ring that cash register and get out.
And if you must take losses — and we all take them eventually — know that the money you recover can be used on other trades with bigger and faster profit potential.
Now, can you apply these lessons to the current market? I think so. We are spiraling deeper and deeper into trade wars with our major trading partners around the world. The Fed keeps trying to prop up the market, but each effort has less and less effect.
To me, that is a sign to start hedging against a potential tumble. In Supercycle Investor, we've done just that. And we've also loaded up with gold and silver miners — a safe haven that is in a new, big bull market, and shining brighter every week. You can join in and get these recommendations and more, including detailed BUY and SELL prices by clicking here.
We'll buy more miners on dips. It seems the smart thing to do. Whatever you are doing in this market, know when it's time to cut a loss. Because taking losses smartly is a proven path to being a winner in the long-run. And if you want some help along the way, let me know here.
All the best
Sean
STAY INFORMED! Receive our Weekly Recap of thought provoking articles, podcasts, and radio delivered to your inbox for FREE! Sign up here for the HoweStreet.com Weekly Recap.