August 31, 2019 | Trading Desk Notes August 31, 2019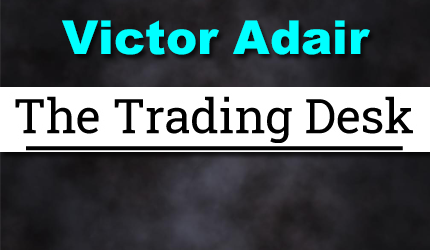 Victor Adair, author of The Trading Desk Notes, began trading penny mining shares while attending the University of Victoria in 1970. He worked in the mining business in Canada and the Western United States for the next several years and also founded a precious metals trading company in 1974. He became a commodity broker in 1977 and a stock broker in 1978. Between 1977 and his retirement from the brokerage business in 2020 Victor held a number of trading, analytical and senior management roles in Canada and the USA. Victor started writing market analysis in the late 1970's and became a widely followed currency analyst in 1983. He started doing frequent media interviews in the early 1980's and started speaking at financial conferences in the 1990's. He actively trades his own accounts from The Trading Desk on Vancouver Island. His personal website is www.VictorAdair.ca.
Going into the Labor Day weekend, after a very choppy August, and ahead of the "back to reality" moment that hits every year when trading resumes in September we have the US Dollar strong like Big Bull…the USDX is at 28 month highs and the St. Louis Fed Trade Weighted USD Index is at All Time Highs.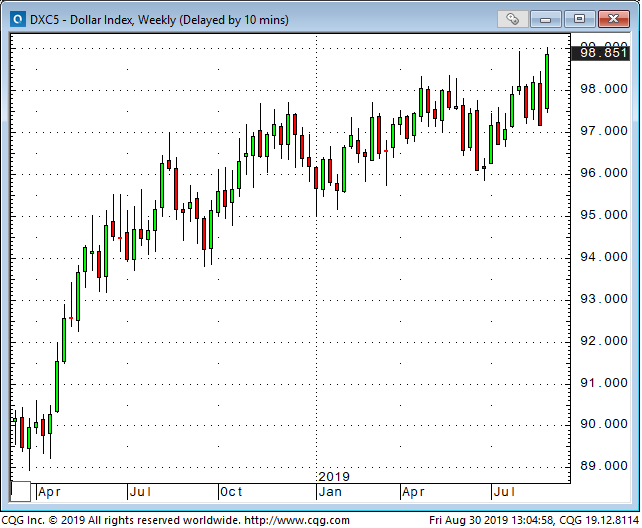 The NZDUSD is at a 10 year low…closing lower for 6 consecutive weeks. The RBNZ has been cutting rates and indicating that more cuts are coming…the country is "seen" as vulnerable to "China" and as a "proxy" for EMFX. The offshore CNHUSD is at a 26 month low.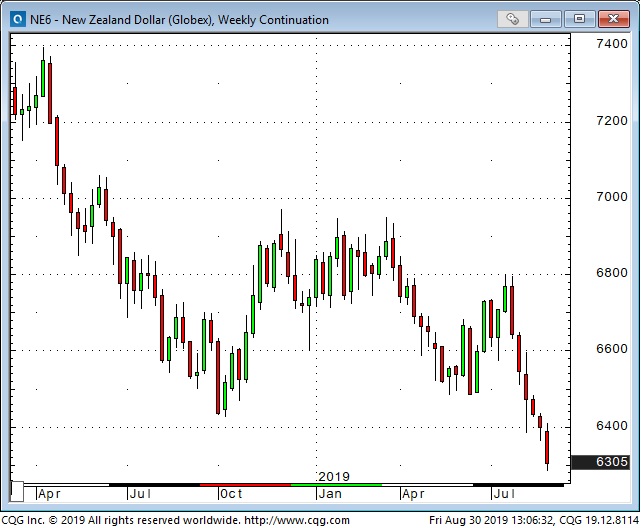 CADUSD has closed lower for 7 consecutive weeks but CAD has gained against most other currencies (notable exception: JPY) on the "thinking" that the BoC will NOT be cutting interest rates September 3. But if the BoC meeting has a more-dovish-than-expected tone CADUSD is at risk of breaking the August lows around 75 cents.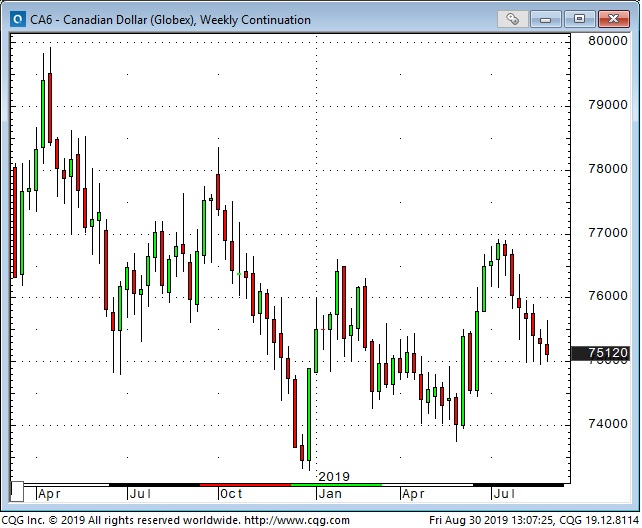 The major US stock market indices had a nasty/choppy August after tumbling from July's All Time Highs. Despite the very negative investor sentiment that permeated the market following the escalation of the US/China trade war the DJIA futures ended the month on a strong note…rallying >1,250 points from the lows made following Trump's belligerent tweets on August 23.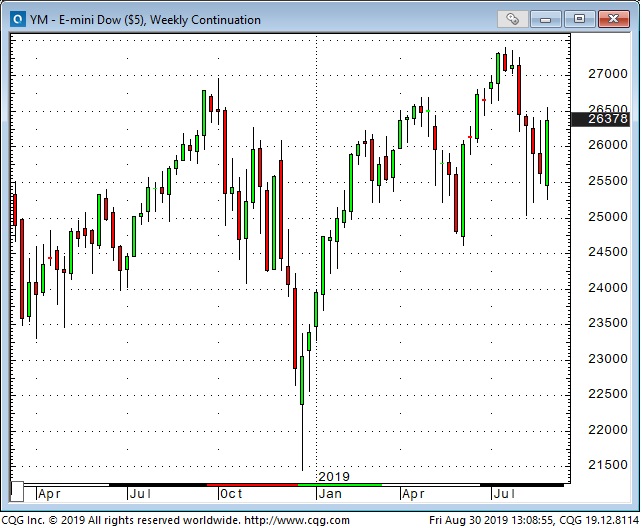 Thirty year Treasury yields hit All Time Lows ~1.91% Tuesday…below both the 3 month T-Bill "yield" and the S+P 500 Index dividend yield…as the stampede into "safe havens" accelerated.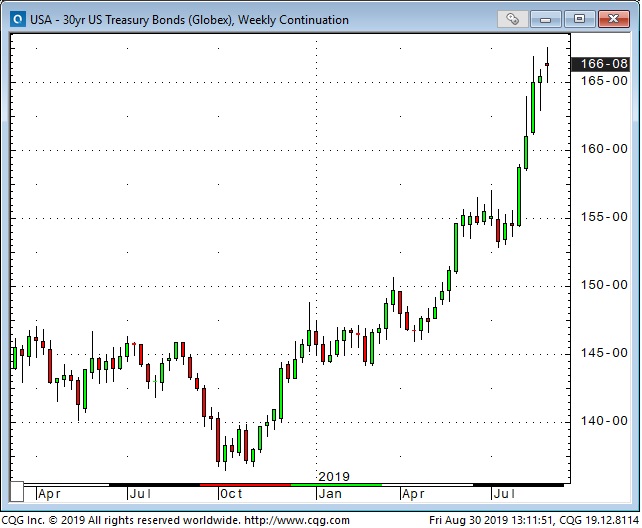 Gold hit a new 6 year high against the USD this week even though the USD was strong. Given that the relative strength/weakness of the USD is usually the "main" gold price denominator we have to look at falling real and nominal interest rates and the "safe haven" bid as the current drivers of the gold rally.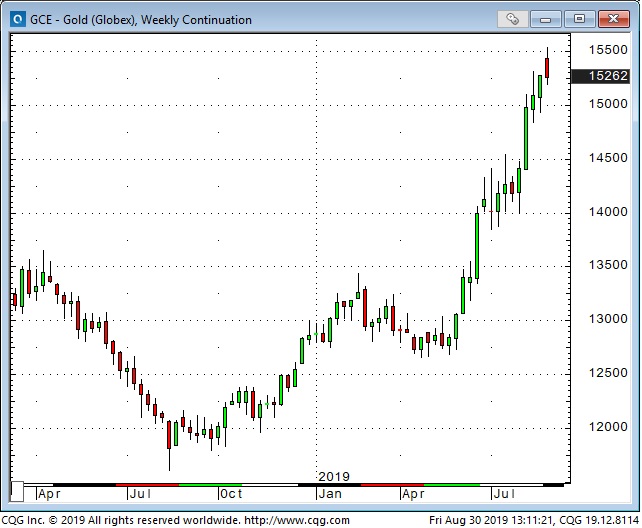 Key Question: for the past 2 months I've been wondering if/when the irresistible force that has moved all markets…the aggressive repricing of future interest rate expectations…the stunning rally in the bond market…the most crowded trade in the world…would take a breather. Last week I proposed that even though a "breather" might be due on "logical" grounds the astonishing strength of the safe haven "emotional" bid was blowing away any "logical" considerations.
I understand that when any market builds and sustains one-way momentum (for instance, the current bond rally, or the dot.com era stock rally) that a lot of "thinking" and positioning that might have "stood against" that momentum has to fold, and that folding accelerates the momentum and causes even more entrenched "resistance" to fold.
You can imagine that such a massive momentum move happens maybe once every 10 years or so…and that when it's underway people can easily "misunderstand the messaging" that the move implies…and the number one message seems to be that "there's a lot more coming!"
At some level the momentum move morphs into its-all-the-same-trade. You buy bonds, you extend duration, you buy defensive stocks, you sell cyclicals, you buy gold, you short EMFX etc.
Maybe instead of wondering if the "irresistible force" had gone too far too fast I should have just bought a ton of zero coupons…I'm sure somebody did, and hat's off to them! But the trader's question is always, "What are you going to do now?" I'll keep doing my day-to-day trading…but I'm going to be watching like a hawk for any signals that this HUGE one sided trade is starting to reverse…and if/when I see that happening I hope I have the moxie to step up and take a position!
Best wishes for a great long weekend!
PI Financial Corp. is a Member of the Canadian Investor Protection Fund. The risk of loss in trading commodity interests can be substantial. You should therefore carefully consider whether such trading is suitable for you in light of your financial condition. In considering whether to trade or the authorize someone else to trade for you, you should be aware of the following. If you purchase a commodity option you may sustain a total loss of the premium and of all transaction costs. If you purchase or sell a commodity futures contract or sell a commodity option or engage in off-exchange foreign currency trading you may sustain a total loss of the initial margin funds or security deposit and any additional fund that you deposit with your broker to establish or maintain your position. You may be called upon by your broker to deposit a substantial amount of additional margin funds, on short notice, in order to maintain your position. If you do not provide the requested funds within the prescribe time, your position may be liquidated at a loss, and you will be liable for any resulting deficit in your account. Under certain market conditions, you may find it difficult to impossible to liquidate a position. This is intended for distribution in those jurisdictions where PI Financial Corp. is registered as an advisor or a dealer in securities and/or futures and options. Any distribution or dissemination of this in any other jurisdiction is strictly prohibited. Past performance is not necessarily indicative of future results
STAY INFORMED! Receive our Weekly Recap of thought provoking articles, podcasts, and radio delivered to your inbox for FREE! Sign up here for the HoweStreet.com Weekly Recap.