August 3, 2019 | Trading Desk Notes August 3, 2019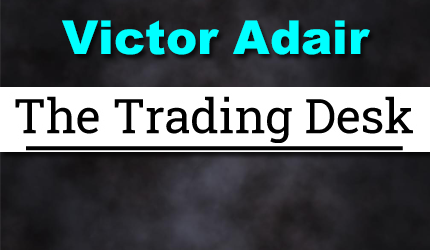 Victor Adair, author of The Trading Desk Notes, began trading penny mining shares while attending the University of Victoria in 1970. He worked in the mining business in Canada and the Western United States for the next several years and also founded a precious metals trading company in 1974. He became a commodity broker in 1977 and a stock broker in 1978. Between 1977 and his retirement from the brokerage business in 2020 Victor held a number of trading, analytical and senior management roles in Canada and the USA. Victor started writing market analysis in the late 1970's and became a widely followed currency analyst in 1983. He started doing frequent media interviews in the early 1980's and started speaking at financial conferences in the 1990's. He actively trades his own accounts from The Trading Desk on Vancouver Island. His personal website is www.VictorAdair.ca.
The market had a lot to digest this past week and thinner-than-normal mid-summer conditions may have exaggerated the moves…but it still feels like there's a "sea-change" happening here that may be foreshadowing bigger moves to come.
My definition of positioning risk: Being forced to cover…with increasing urgency…positions which used to look very good…before everything changed. Example: short volatility.
I wrapped up my July 19 TD Notes with, "It feels like the stage is set for volatility to jump… I think a lot of recent positioning might have to be reversed."
This week saw reversals everywhere, and reversals of reversals! Markets had not correctly "priced-in" the Fed and hadn't anticipated Tariff Man taking another swipe at China. (Retaliation coming?)  So…markets has to price-in a "new reality" or, more accurately a "new imagining of what is to come." The common feature across markets was that Vol surged higher. Fear happens fast.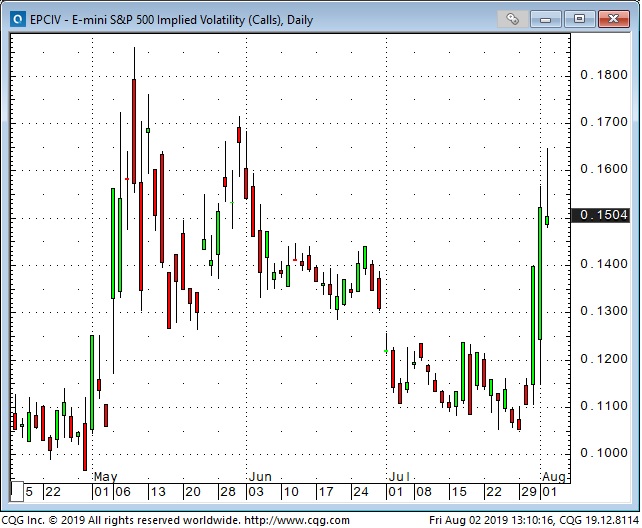 I think there were more Weekly Key Reversals across the futures market than I've ever seen…which may be evidence of significant re-positioning. There were WKRs across the entire interest rate curve from 10 year notes to Eurodollars, in WTI and Gold, in JPY and MEX, and in the stock indices the Russell small cap had a WKR while the major indices missed by a whisker.
The USDX surged to better than a 2 year high Thursday on the "more-hawkish-than-expected" Fed…but fell back going into the weekend on ideas that the Fed "got it wrong" and will have to ease more aggressively…especially if the new tariffs add to slowing global growth. (Not to mention worries that Tariff Man might morph into FX Man and order the Treasury to hammer the USD.)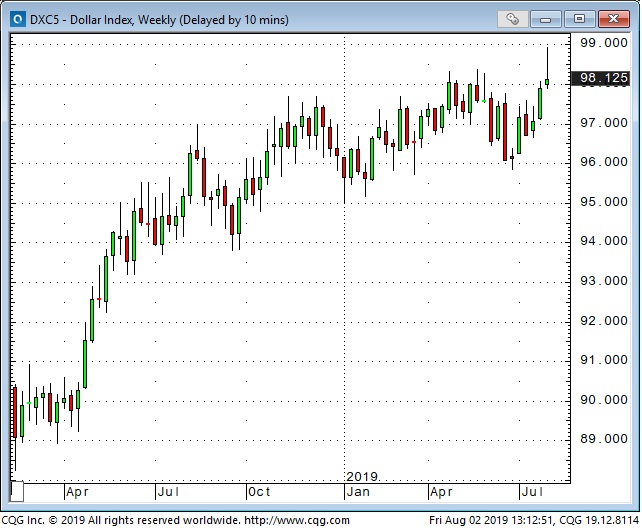 The major European currencies (save the Swissie) and the Renminbi fell to 2+ year lows against the USD…with the RMB dangerously close to that "7" level.  AUD was down 11 days in a row, falling to a 10 year low against both the USD and the JPY. CAD fell to a 6 week low while the "safe haven" JPY closed the week  at more than a 1 year high Vs. the USD and a 2 year high Vs. the EUR.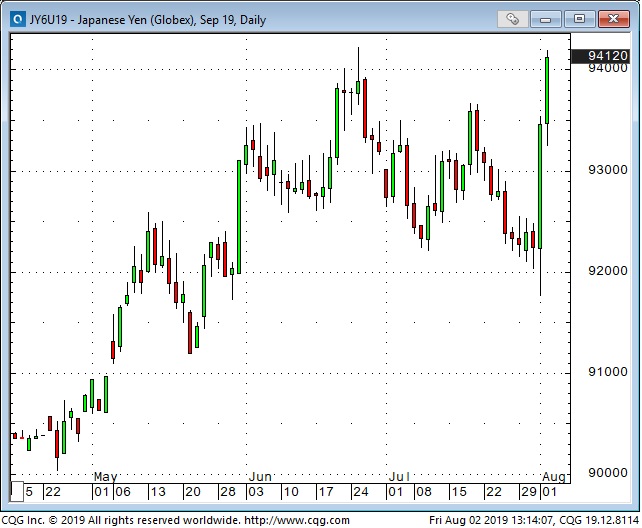 On Thursday morning WTI was down $1.50 from Wednesday's close (a strong USD and worries about shrinking global demand) when Tariff Man tweeted the 10% news…WTI dropped another $3 within the hour to close down 6% on the day.
The 10 year Treasury yield closed the week at a 2 ½ year low while copper added to the deflationary picture by hitting a 2 year low…down >8% in 3 weeks. The CRB commodity index registered its lowest weekly close in over 3 years on weak metal, grain and energy markets.
Gold traded through a $45 range on Thursday, has closed higher 10 of the last 11 weeks and Friday's close was the best in 6 years. This week gold, the USD, the JPY and bonds closed higher while stocks, commodities and most currencies closed lower.
The sum of negative yielding bonds is now over $14 Trillion…~25% of the global supply of IG bonds. The 10 year German bond hit a new record low at a -0.5% yield.
My short term trading: I started the week short CAD, EUR, JPY, and long Gold puts. I bot S+P puts Tuesday and covered my short CAD to reduce concentration risk (net long USD) ahead of the Fed. Early Thursday I closed EUR, JPY and S+P with profits, and gold for a small loss. I'm flat going into the weekend.
PI Financial Corp. is a Member of the Canadian Investor Protection Fund. The risk of loss in trading commodity interests can be substantial. You should therefore carefully consider whether such trading is suitable for you in light of your financial condition. In considering whether to trade or the authorize someone else to trade for you, you should be aware of the following. If you purchase a commodity option you may sustain a total loss of the premium and of all transaction costs. If you purchase or sell a commodity futures contract or sell a commodity option or engage in off-exchange foreign currency trading you may sustain a total loss of the initial margin funds or security deposit and any additional fund that you deposit with your broker to establish or maintain your position. You may be called upon by your broker to deposit a substantial amount of additional margin funds, on short notice, in order to maintain your position. If you do not provide the requested funds within the prescribe time, your position may be liquidated at a loss, and you will be liable for any resulting deficit in your account. Under certain market conditions, you may find it difficult to impossible to liquidate a position. This is intended for distribution in those jurisdictions where PI Financial Corp. is registered as an advisor or a dealer in securities and/or futures and options. Any distribution or dissemination of this in any other jurisdiction is strictly prohibited. Past performance is not necessarily indicative of future results
STAY INFORMED! Receive our Weekly Recap of thought provoking articles, podcasts, and radio delivered to your inbox for FREE! Sign up here for the HoweStreet.com Weekly Recap.