August 24, 2019 | Trading Desk Notes August 24, 2019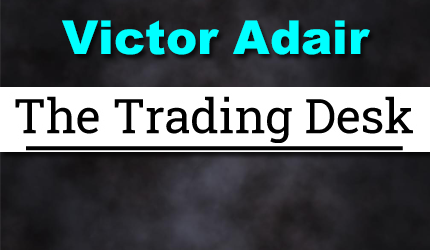 Victor Adair, author of The Trading Desk Notes, began trading penny mining shares while attending the University of Victoria in 1970. He worked in the mining business in Canada and the Western United States for the next several years and also founded a precious metals trading company in 1974. He became a commodity broker in 1977 and a stock broker in 1978. Between 1977 and his retirement from the brokerage business in 2020 Victor held a number of trading, analytical and senior management roles in Canada and the USA. Victor started writing market analysis in the late 1970's and became a widely followed currency analyst in 1983. He started doing frequent media interviews in the early 1980's and started speaking at financial conferences in the 1990's. He actively trades his own accounts from The Trading Desk on Vancouver Island. His personal website is www.VictorAdair.ca.
A trader's job is to imagine how a market might be different…at some point in the future…from the way it is now. But before trading on his opinions about where the market may be going he needs to see signals that confirm his opinions. He also needs to be aware that his opinions may cause him to "not see" other signals that contradict his opinions.
For instance, I've been thinking that the huge rally in the bond market since last November has gone too far too fast. I've been watching for signals that it might be topping out and I've been anticipating what trades I would make if it starts to turn lower. But now I'm having second thoughts about that…I'm seeing signals that contradict my initial opinions and I'm wondering if I've been looking at the bond rally in the wrong way.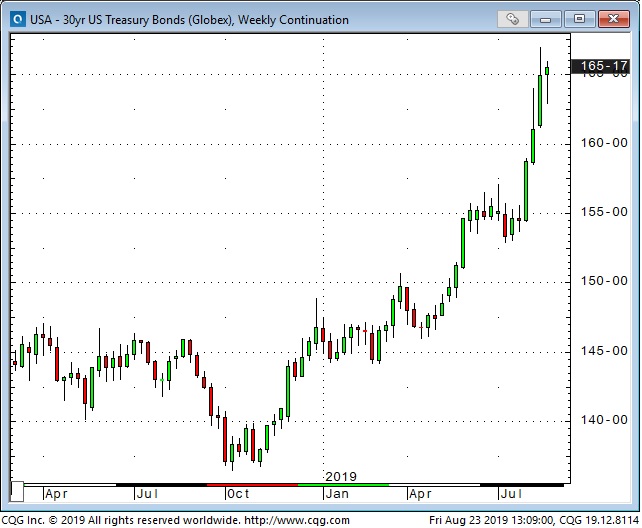 From a "logical" perspective there's a laundry list of reasons why bond prices have been rising…slowing global growth/rising recession risks/low inflation/geo-political risks/inverted yield curves/trade wars/$16T of negative yield bonds/aging demographics/and, in the case of American bonds, the "gravitational pull" of Eurozone and Japanese negative yielding bonds. From a "logical" perspective you'd think that at some point those reasons would be factored into the price and the market would be at risk of at least a correction.
But from an "emotional" perspective I wonder if I've been underestimating the power of the "safe haven" bid. We've seen massive capital flows into bond & money market funds…maybe people are frightened by stock market volatility. Maybe they are frightened by rising US/China tensions. Maybe they are frightened by all the political chaos. If, indeed, the emotional "safe haven" bid is a major factor in this rally then what appears to be a logically "overbought" market could get way more overbought!
Several years ago I got some excellent trading advice from Bill Fleckenstein when I was interviewing him on Moneytalks radio. I introduced him to our listeners as a famous short-seller…a guy who made profits by short selling overvalued stocks. "No, that's not right," Bill immediately said, "I don't short sell stocks just because they are overvalued…because they can easily get WAY more overvalued. I short sell stocks that I have good reason to believe are going down…and one of the best signals that they are going down is when they have already started to go down."
Using Bill's great advice I have not sold the bond market short. While part of me thinks that the rally has gone too far too fast the price action tells me I've been missing something (the power of the safe haven bid?) and the price action has NOT given me a signal to get short.
The gold market is up ~$250 in the past three months and has closed higher 12 of the last 14 weeks…this week's close is the highest in 6 years. Comex speculators are hugely net long while commercial accounts hold an All Time Record net short position. The conventional thinking about gold market positioning is that speculators are "emotional" while commercials are "businesslike" and usually take money away from the speculators…but…if/when the commercials are "wrong" and have to cover their positions the gold price can really jump.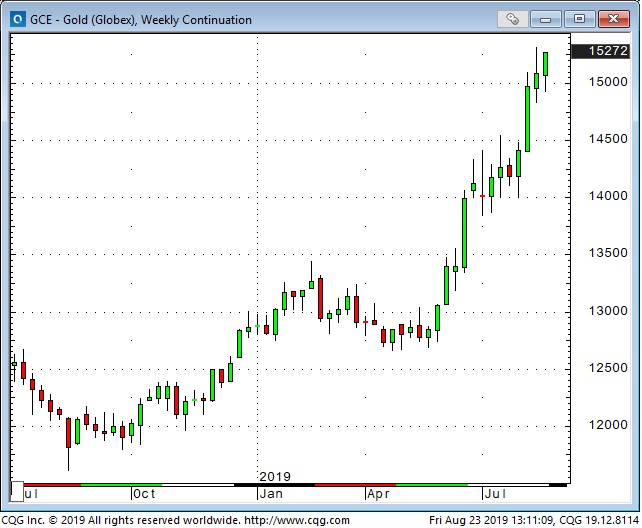 The (St. Louis Fed) trade weighted US Dollar Index hit an All Time High this week and the Offshore RMB hit a 2 year low. The Yen and the Swissie had sharp "safe haven" rallies Friday as US/China tensions ramped up and stock markets fell. One of the reasons the US Dollar fell on Friday was that traders feared that Trump might crank up the currency wars and order the Treasury to weaken the US Dollar.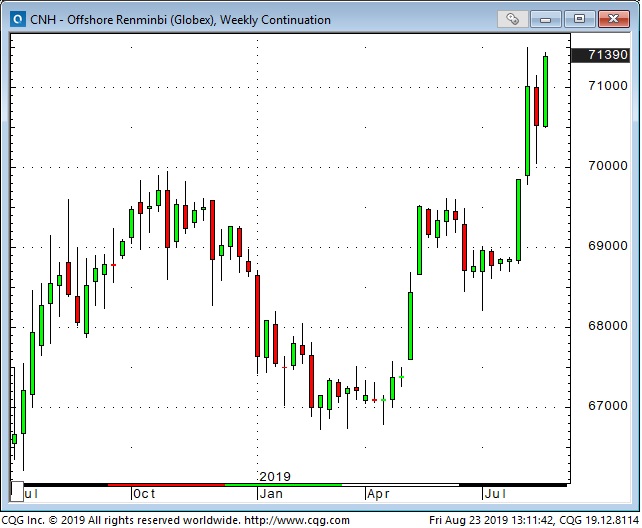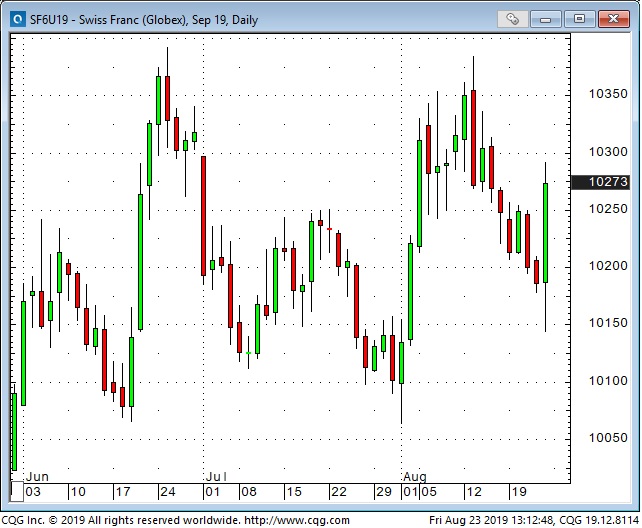 The CRB commodity index fell to a fresh 3 year low as Ag, energy and base metals were all weak. Copper ended the week at a 2 year low.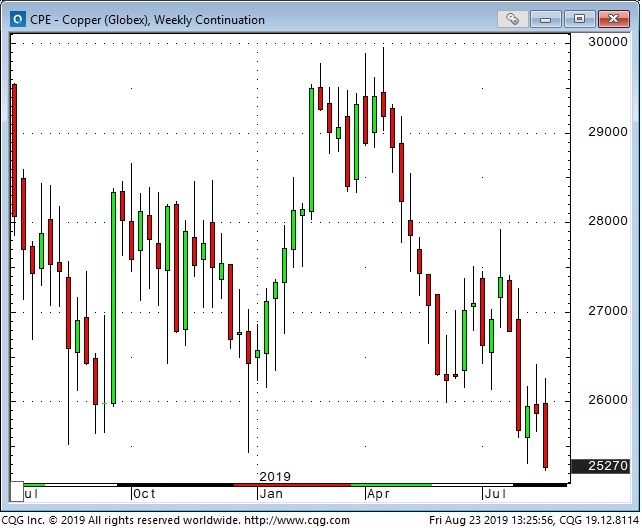 The stock market looks tired. Since making new All Time Highs a month ago the price action in the S+P 500 Index has been wickedly choppy and the market feels like it could easily break lower. No wonder the bond market is making new highs.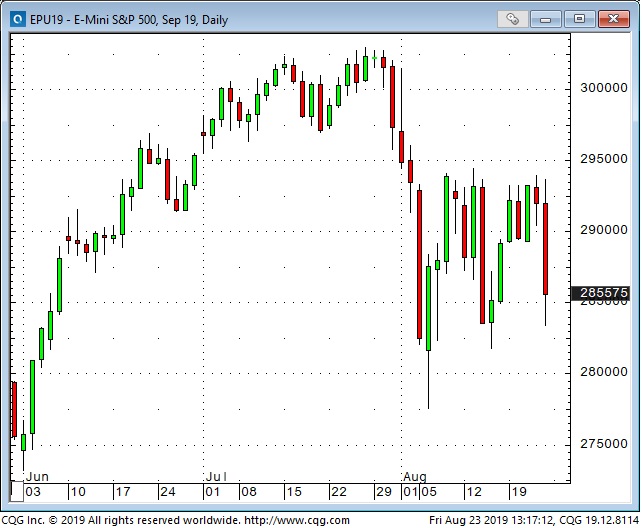 My short term trading: I started the week flat after taking a brief holiday last week. I "jumped the gun" and bot an OTM gold put on Monday in anticipation of gold falling through $1500 (basis December) which I thought would induce more selling. It didn't drop through $1500 and instead rallied to a new 6 year high on Friday. I compounded my error by not selling the put because the strike price was now a long way OTM and Friday's price action was probably overdone. It seems your first trade back after a vacation is always a losing trade!
I sold the Swiss Franc on Wednesday when it signaled weakness by taking out its Monday and Tuesday lows…extending its recent decline. My thinking was that the US Dollar could build upside momentum and shorting CHF looked to be a good way to trade that idea. I was nicely ahead on the trade by early Friday morning but then following the Chinese tariff news and Trump's reaction CHF started to rally and I closed out the trade with a very small loss. By the end of the day, with the Franc up ~150 points from the overnight lows I was glad I'd bitten the bullet.
PI Financial Corp. is a Member of the Canadian Investor Protection Fund. The risk of loss in trading commodity interests can be substantial. You should therefore carefully consider whether such trading is suitable for you in light of your financial condition. In considering whether to trade or the authorize someone else to trade for you, you should be aware of the following. If you purchase a commodity option you may sustain a total loss of the premium and of all transaction costs. If you purchase or sell a commodity futures contract or sell a commodity option or engage in off-exchange foreign currency trading you may sustain a total loss of the initial margin funds or security deposit and any additional fund that you deposit with your broker to establish or maintain your position. You may be called upon by your broker to deposit a substantial amount of additional margin funds, on short notice, in order to maintain your position. If you do not provide the requested funds within the prescribe time, your position may be liquidated at a loss, and you will be liable for any resulting deficit in your account. Under certain market conditions, you may find it difficult to impossible to liquidate a position. This is intended for distribution in those jurisdictions where PI Financial Corp. is registered as an advisor or a dealer in securities and/or futures and options. Any distribution or dissemination of this in any other jurisdiction is strictly prohibited. Past performance is not necessarily indicative of future results
STAY INFORMED! Receive our Weekly Recap of thought provoking articles, podcasts, and radio delivered to your inbox for FREE! Sign up here for the HoweStreet.com Weekly Recap.