August 20, 2019 | Recession Evidence, Trump, Greenland, Gold!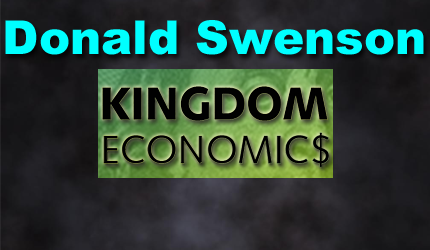 Donald B. Swenson: Born January 24, 1943, Roseau, Minnesota. Graduated H.S. 1961, Moorhead High, Minnesota. Graduated College 1968, Moorhead State University, Minnesota. Designated member of Appraisal Institute (MAI), 1974. Employed with Western Life Insurance Company, 1968 – 71; Iowa Securities Company, 1971 – 73; American Appraisal Company, 1974 – 81. Part-time teacher/valuation consultant/bartender, 1979 – 2008 (taught workshops at Waukesha County Technical Institute, Wi. and Madison Area Technical College, Wi.). Retired 2008 (part time teacher/blogger), AZ. Self educated economist/philosopher/theologian: http://kingdomecon.wordpress.com.
My Wall Street Journal is saying that RV sales are down some 20% and Nordstrom sales are down some 45%.  Trump changes the focus to Greenland (interesting). These items point to a coming RECESSION IMO. This coming recession could have already started. We should know more in the next few weeks. My sense is that all the markets are now slowing and the trend continues globally.
Argentina is in trouble with their debt and growth. Europe needs more stimulus to survive the slowdown. Asia is slowing and China's growth has peaked. Global markets are now producing a trend which will lead to a global recession eventually. My sense is that this recession has already started. The evidence is piling up!
Mr. Trump says all is good economically but he then says that the Fed should lower interest rates a full point (1%) and start more QE (quantitative easing). This reveals that his deep down fear is that our economy is slowing and heading for a recession . He will not admit this reality but his words reveal his uncertainty (to me).
What is Mr. Trump thinking with his desire to buy Greenland. This land area is the size of Saudi Arabia and the population is only 56,000. What is he thinking. He supposedly is scheduled to meet with the Danish authorities and the Greenland officials next month in Copenhagen. Is he serious or is this a ploy to engender humor to political speech? My investor friends at the clubhouse think he is insane with his ego prognostications.
The Wall Street Journal seems to think that Mr. Trump is somewhat serious about his desire to purchase Greenland. I find all this humorous and a ploy for attention. But maybe he knows something which I don't. Anyway, Mr. Trump does spout off on issues which make me think he does not know what is reality and what is fantasy. What do you think? Do his continuing tweets engender confidence?
It now appears that the precious metals could start a multi-year upward trend as our global economy heads for recession. Investors are starting to seek safe havens and gold is one option that may become popular going forward. If this happens and if the manipulators lay off the price suppression, then we could witness much higher gold/silver prices going forward. As I write, gold is over $1500 and silver over $17. These prices are rather low if a real recession (eventual crash) is immanent.
Our digital currency system is very unstable and with more central bank stimulus coming (lower interest rates and more QE) this should pump up gold and silver prices. But price suppression is still possible as we live with digital money and digital prices which can be manipulated by our Plunge Protection traders. A slam of gold and silver could occur at any point to drive these prices down (even as demand goes up and supply wanes). Algorithms can do the price manipulation (all happens behind closed doors).
Our markets are manipulated by computers and the big boys at our central banks control the key computers. These manipulators could drive prices to any level they desire with their virtual money machine. We live with virtual money which gets created out-of-nothing (mere bankster consciousness). This corruption allows continuing manipulation of our prices and asset values. This is likely to continue going forward!
Now is the time to get educated on this new digital/virtual monetary system. It's all leading to this 'Mark of the Beast' financial system prophesied in scripture. I expect this prophesied financial system to emerge for the entire planet in the next few years. That which is prophesied will happen (that's my view of reality). Think for yourself on all these matters as I can express ONLY my view on reality. I am not perfect! Have a great day!
STAY INFORMED! Receive our Weekly Recap of thought provoking articles, podcasts, and radio delivered to your inbox for FREE! Sign up here for the HoweStreet.com Weekly Recap.