August 10, 2019 | Gold Carefully Closed Back Below $1,500 Spot/Silver Below $17 Spot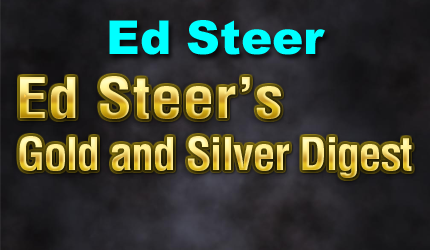 "Ed wrote the daily precious metal commentary for Casey Research starting in 2008. His stand-alone column became their most highly-rated blog [either free or paid] almost from the outset—and remained that way until he started his own subscription-based website in June of 2015."
10 August 2019 — Saturday
YESTERDAY in GOLD, SILVER, PLATINUM and PALLADIUM
The gold price jumped up the moment that trading began at 6:00 p.m. EDT on Thursday evening in New York.  It ran into "all the usual" suspects" almost immediately — and then chopped rather aimlessly sideways until the 2:15 p.m. China Standard Time afternoon gold fix in Shanghai.  It was stair-stepped lower from there until the the low tick was set around 9:45 a.m. in New York.  It rallied above the $1,500 spot mark for awhile, but then revisited its earlier low a few minutes before the 1:30 p.m. EDT COMEX close.  It rallied back to the $1,500 spot mark within the next thirty minutes, but 'someone' was there to ensure that it didn't break above it — and it was sold lower until 2:30 p.m. and the gold price chopped quietly sideways until trading ended at 5:00 p.m. EDT.
The gold price traded within a one percent price range on Friday, so I shan't bother with the high and low ticks.
Gold was closed at $1,496.20 spot, down $4.50 from Thursday.  Net volume in October and December combined was a bit over 324,000 contracts — and there was 10,500 contracts worth of roll-over/switch volume on top of that.
The silver price also jumped up a bit at the 6:00 p.m. open in New York on Thursday evening — and continued to crawl higher from there until shortly before noon CST.  From that juncture it traded sideways until shortly before 2 p.m. CST — and at that point jumped to its high tick of the day — and was up 19 cents the ounce.  Moments later the engineered sell-off commenced — and the low tick was set at, or a few minutes before, the afternoon gold fix in London.  It rallied back above the $17 spot mark ever-so-briefly — and then was sold lower into the COMEX close — and didn't do much of anything after that.
The high and low ticks in silver were recorded by the CME Group as $17.14 and $16.86 in the September contract.
Silver was closed on Friday afternoon EDT at $16.925 spot, up 3.5 cents from Thursday…and under $17 spot.  Net volume was 78,000 contracts — and there was a bit over 19,000 contracts of roll-over/switch volume out of September and into future months.
The platinum price chopped sideways-to-lower in a random manner in Far East, Zurich and morning trading in New York on Friday — and the low tick was set sometime before 1 p.m. EDT.  it rallied a few dollars into the COMEX close – and then traded flat for the rest of the day.  Platinum was closed at $858 spot, down 5 bucks from Thursday.
The palladium price spent the entire Far East and Zurich trading sessions trading just above the unchanged mark by a handful of dollars.  A rally of some substance developed at the COMEX open, but that was all taken away by 1 p.m. in New York trading — and it didn't do much of anything after that, but was carefully closed below $1,400 spot at $1,399.
It's surely no coincidence that gold, silver and platinum were closed below psychologically important round numbers…$1,500 in gold…$17 in silver — and $1,400 in palladium.
---
---
Here are the usual three charts from Nick that show what's been happening for the week, month — and year-to-date. The first one shows the changes in gold, silver, platinum and palladium for the past trading week, in both percent and dollar and cents terms, as of their Friday closes in New York – along with the changes in the HUI and the Silver 7 Index.
---
So far in August, there have been 4,448 gold contracts issued/reissued and stopped — and that number in silver is now up to 1,686 contracts.  Gold deliveries in August have slowed to a trickle lately — and I don't understand why that's the case.
The number of gold contracts that are disappearing from the August delivery month continues to grow larger by the day.  Whereas in silver, the number of contracts being added to the August delivery month continues to increase every day.  Physical silver is obviously in accumulation mode by 'strong hands' — and most likely insiders.
---
There wasn't much going on in the other silver ETFs around the world, but I did notice that a net 676,386 troy ounces of gold was added to all know depositories, mutual funds and ETFs on Friday.  The 4-week total additions into these various gold funds has risen to 2,959,927 troy ounces over the last four weeks — and that's a lot.
Month-to-date the mint has sold 1,000 troy ounces of gold eagles — 1,000 one-ounce 24K gold buffaloes — and zero silver eagles.  This has to be the poorest start to a sales month for the U.S. Mint in the history of producing these bullion coins.
---
---
They arrived at that number by increasing their long position by 4,325 contracts — and also covered the exact same number of short contracts….4,325.  It's the sum of those two numbers that represents their change for the reporting week.
Under the hood in the Disaggregated COT Report, it was all Managed Money traders, plus much more, as they decreased their long position by 5,754 contracts — and also added 9,946 contracts to their short position.  It's the sum of those two numbers…15,700 contracts…that represents their change for the reporting week.
The difference between that number — and the Commercial net short position…15,700 minus 8,650 equals 7,050 contracts.  As is always the case, that difference was made up by the traders in the other two categories.  The traders in the 'Other Reportables' category increased their net long position by a smallish 1,235 contracts…but it was the traders in the 'Nonreportable'/small trader category that did most of the heavy lifting, as they increased their net long position by a very chunky 5,815 contracts.  The sum of those two numbers add up to the 7,050 contract difference…which they must do.
Ted was surprised that the Managed Money traders added to their short position so aggressively during the reporting week, as no moving averages were penetrated to the down-side, as that's their normal signal to begin going short.
The Commercial net short position in silver is down to 376.3 million troy ounces, which is still very bearish on its face.
With the latest Bank Participation Report in hand, Ted estimates JPMorgan's short position in silver at no more than 20,000 contracts — and most likely a bit less.  In last week's COT Report, he had estimated that JPMorgan's short position was in the 25-28,000 contract range — and was delighted that it turned out to be much less than that.
With JPMorgan's short position this low, Ted is still of the opinion that they could let the price rip any time — and leave the other Big 7 traders holding the bag…including Citigroup.
---
They arrived at that number by reducing their long position by 4,154 contracts — and they also added 32,204 short contracts — and it's the sum of those two numbers that represents their change for the reporting week.
Under the hood in the Disaggregated COT Report, it was all Managed Money traders, plus much more…as they increased their long position by 33,106 contracts — and also decreased their short position by 8,014 contracts.  It's the sum of those two numbers…41,120 contracts…that represents their change for the reporting week.
The difference between that number — and the commercial net short position…41,120 minus 36,358 equals 4,762 contracts.  That difference was made up by the traders in the other two categories, as both decreased their net long positions during the reporting week…the 'Other Reportables' by 2,963 contracts — and the 'Nonreportable'/small traders by 1,799 contracts. Those two numbers add up to 4,762 contracts, which them must.
The commercial net short position in gold is now up to 32.43 million troy ounces…which is very bearish.
Although the COT Report in gold is hugely bearish on its face, the fact that it appears that JPMorgan was almost a no-show during the past reporting week, has Ted sniffing a double cross in this precious metal — and even the Bank Participation Report shows that something out of the ordinary is going on.
Could 'da boyz' smash gold and silver lower at any time, you ask?  Sure, in a New York minute, as both are overbought and in bearish territory from a COT perspective.  But I expect any attempt at that to be short-lived, but potentially violent.
---
---
In the COT Report above, the Commercial net short position in silver was reported as 376.3 million troy ounces.  As mentioned in the previous paragraph, the short position of the Big 8 traders is 497.1  million troy ounces.  The short position of the Big 8 traders is larger than the total Commercial net short position by 497.1 minus 376.3 equals 120.8 million troy ounces.
The reason for the difference in those numbers…as it always is…is that Ted's raptors, the 39-odd small commercial traders other than the Big 8, are net long that amount, which is ridiculous.
As I mentioned in my COT commentary in silver above, Ted figures that JPMorgan is short is around 20,000 COMEX silver contracts, or a bit less…down a lot from the 25-28,000 contracts that they were short in the prior week's COT Report.
20,000 COMEX contracts is a hundred million troy ounces of paper silver, which works out to around 43 days of world silver production.  Based on that number, JPMorgan is back in number one position as the biggest short holder in the COMEX futures market in silver.  But if it's less than that amount, as Ted suspects, then those 43 days they are short would be reduced accordingly.  But that still leaves them as the No. 1 or possibly No. 2 short holder in COMEX silver…as per the next paragraph.
The Big 4 traders in silver are short, on average, about…134 divided by 4 equals…33.5 days of world silver production each.  The four traders in the '5 through 8' category are short 79 days of world silver production in total, which is 19.75 days of world silver production each, on average.
---
[The August Bank Participation Report covers the time period from July 2 to August 6 inclusive.]
JPMorgan, Citigroup and HSBC USA would hold the lion's share of this short position.  But as to who other two U.S. banks might be that are short in this BPR, I haven't a clue, but it's a given that their short positions would not be material.
However, as I always say at this point, I suspect that there's at least two large non-U.S. bank in this group, one of which would include Scotiabank.  It's certainly possible that it could be the BIS in No. 1 spot.  But regardless of who this second non-U.S. bank is, the short positions in gold held by the remaining 27 non-U.S. banks are immaterial.
As in gold, the three biggest short holders of the four U.S. banks in total, would be JPMorgan, Citigroup and HSBC USA.  Whoever the remaining U.S. bank may be of the 4 U.S. banks in total, their short position, like the short positions of the two smallest U.S. banks in gold, are immaterial.
Also in platinum, 19 non-U.S. banks are net short 14,013 COMEX contracts in the August BPR, which is up 48 percent from the 9,456 COMEX contracts that 18 non-U.S. banks were net short in the July BPR.  [Note: Back at the July 2018 low, these same non-U.S. banks were net short only 1,192 COMEX contracts.]
Also in palladium, 14 non-U.S. banks are net short 1,576 COMEX contracts-which is also down a very decent amount from the 2,352 COMEX contracts that 15 non-U.S. banks were short in the July BPR.
But when you divide up the short positions of these non-U.S. banks more or less equally, they're completely immaterial…especially when compared to the positions held by the 4 U.S. banks.
For the second  month in a row, it wasn't a very happy BPR in gold as the banks have obviously been at battle stations for the last two months.  But it's the change in ownership of that short position that's the stand-out feature in this report.  The short positions in both silver and platinum have risen as well, as the powers-that-be are there as continuing short sellers of last resort.
But, as always, JPMorgan is in a position to stick it to the other short holders in both silver and gold — and that became more apparent with this week's COT and BPR.  But will they or won't they remains to be seen.  I know that Ted will have a few things to say about it in his weekly review later today.
I have very little in the way of stories/articles for you…but I do have several that I've been saving for my Saturday missive for length and/or content reasons.
CRITICAL READS
[On Thursday], automatic, algorithm-driven investment programs bought the dip, as they were programmed to do, leaving the Dow up 371 points. Trade wars… approaching recession… inverted yields… $15 trillion in negative yields!… jimmied prices… cockeyed signals… soaring debt… Who cares!
Buying the dip has been the winning formula for the last 40 years. Stocks hit a bottom in 1980. They were ready to go up.
Then, in 1987, Alan Greenspan pulled out his "Greenspan Put"; this was the beginning of a new phase in market history. The Federal Reserve had investors' backs.
If you had bought stocks in 1980… and simply held on through the dips and slips… you would have multiplied your investment 26 times. Buying more on each dip would have increased your profits further.
And now, both investors and their algorithms are programmed to believe that the Fed still has their backs… and that only chumps sit on the sidelines in gold.
But it is not just the stock market we are looking at today…
---
Step aside Baoshang Bank and Bank of Jinzhou, it's time for Chinese bank bailout #3.
Last month, when reporting on the imminent failure of yet another Chinese bank in the inglorious aftermath of Baoshang Bank's late May state takeover, we dusted off a list of deeply troubled Chinese financial institutions that had delayed their 2018 annual reports…
Just a few days later, that's precisely what happened, when in late July, Industrial and Commercial Bank of China (ICBC), the country's largest lender by assets, China Cinda Asset Management and China Great Wall Asset Management, two of China's four largest distressed debt managers, said on Sunday they would take stakes in Bank of Jinzhou.
And so, fast forward to this week when overnight, the SCMP reported that China's sovereign wealth fund has taken over Heng Feng Bank – the bank at the very top of the list shown above, one with roughly $200 billion in assets –  a troubled lender linked to fugitive financier Xiao Jianhua, in the third case in as many months of the state exerting its grip over wayward financial institutions.
According to the report, Central Huijin Investment, a subsidiary of the China Investment Corporation that acts as the Chinese government's shareholder in the country's four biggest banks, emerged as a strategic investor in Heng Feng, according to a brief report overnight by Shanghai Securities News, published by state news agency Xinhua.
In short, a 3rd Chinese bank in as many months received an implicit (or explicit) state bailout, and with the dominoes now falling, it's just a matter of time before most if not all of the banks shown in the list above collapse.
---
The collapse of Italian bond yields has been one of the more dramatic global market moves. After trading to almost 3.60% last October, Italian 10-year yields ended Wednesday trading at 1.42%. For a country so hopelessly over-indebted ($3 TN plus), Italian bond prices are arguably one of the more distorted assets in a world of distorted asset markets. Italian yields reversed sharply higher into the end of the week, rising 12 bps Thursday and a notable 27 bps on Friday – on political instability after Deputy Prime Minister Matteo Salvini called for early elections (breaking with its Five Star Movement coalition partner). Italian stocks were hit 2.5% in Friday trading, ending the week down 3.4%. Global "risk off" could prove an especially challenging backdrop for vulnerable Italian assets.
Italy, the U.K., China, India, Brazil and others… Global central bank-induced liquidity excess has kept numerous remarkably leaky boats afloat in recent years. There will be systemic hell to pay when the dam finally breaks.
I'll assume Monday's global market convulsions will have the U.S. administration and Beijing treading cautiously next week. Yet I expect it will prove more difficult this time to squeeze the genie back into the bottle. To see such high cross asset correlations around the globe is disconcerting. And we saw Monday how critical a stable renminbi has become to global finance. It's not a stretch to say this global party comes to [a] rapid conclusion the moment markets fear a disorderly Chinese currency devaluation.
Like so many aspects of this long boom, it works miraculously – until it doesn't. At this point, the key analysis is that reserve holdings surely overstate resources available for countries to combat a more enduring period of "risk off" capital flight. Moreover, the perception of EM resilience has ensured unprecedented Credit and speculative excess throughout a systemic EM Bubble.
I am clearly not alone in the view that Beijing took a huge gamble in moving to devalue the Chinese currency this week. They today have a large international reserve position. Over the coming weeks and months, I expect analysts to increasingly question the adequacy of these reserves in light of extraordinary financial and economic vulnerabilities.
The key take-away from another critical week: As the marginal provider of global liquidity and economic growth, Chinese finance has become the epicenter of crisis dynamics. Global markets are highly correlated; speculative dynamics remain extraordinarily synchronized. At this point, a bet on global risk markets is a bet on China – a bet on the ongoing inflation of China's historic Bubble. Developments – market, policy, economic and geopolitical – are corroborating the analysis that it's very late in the game. I'll assume the flow of "hot money" away from global risk markets has commenced.
---
Despite the significance of the ruling, and its clear newsworthiness, it has been subjected to an almost complete blackout by the entire media in the U.S. and internationally.
Its aim is to suppress any discussion of the court's exposure of the slanders used to malign and isolate Assange, and to justify the unprecedented international pursuit of him over WikiLeaks' exposure of U.S. war crimes, surveillance operations and diplomatic conspiracies.
Now that their claims have been subjected to judicial review and exposed as a tissue of lies and fabrications, they have adopted a policy of radio silence. There is no question that if the court ruling had been in favour of the DNC, it would have been greeted with banner headlines and wall-to-wall coverage.
The response exposes these publications as state propagandists and active participants in the campaign by the Democratic Party, the Trump administration and the entire ruling elite to condemn Assange for the rest of his life to an American prison for the "crime" of publishing the truth.
---
hen the Venetian merchant Marco Polo got to China, in the latter part of the thirteenth century, he saw many wonders-gunpowder and coal and eyeglasses and porcelain. One of the things that astonished him most, however, was a new invention, implemented by Kublai Khan, a grandson of the great conqueror Genghis. It was paper money, introduced by Kublai in 1260. Polo could hardly believe his eyes when he saw what the Khan was doing:
That last point was deeply relevant. The problem with many new forms of money is that people are reluctant to adopt them. Genghis Khan's grandson didn't have that difficulty. He took measures to insure the authenticity of his currency, and if you didn't use it-if you wouldn't accept it in payment, or preferred to use gold or silver or copper or iron bars or pearls or salt or coins or any of the older forms of payment prevalent in China-he would have you killed. This solved the question of uptake.
Marco Polo was right to be amazed. The instruments of trade and finance are inventions, in the same way that creations of art and discoveries of science are inventions-products of the human imagination. Paper money, backed by the authority of the state, was an astonishing innovation, one that reshaped the world. That's hard to remember: we grow used to the ways we pay our bills and are paid for our work, to the dance of numbers in our bank balances and credit-card statements. It's only at moments when the system buckles that we start to wonder why these things are worth what they seem to be worth. The credit crunch in 2008 triggered a panic when people throughout the financial system wondered whether the numbers on balance sheets meant what they were supposed to mean. As a direct response to the crisis, in October, 2008, Satoshi Nakamoto, whoever he or she or they might be, published the white paper that outlined the idea of Bitcoin, a new form of money based on nothing but the power of cryptography.
---
It's one of the world's most exclusive clubs, known over the years as the Syndicate, the Central Selling Organization and the Diamond Trading Company.
For more than a century, De Beers has sold most of its rough diamonds to a select number of customers, a list that reads like a who's who of the opaque gem-trading world. Tiffany & Co., Graff Diamonds and Signet Jewelers Ltd. all own subsidiaries in this group, guaranteeing a steady supply of gems with the pedigree of being vetted by De Beers.
In the diamond trading world, becoming one of De Beers's elite buyers is viewed as essential to achieving success and making money. Now, it's no longer so easy.
De Beers sells its gems through 10 sales each year in Botswana's capital of Gaborone, and the buyers-known as "sightholders"-have to accept the price and the quantities they're offered. It's a system that originated in the 1890s and designed to benefit both miner and customer, who receives the diamonds at a discounted rate.
But the discount has been shrinking. In some cases the prices have been higher than the going trading rate, forcing customers to sell at a loss, according to people familiar with the matter. Some sightholders now struggle to make money from a business that was once highly lucrative.
The problems in the diamond industry are twofold. High-end jewelry sales are stagnating as other luxury offerings, like shoes, handbags and resort vacations, crowd the field. It's also harder for diamond trading companies to find financing because banks are abandoning the sector after being hit by frauds and bad loans.
---
The People's Bank of China (PBoC)- China's central bank, says it added a further 9.96 tonnes of gold to its forex reserves in July – a seemingly particularly astute move given the strong recent advance in the gold price so far this month.  This is just one of the world's Central Banks adding regularly to its gold reserves this year.  So far the PBoC says it has added a total of around 84 tonnes to its reserves over the first seven months of the year.  However, the latest increase is yet another reduction in the level of its monthly reported reserve accumulations after adding 10.26 tonnes in June.  China is thus tending to add rather less gold to its reserves than Russia which has announced additions of around 96.5 tonnes in the first half of the year.  It won't report any reserve increase for July for another couple of weeks (it usually announces any gold reserve increases on the 20th of the month).
Of course, as we have pointed out beforehand, the veracity of the actual reserve additions by China – or for any other central bank for that matter – is always open to question as reported figures are not independently audited.  The PBoC has a track record of announcing what appear to be misleading statements regarding its gold reserves in the past in going for long periods of reporting zero increases and then announcing mega rises which must have been built up during the years and months of zero addition reporting.  China has claimed in the past that this gold has been lodged in accounts it has not been required to report to the IMF and only reports this when it is merged into its forex figures at a time it feels appropriate to let the world know.
Overall though even the total amount of gold held by China in its reserves has been questioned by many analysts – some think it is actually considerably more than the total of a little under 2,000 tonnes currently reported to the IMF.  The nation is thought to have a target of at least matching the U.S.'s reported holding of 8,133.5 tonnes (a figure which many also doubt given the resistance to it being audited).  China is thought to believe that gold holdings may have an increasingly important role to play in any future global monetary re-alignment which may come about in the next few years.
The PHOTOS and the FUNNIES
STAY INFORMED! Receive our Weekly Recap of thought provoking articles, podcasts, and radio delivered to your inbox for FREE! Sign up here for the HoweStreet.com Weekly Recap.