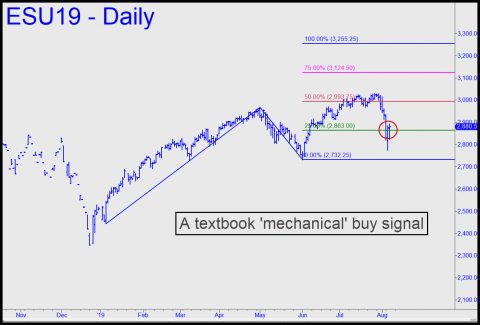 Much as I struggle to tune out the real world in order to trade solely on the instruction of my charts and proprietary technical indicators, the global picture both economically and politically seems far too grim right now for me to believe the broad averages are in the process of getting short-squeezed to new all-time highs. And yet, the violent price action shown in the chart is about as textbook as 'mechanical' buy signals get. I won't go into the proprietary details of how these Hidden Pivot trades set up, but suffice it to say, the bullish opportunity here seems almost too promising to pass up. I missed the turn myself because I was too busy chortling over how the chimps who get paid to throw other people's hard-earned money at stocks finally seem to be getting their comeuppance.
A Rally You Can Bank On
But will they? Based purely on the chart, I'd say the odds of the E-Mini S&Ps getting to at least p=2993.75 (shown as a red line) are around 80 percent. There may be a less risky spot to get aboard belatedly, and I will signal it in the Trading Room if warranted. But my hunch is that it will be a rough ride no matter how we play it. For the moment, however, like many of you, I will watch with amazement if the broad averages do indeed take flight in damn-the-torpedoes fashion. If so, they will be nitro-powered by short-covering, the only kind of buying sufficiently energized and irrational to surmount a mile-high wall of worry.
One need only have been short for an hour or two today, as I was, to feel the mounting desperation and buying power of incredulous bears, many of whom ended the day still caught in the ringer. Fortunately, I am no longer among them. But I am almost as uncomfortable with the thought that my tendency to see the glass as half-full — of hemlock, that is — denied me participation in rally that will continue to feed on skepticism for longer than I might have cared to imagine.