August 12, 2019 | Can't Wait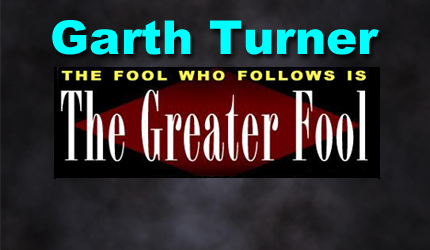 A best-selling Canadian author of 14 books on economic trends, real estate, the financial crisis, personal finance strategies, taxation and politics. Nationally-known speaker and lecturer on macroeconomics, the housing market and investment techniques. He is a licensed Investment Advisor with a fee-based, no-commission Toronto-based practice serving clients across Canada.
Pete's a thirtysomething, late-stage Millennial (the most dangerous kind). "Looking to see if you can help me with my finances," he wrote. Yeah, sure. Gimme details.
"I have a fair grasp on investing but looking to fine tune with some advise on tax optimization in RRSP,  TFSA and non-tax sheltered accounts and to ensure my ETF's are in the right pots.  Also guidance with percentages in EQ/FI with the ever possible recession on the horizon and how to diversify as it grows."
Yup, can do that. What's the goal?
"Currently have about $200k in investments and hoping to optimize my portfolio to be retired in 8 yrs with a net amount over 1mil."
And Petey got this reply: what you need is a magician, not an advisor.
He disappeared.
It's called FIRE, which means 'financial-independence-retire-early.' The movement's grown exponentially over the last few years, now encompasses a gazillion web sites, books and vids, all eagerly sponsored by DIY financial outfits (like the robos) looking to profit on a craze. At the heart of FIRE is a screw-the-boomers meme since it eschews real estate, linear careers, crappy insurance-company group RSPs, stability or anything that smells like adulting. Mostly it's about getting rich fast so you can stop working, travel the world and be a hedonist.
Pete's typical. Two or three times a week someone shows up looking for The Formula. You know the one. Turn two hundred into a million in eight years by investing in low-volatility exchange-traded funds. Apparently calculators are passé. Investing aggressively, staying invested, avoiding tax and doing okay would double money in seven years. So the key to FI must be two-fold: saving plus investing. That means a hefty income, living drastically below your means, throwing every sous into your portfolio, shedding emotion and, of course, renting.
Financial independence is possible, but it's a ton of hard work. First you need a job with a big salary (or a rich mom). Then save at least half what you net, and plan on doing that for at least a decade. The best place to put that is at TFSA first, followed by an RSP (to drop your tax exposure) then a non-registered account. The more money stuffed into equity funds, the greater the return will be over time – but with more volatility. Given the 2020 US election, China-HK and the trade war, negative interest rates, a late-stage business cycle, populist politics, tax-hungry governments and the debt bubble the next decade might be a doosey. All-equity investing takes courage, faith and experience. Most moisters run thin here.
So the solution is balance. If you flinch, sell into a storm and crystallize losses, FI recedes further into the distance. That's why having safe stuff in the portfolio reduces the gyrations, pumps out some predictable interest or dividends and keeps you grounded. But it also dampens returns. From 12% a year (all-equity over the last few decades) to 6-7% annually (for a 60/40 mix). Now you turn $200,000 into $1,000,000 in about 25 years – unless you save like a crazed beaver and live on air.
So how about the get-rich-fast, this-is-so-easy assets like Bitcoin or gold?
Yeah, I know. The cryptomaniacs and bullion-lickers are cultists with a come-hither pitch, telling you that traditional assets and regular money are doomed, soon to be replaced by either digital wallets or garages full of rocks. And while both have done well lately compared to financial securities (won't last), the track record is one of gut-wrenching ups-and-downs littered with emotional traps. Besides, they aren't actual money. Both Bitcoin and bullion must be converted into dollars to retire on with any predictability. Liquidity can be a big problem, and neither pay interest or dividends, while gains are taxable. Don't go there.
Real estate leverage? Isn't that how so many people made a potful of fast money over the last decade?
Yup, in some markets that's exactly what happened. But it took a financial/credit crisis to get there. House prices spiked as interest rates tanked – leading directly to where we are now. High property valuations. Crippling debt. Economic slowdown and a mess of over-leveraged people who are house-rich and asset-poor. This is not the environment in which their 'success' can be repeated. There is no real estate boom on the horizon. Quite the opposite.
Besides, with prices at these levels the typical Millennial would have to shovel 100% of her net worth into a single asset plus take on a whack of debt just to play. Risk on, baby. Don't go there.
The best bet for achieving FI, then RE?
Probably to start a web site about FIRE, pretend it's super easy to get it and shamelessly sell out to big corporate sponsors. Some things never change.
STAY INFORMED! Receive our Weekly Recap of thought provoking articles, podcasts, and radio delivered to your inbox for FREE! Sign up here for the HoweStreet.com Weekly Recap.