August 23, 2019 | Bombshell Announcement: Mark Carney (Jackson Hole)!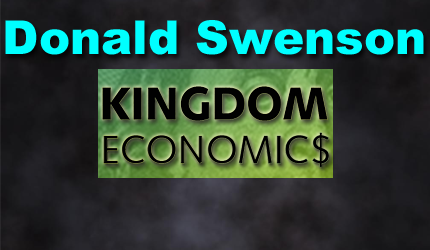 Donald B. Swenson: Born January 24, 1943, Roseau, Minnesota. Graduated H.S. 1961, Moorhead High, Minnesota. Graduated College 1968, Moorhead State University, Minnesota. Designated member of Appraisal Institute (MAI), 1974. Employed with Western Life Insurance Company, 1968 – 71; Iowa Securities Company, 1971 – 73; American Appraisal Company, 1974 – 81. Part-time teacher/valuation consultant/bartender, 1979 – 2008 (taught workshops at Waukesha County Technical Institute, Wi. and Madison Area Technical College, Wi.). Retired 2008 (part time teacher/blogger), AZ. Self educated economist/philosopher/theologian: http://kingdomecon.wordpress.com.
That which I have been expecting is starting to happen. Mr. Mark Carney, Bank of England, announced that a virtual/digital currency for the world is coming (now in the planning stages). His words are that a multi-polar world needs a new virtual currency for trade. The dollar creates issues for many countries and spillover effects are negative. His idea is that a global digital currency is needed. I am not surprised.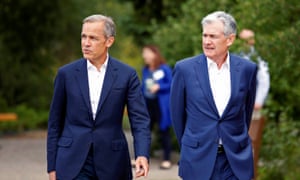 Dollar is too dominant is the message of Mr. Carney at Jackson Hole.
I have been waiting for this type of word from our elites who run monetary affairs for our planet. Mr. Carney is stepping down from the Bank of England at the end of January, 2020, and he could then serve (as agent) to implement this new global/virtual currency. We must watch this evolution as it leads to this 'Mark of the Beast' financial system which I have been expecting.
https://www.theguardian.com/business/2019/aug/23/mark-carney-dollar-dominant-replaced-digital-currency
The Bank of England governor, Mark Carney, has challenged the dollar's position as the world's reserve currency, arguing that it could be replaced by a global digital alternative to end a savings glut that resulted in 10 years of low inflation and ultra-low interest rates. Likening the move to the end of sterling's command of international money markets 100 years ago, Carney said the dollar had reached a level of dominance that meant it was a barrier to a sustainable recovery. He said a new digital currency backed by a large group of nations would unlock dollar funds that governments currently hoard as an insurance policy in uncertain times.
I would expect that this new digital currency will be managed by a committee of central bankers (with Mr. Carney at the center). The other alternative is for the International Monetary Fund (IMF) to implement this global digital currency for the planet. I lean towards the idea that our central banks will act to initiate this new monetary system some time after the coming financial crash of our stock markets. All this could happen within the next six (or so) months.
The 'Mark of the Beast' financial system is soon here. It is prophesied to happen and this is precisely what WILL happen IMO. The catalyst for this change could be a coming financial crash in our digital/electronic stock exchanges. This might be engineered by our central planners so the change can occur. We must watch this development as I think the announcement (speech) of Mr. Carney is a signal that this 'Mark of the Beast' financial system is coming. Mark is not aware of any of this, however. He is merely an 'agent'.
Think for yourself and watch as events lead to this M of the B financial system. The end of man's rule is soon here. Prior to the end we must experience this 'Mark of the Beast' system. Prophecy must happen so that the ultimate transition to a new system can occur. Watch the actions of our central banksters as they are now in control of all monetary affairs for this planet. Banksters rule and money is the TOOL. Have a great day!
https://www.wsj.com/articles/boes-carney-floats-idea-of-new-virtual-reserve-currency-11566586800
STAY INFORMED! Receive our Weekly Recap of thought provoking articles, podcasts, and radio delivered to your inbox for FREE! Sign up here for the HoweStreet.com Weekly Recap.