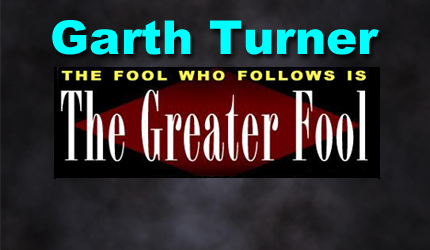 A best-selling Canadian author of 14 books on economic trends, real estate, the financial crisis, personal finance strategies, taxation and politics. Nationally-known speaker and lecturer on macroeconomics, the housing market and investment techniques. He is a licensed Investment Advisor with a fee-based, no-commission Toronto-based practice serving clients across Canada.
Bandit was about to do his business. I fished a plastic bag from my jeans pocket and waited on the sidewalk to, well, you know.
Suddenly…
"Garth. Is that you?"
I looked up from the emerging issue and saw a great, long bejesus white motorhome come to a stop on the street beside us.
"It's Eric," the driver shouted at me "From Vancouver. We're blog dogs. I can't believe it's you. And Bandit."
Eric and his squeeze turned out to be decent people. They've had it with Van, are fleeing to Australia (another house-horny place) and decided to rent a camper and drive across the entire country before departing Canada. "We had to see our own country, before we left it." So there we were, on the pavement in a tiny, seaside Nova Scotia town in the waning hours of a hot July.
Actually a weird number of people who waste their lives reading this pathetic blog have turned up in my summertime retreat lately. I met Bob from Grimsby (& family) on the wharf this week. And Angela from Manitoba (I think) popped into my rarefied bank building for selfies. There's been a steady stream of people on vacation, or exploring, curious and kind enough to come and see me. Most are gracious and don't ask the obvious question: 'Why the heck are you here?'
Here's why.
Before I made an absolute fortune writing a free blog I toured the country giving lectures on financial stuff, hired by banks, advisors and fund companies. Dorothy was my roadie, doing up to 200 gigs a year, hitting every crystal hotel ballroom and Legion basement in the nation. One rainy October eve we landed in Lunenburg, on the south shore of Nova Scotia about an hour from civilization. My speech that night was in a museum full of fish. Seriously.
In morning's light, the place was a heady swill of sea, history, architecture, colour, culture and the confident, bemused serenity of locals dealing with some dude in a tie from Upper Canada. We were infected. Within a year we'd bought a little blue cape house on the harbour. The routine airplane travel or the long drive (22 hours) was rewarded with weeks by the salty ocean and solid, welcoming neighbours. It's amazing how sweet people can be when you suck the road rage, shopping malls, competition, and financial stress from their souls.
In April of 2018 Dorothy, Bandit and I made the annual car trip. Soon after I lost my mind and bought the historic stone B of M edifice in the middle of town when the bank decided to replace it with an ATM and a web site. The reno turned it into a such cool, peaceful space that I was smitten. Why not live and work where I wanted to live and work?
Months later the Atlantic Canada branch of my financial business opened its doors. Employees. Clients. Dog. Flexible, progressive corporate partner. Connected in real time with colleagues still imprisoned on the 53rd floor of a bank tower at King & Bay. It had occurred to me that if I could look after the affairs of people in Vancouver or Montreal from downtown Toronto that the same could happen from the seething urban core of downtown Lunenburg. And so it was. And is.
This is what our world has become. Technology, connectedness, digital infrastructure – these things have made geography moot, removing the shackles of location and the sacrifices big-city living demands. Good jobs, incomes and financial security can be carved out anywhere. And surely, when people are freed from the burden of million-dollar houses and hour-long commutes they feel encouraged about their careers, lives and futures. How is this not better?
Anyway, as I write this Bandit is sleeping four feet away. Within two blocks of this liberated bank is the drug store, the post office, lawyer, grocery store, town hall, concert hall, restaurants, boutiques, eight art galleries, four real estate offices and a harbour which today berths a $16 million US superyacht. Oh, and my house. By the way, my home (it's nice) and my bank cost less together than a slanty semi in Leslieville. Lots of cash left over for a tug, too.
The only regret? Took too long. You should reflect on that. I sure do
STAY INFORMED! Receive our Weekly Recap of thought provoking articles, podcasts, and radio delivered to your inbox for FREE! Sign up here for the HoweStreet.com Weekly Recap.