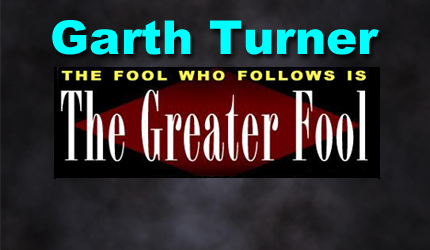 A best-selling Canadian author of 14 books on economic trends, real estate, the financial crisis, personal finance strategies, taxation and politics. Nationally-known speaker and lecturer on macroeconomics, the housing market and investment techniques. He is a licensed Investment Advisor with a fee-based, no-commission Toronto-based practice serving clients across Canada.
On Tuesday a dude named Ziggy sent the following in to the Salt Spring Exchange, which is a Kijiji-kinda thing serving that weird little island community between Vancouver and Victoria. Let us pray that he's just one isolated delusional, greedy goof.
Tent with bed on private property
$40/night – $1,000/month
bed and tent in private area of yard, looking for a quiet easy going person who likes to camp, potential for longer term at off peak season rates to the right tennant.
you can bring your own tent, a possibility for electricity
We are open to having a single and quiet person who doesnt have visitors, this is a walk in site.
There is also a possibility to rent a pad that can fit a very small respectable looking trailer/camper no larger than 16ft in another spot.
If you feel like you might fit in here tell us a little about yourself
Seriously. Here's the listing. You can't make this stuff up. A thousand bucks a month to sleep in this moron's backyard, in your own tent, begging for power and peeing in the hostas. If you pass the landlord's vetting process – a single, quiet, friendless person. Preferably a nocturnal serial killer.
$     $     $
Bad-boy ex-realtor and self-styled housing analyzer Ross Kay has garnered a hot little following since he tasted fame on the pages of a certain pathetic blog seven or eight years ago. He's done some good work over this time, becoming a thorn in CREA's paw and proving the existence of bad realtor habits like miscounting sales and fudging stats.
His latest note to me is worth repeating, since it puts into context the overall economic impact of a declining national real estate market – one which peaked two years ago.
"What happens," he asks, "when 15 million plus home owners lose an average of $40,000 in the value of their home?"
Well it's simple, you get a drop in net wealth in your country of $600 Billion, the largest drop in the history of Canada.  So why the silence? To put this in perspective this is around 10% of the total equity held in Canadian homes. So, why the silence?

Since home prices began declining in Canada nationally in January of 2018 Canadians have added another $66 Billion in mortgage debt as net wealth has plummeted but again, silence? Not only silence but a Bank of Canada that brags this is happening!

What was the Frothy Myth in 2017 became the Stabilized Myth in 2018 and this month it was announced the housing market was a Boring Myth. Apparently a $600 Billion drop is wealth is boring?"
Or maybe the real estate cartel just wants people to chill, believing the market has bounced off the bottom. "But the wealth declines are not going back up," Kay replies. "House prices dropped in June they did not increase as organized real estate this week claimed they did."
Blog dog Steve has some evidence of this. He noticed a 4-bedder house on Trafford Cres. in Oakville that was listed at $1.3 million two summers ago (and didn't sell) just re-listed for $875,000. "Teranet says home prices are roughly flat," says Steve. "Tell that to this guy."
$     $     $
Jacob's dad died recently. Sadly. "Like many boomers, he did well in real estate," says his son. " He owned an income property in Victoria, fully paid off. He very generously left the house to my sister and I."
Jacob says neither of them want to live there, and the place needs a big reno, which they are willing to tackle.
"Conservatively, after renovation the property would generate approximately $4k per month, likely a bit more. I'd estimate expenses to be about $1k/mo (including maintenance). This would leave $1500 each for my sister and I in pre-tax income going forward.

"The question is whether to hold and rent or to sell and walk away. I'd estimate current market value, sold as-is with no renovations, to be approximately $700k. This is approx $335k each for my sister and I after real estate commission. Capital gains tax is due in either scenario as the house was not his primary residence.

"I do worry about the next few years and if house values will drop in Victoria as we watch the scenario unfolding across the water in Vancouver. Thanks for any advice, and thanks for the very informative blog."
First, yes, this is a taxable event for the offspring. The moment father passed the property was deemed to have been sold at market value, and capital gains tax must be paid by his estate on the appreciation in value. Hopefully the old guy was in a lower tax bracket, so the half-gain added to his taxable income would be lightly treated. As for the renting option, all of the net income generated and taken by the siblings would be taxed at their marginal rates. Any further increase in property value would also be subject to capital gains. But if they sell and split the proceeds now, none of that money will be taxed in their hands. They can use it to stuff TFSAs and get tax-free growth, or fuel an RRSP and generate a refund.
The big question is whether to hold for potential price growth, or take the gift now. The answer depends on where one thinks this over-inflated regional market will be in the future.
But there is another option, Jacob: keep the place, mortgage it to the gills, divide the tax-free money between you and let a tenant make the mortgage payments. That way you and sis aren't sitting on a ton of equity earning a negligible ROI, and can use the cash to build diversified and tax-efficient personal portfolios. You own the house, benefit from cheap loan rates and still profit from any market rebound – after the BC Dippers are historical footnotes, of course. Shouldn't be long.
STAY INFORMED! Receive our Weekly Recap of thought provoking articles, podcasts, and radio delivered to your inbox for FREE! Sign up here for the HoweStreet.com Weekly Recap.