July 6, 2019 | Trading Desk Notes – July 6th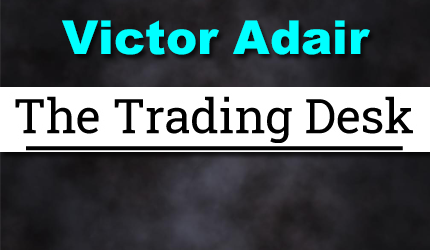 Victor Adair, author of The Trading Desk Notes, began trading penny mining shares while attending the University of Victoria in 1970. He worked in the mining business in Canada and the Western United States for the next several years and also founded a precious metals trading company in 1974. He became a commodity broker in 1977 and a stock broker in 1978. Between 1977 and his retirement from the brokerage business in 2020 Victor held a number of trading, analytical and senior management roles in Canada and the USA. Victor started writing market analysis in the late 1970's and became a widely followed currency analyst in 1983. He started doing frequent media interviews in the early 1980's and started speaking at financial conferences in the 1990's. He actively trades his own accounts from The Trading Desk on Vancouver Island. His personal website is www.VictorAdair.ca.
It was a week of celebration! Here we celebrated Canada Day, the US celebrated Independence day, but investors had even bigger celebrations as the Nasdaq, S&P and Dow all hit record highs!
It must be nothing but sunny skies ahead for investors, yet this same week German yields were hitting all-time lows with the 10yr hitting negative 0.40%. The US 10yr also traded back under 2%, its lowest level in 2.5 years and there are now over $13 Trillion worth of negative yielding bonds globally. It seems that equity prices are more a product of central bank policy, or the perceived policy action, that is driving investors back out the risk curve and into equities. Below I have highlighted 3 key speeches from Powell, you be the judge if they seemed to be important or not.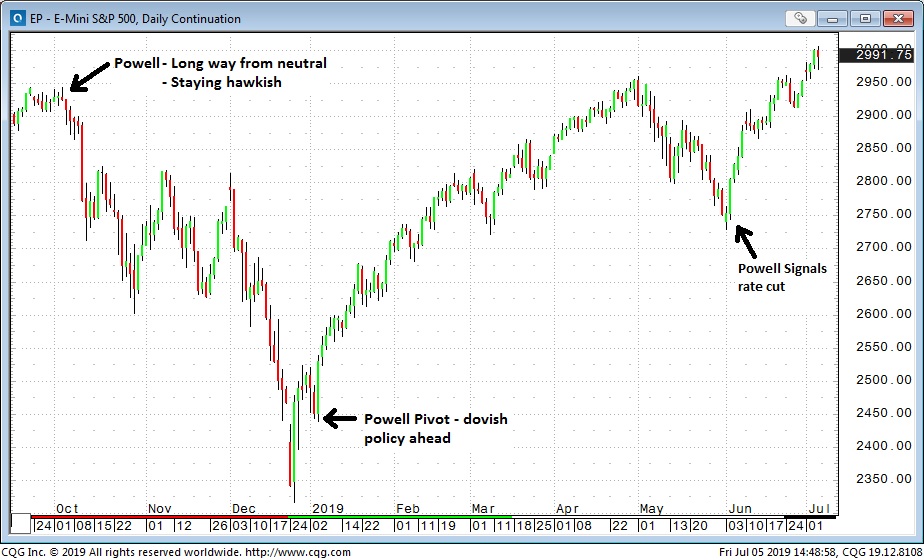 Now we know why the market scrutinizes every word that Powell says. Back in October we thought Powell was going to be a different kind of Fed chair who wasn't going to come in and rescue the markets as Bernanke and Yellen were so willing to do. Oh how silly we were! Investors now seem to believe that the feed not only has the ability to stop stock selloffs in their tracks, but the foresight to prevent any serious selloffs at all! To that point, Howard Marks of Oaktree Capital wrote a great memo last month and there was a particular paragraph that resonated with me regarding the Fed, so I've included it below, but I highly recommend everyone go read the entire memo here, it is more than worth your time.
Finally, when I hear people talk about the possibility that the Fed will prevent a recession, I wonder whether it's even desirable for it to have that goal.  Per the above, are recessions really avoidable or merely postponable?  And if the latter, is it better for them to occur naturally or be postponed unnaturally?   Might efforts to postpone them create undue faith in the power and intentions of the Fed, and thus a return of moral hazard?  And if the Fed wards off a series of little recessions, mightn't that just mean that, when the ability to keep doing so reaches its limit, the one that finally arrives will be a doozy? (Howard Marks- June 12,2019 Memo)
Gold might be starting to get the sense that Howard could be right and the "clear skies" picture being presented by the equity market may be pulling a screen over our eyes. The return of USD strength over the past week and half seems to have capped the rapid move higher in gold for now as gold retested the recent high but got turned back. But while the USD strength is working against gold the move lower in real rates has been helping and I think this will provide further help going forward. Gold fighting back to hold above $1,400 at the end of the week is showing some resilience, but we have had a stampede of investors increasing their net long gold positions by over 170% in June. I think this surge in positioning leaves gold susceptible to a near term move lower as late to the party traders get squeezed a little. However I will be looking for opportunities to get on the long side of gold and think that if / when we go into a risk off market, I think the USD and gold could both perform well at the same time.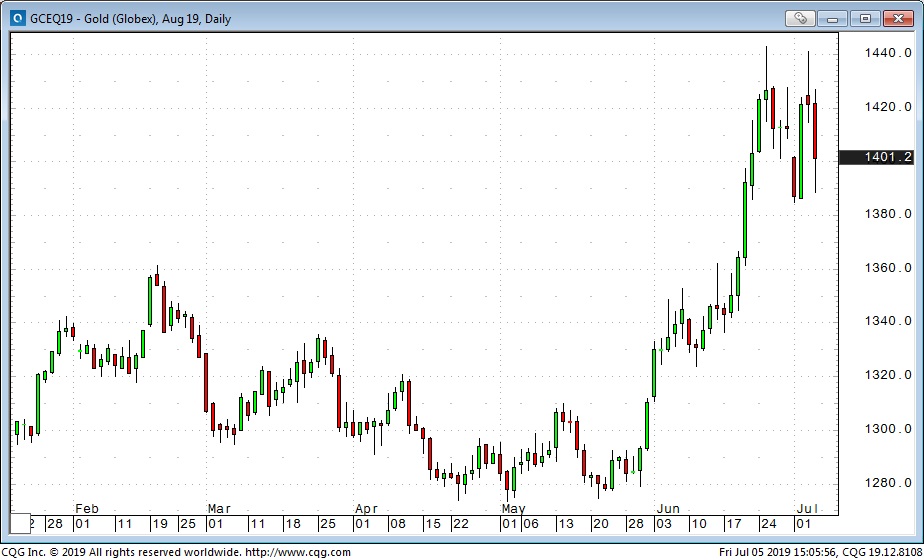 The Canadian dollar has performed well over the past month trading up over 2.5 cents from the lows. The fact that it has held the highs even during the recent USD strength is telling. This strength has been on the back of much better Canadian economic data signaling the slowdown at the end of last year and beginning of this year may be subsiding. This has allowed Canadian interest rates to stay much higher relative to the US as the Bank of Canada is not expected to cut rates anytime soon. As good as the Canadian data has been, I am skeptical of how long Canada can "hang on" to this outperformance and I think that at the first sign weakness Canada would have to "catch up" in terms of interest rate moves that could see a sharp move lower in CAD.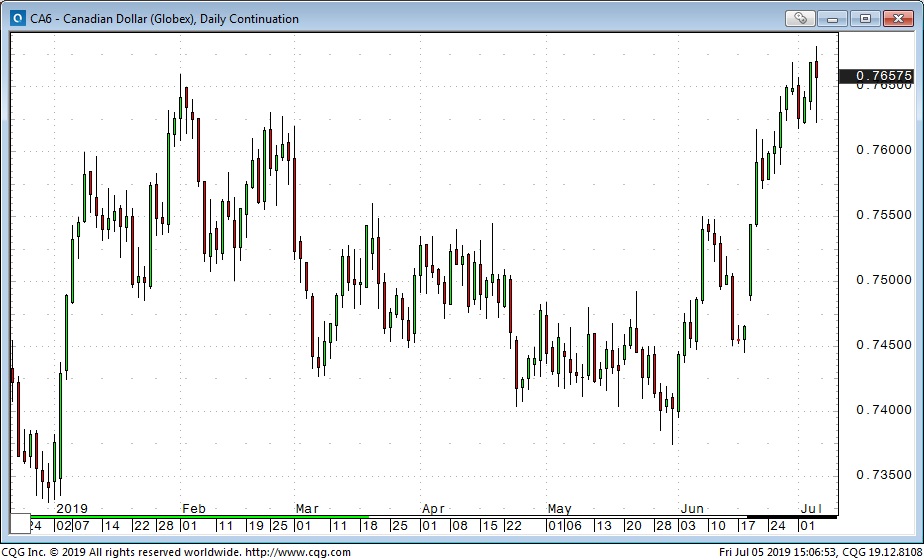 PI Financial Corp. is a Member of the Canadian Investor Protection Fund. The risk of loss in trading commodity interests can be substantial. You should therefore carefully consider whether such trading is suitable for you in light of your financial condition. In considering whether to trade or the authorize someone else to trade for you, you should be aware of the following. If you purchase a commodity option you may sustain a total loss of the premium and of all transaction costs. If you purchase or sell a commodity futures contract or sell a commodity option or engage in off-exchange foreign currency trading you may sustain a total loss of the initial margin funds or security deposit and any additional fund that you deposit with your broker to establish or maintain your position. You may be called upon by your broker to deposit a substantial amount of additional margin funds, on short notice, in order to maintain your position. If you do not provide the requested funds within the prescribe time, your position may be liquidated at a loss, and you will be liable for any resulting deficit in your account. Under certain market conditions, you may find it difficult to impossible to liquidate a position. This is intended for distribution in those jurisdictions where PI Financial Corp. is registered as an advisor or a dealer in securities and/or futures and options. Any distribution or dissemination of this in any other jurisdiction is strictly prohibited. Past performance is not necessarily indicative of future results
STAY INFORMED! Receive our Weekly Recap of thought provoking articles, podcasts, and radio delivered to your inbox for FREE! Sign up here for the HoweStreet.com Weekly Recap.