July 13, 2019 | Trading Desk Notes July 13, 2019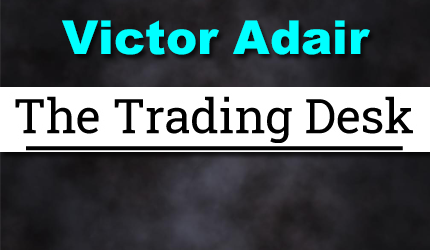 Victor Adair, author of The Trading Desk Notes, began trading penny mining shares while attending the University of Victoria in 1970. He worked in the mining business in Canada and the Western United States for the next several years and also founded a precious metals trading company in 1974. He became a commodity broker in 1977 and a stock broker in 1978. Between 1977 and his retirement from the brokerage business in 2020 Victor held a number of trading, analytical and senior management roles in Canada and the USA. Victor started writing market analysis in the late 1970's and became a widely followed currency analyst in 1983. He started doing frequent media interviews in the early 1980's and started speaking at financial conferences in the 1990's. He actively trades his own accounts from The Trading Desk on Vancouver Island. His personal website is www.VictorAdair.ca.
Three weeks ago (June 21/19) I noted that the increasingly aggressive repricing of future interest rate expectations (soaring bond prices) was the "irresistible force" that had been impacting all markets since late last year. My guess was that the falling interest rate trend had reached an exponential "blow off" phase with the market pricing a "good chance" of a 50 bps cut by the Fed in July…that the "repricing rush" was over…for now…and that I would be looking for "return to the mean" trading opportunities.
The exponential repricing rush was manifest by massive capital flows into bond funds, soaring bond prices, inverted yield curves, and more than $13 Trillion in negative yield bonds. The "knock on effects" of falling interest rates (with expectations of much lower rates to come) were a weaker US Dollar and higher stock and commodity prices.
Short term US interest rates began to rise the week after my note…the US T-Bond futures hit a 2 year high last week and have reversed sharply since then and the yield curve has steepened. Expectations of much lower rates to come have been tempered.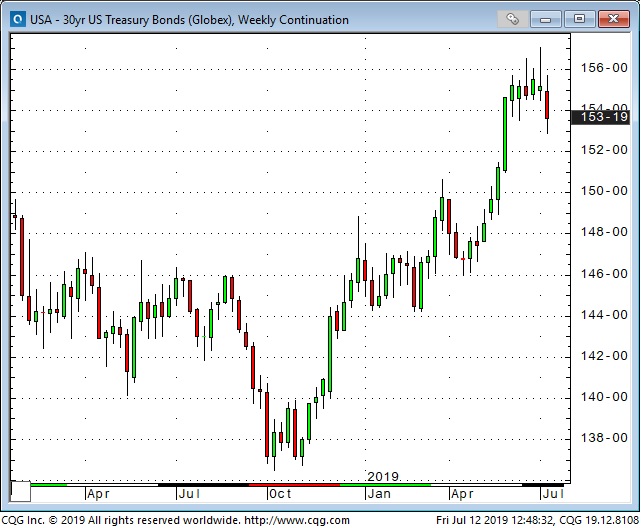 When I wrote my June 21st note I knew that some very respected analysts were predicting that interest rates were going to fall a lot more over the next year or two (recession, dramatic monetary easing) and they may very well be right…hence my "for now" caveat…but…market momentum swings like a pendulum in different time frames and in my short term trading time frame it seems to me that sentiment reached an extreme and markets are setting up to reverse.
Given my "theme" that the trend of falling interest rates had reached an extreme…and was over for now…looking for "reversion to the mean" trading opportunities therefore meant looking for signals to short bonds, stocks and commodities and buy the USD. I almost never short a market that is making new highs…even thought I may think it is WAY overdone. I like to see signs that it has run out of momentum and has rolled over before I get short. I'm often too early on these trade ideas so I keep my initial size small and cover quickly if the market rallies.
Before putting on a mean reversion trade I have to consider market-specific issues that could over-rule or support a trade. Look at gold…I think the $250 rally since last fall, and especially the $160 leg higher since late May, was definitely inspired by falling nominal and real interest rates (which helped weaken the USD) but the rally was also inspired by geo-political risks and if those risks ramp up again gold could rally even if interest rates rose sharply. Another issue that is specific to gold is "positioning risk"…Comex open interest has surged to a 3 year high…up ~30% since late May as speculators have aggressively bought the market. If gold prices were to fall from current levels (higher USD, higher real interest rates, lower geo-political risk) these speculators could turn sellers and exacerbate a decline.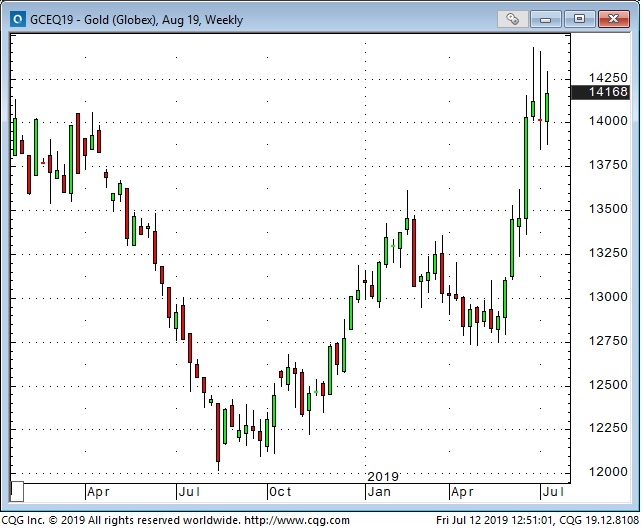 The Canadian dollar hit a 9 month high Vs. the USD this week…up over 3 cents from its late May lows…as the premium of short term US interest rates over Canadian rates has shrunk…as the market sees the Bank of Canada lagging any Fed interest rates cuts. But it's not just the USD…the CAD hit nearly a 2 year high Vs. the Euro this week and is at a multi-year high Vs. the Australian Dollar. WTI gaining ~20% over the last month has helped the CAD rally…and speculators covering their net short positions in the futures market gave the CAD a boost.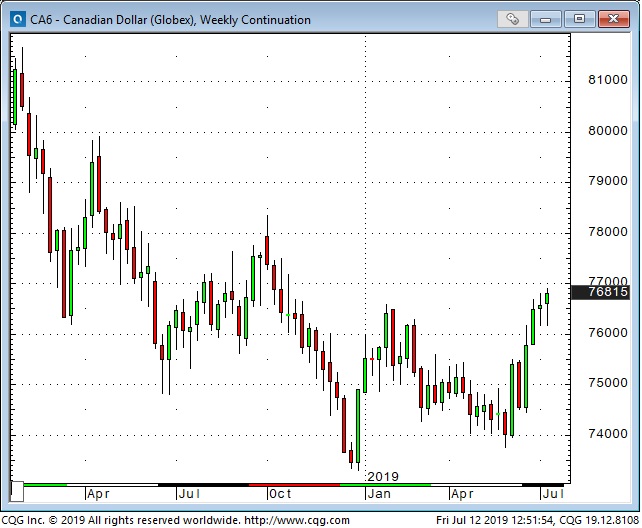 WTI crude oil prices fell with the stock market in May, and rallied with the stock market in June. OPEC+ agreeing to continue production cutbacks, falling American inventories and geo-political tensions helped prices rally to ~$61 up about 20% from month-ago lows.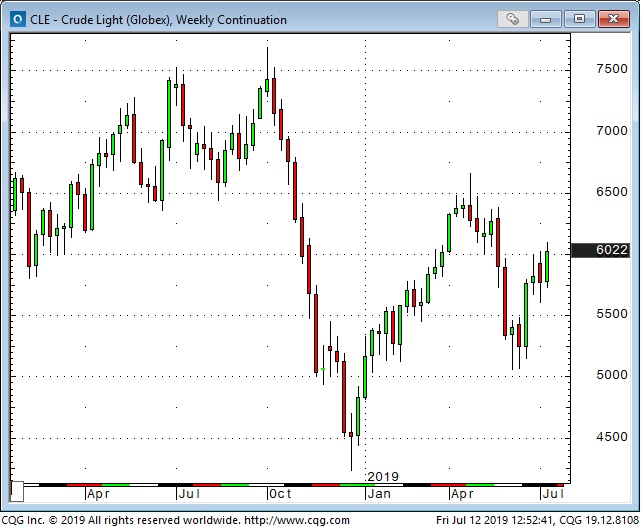 My recent short term trading has been uneventful. Small gains and small losses. It's one thing to have a theme…a reversal in interest rate markets will ripple out and impact other markets…and another thing to find the opportunities to capitalize on that theme. I love to read about people who "saw" a big move coming, jumped on it and made a fortune (The Big Short) but my number one risk management objective is to make sure I survive…both mentally and financially…to play another day. That means understanding that a trade is only a trade…believe in it when its working and throw it over the side when it isn't. Draw a line in the sand before you put on a trade and don't "give it a few more days" to turn around if it crosses that line.
PI Financial Corp. is a Member of the Canadian Investor Protection Fund. The risk of loss in trading commodity interests can be substantial. You should therefore carefully consider whether such trading is suitable for you in light of your financial condition. In considering whether to trade or the authorize someone else to trade for you, you should be aware of the following. If you purchase a commodity option you may sustain a total loss of the premium and of all transaction costs. If you purchase or sell a commodity futures contract or sell a commodity option or engage in off-exchange foreign currency trading you may sustain a total loss of the initial margin funds or security deposit and any additional fund that you deposit with your broker to establish or maintain your position. You may be called upon by your broker to deposit a substantial amount of additional margin funds, on short notice, in order to maintain your position. If you do not provide the requested funds within the prescribe time, your position may be liquidated at a loss, and you will be liable for any resulting deficit in your account. Under certain market conditions, you may find it difficult to impossible to liquidate a position. This is intended for distribution in those jurisdictions where PI Financial Corp. is registered as an advisor or a dealer in securities and/or futures and options. Any distribution or dissemination of this in any other jurisdiction is strictly prohibited. Past performance is not necessarily indicative of future results
STAY INFORMED! Receive our Weekly Recap of thought provoking articles, podcasts, and radio delivered to your inbox for FREE! Sign up here for the HoweStreet.com Weekly Recap.