July 25, 2019 | The Future is Coming. Prepare for the Greatest Depression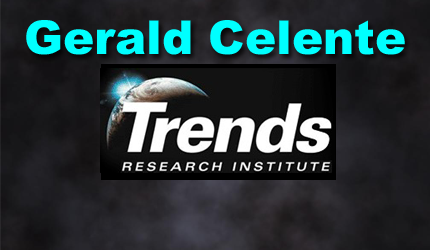 Gerald Celente, who developed the Globalnomic® methodology to identify, track, forecast and manage trends, is a political atheist. Unencumbered by political dogma, rigid ideology or conventional wisdom, Celente, whose motto is "think for yourself," observes and analyzes the current events forming future trends for what they are — not for the way he wants them to be. And while Celente holds a U.S. passport, he considers himself a citizen of the world.
KINGSTON, NY, 25 JULY 2019—As our subscribers well know from the Trends Journal, our Trend Alerts and Trends in the News broadcasts, global forecaster Gerald Celente was the first one to call the "Trump Rally" two weeks after his election in November 2016.
Some two years later, the day before the S&P hit an all-time high, on 19 September 2018, Celente reversed that forecast, warning an" Economic 9/11."
As forecast, markets across the globe suddenly sunk into correction and bear territory, with the Dow having its worst December since the Great Depression.
Then, in a dramatic about-face, on 4 January 2019, Federal Reserve Chairman Jerome Powell announced that instead of three or four interest rate hikes as signaled for 2019, the Fed would be "patient" in raising them.
The promise to not hike rates and the likelihood of cutting them to inject more monetary methadone into the cheap-money-addicted financial system, pushed equities up across the globe and propelled US stock indexes to new highs.
On cue, central banks across the globe began lowering interest rates… some, like Australia, to record lows, and others such as the European Union signaling they will bring them deeper into negative territory.
Negative interest rates! Negative bond yields! Never in modern history have we witnessed such monetary insanity.
Celente forecasts that the money-changer madness and bankster-banditry is about to end and the United States and nations across the globe will sink into the Greatest Depression.
What people such people as Ray Dalio, the founder and head of the world's biggest hedge fund, is writing about gold rising and what Presidential Reality Show contestant Elizabeth Warren is saying about a "catastrophic" economy… is old news to Trends Journalsubscribers.
How bad will it be? What market segments will suffer the most? What nations will be hit the hardest?
Don't go down with the sinking ship of states. To help you navigate a prosperous future we will do our very best to provide you with new and emerging OnTrendprenuer® opportunities to help you Prepare-Prevail-Prosper before economic terror strikes.
Very important! To stay on top of rapidly changing trend developments, forecasts, analysis and strategic planning options, read your Trends Journal and stay tuned to our weekday broadcasts.
STAY INFORMED! Receive our Weekly Recap of thought provoking articles, podcasts, and radio delivered to your inbox for FREE! Sign up here for the HoweStreet.com Weekly Recap.