July 12, 2019 | The Federal Reserve Continues to "Mend" the Economy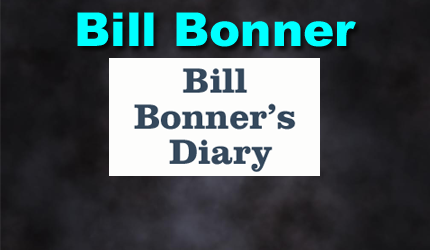 Is an American author of books and articles on economic and financial subjects. He is the founder and president of Agora Publishing, and author of the daily financial column, Diary of a Rogue Economist.
In this hard world we have to earn before we spend.
– John James Cowperthwaite, British civil servant and former
financial secretary of Hong Kong
YOUGHAL, IRELAND – The week is ending as it began, with a cacophony of numbskulls.
Yesterday, one of them – speaking to his empty-headed brethren – gave out more wrong-headed, confusing, and misleading information.
Bloomberg reports:
Powell told Senators that the so-called "neutral rate," or policy rate that keeps the economy on an even keel, is lower than past estimates have put it – meaning monetary policy has been too restrictive.

"We're learning that interest rates – that the neutral interest rate – is lower than we had thought and I think we're learning that the natural rate of unemployment is lower than we thought," he said. "So monetary policy hasn't been as accommodative as we had thought."
Fed Chief Powell no more knows what a "neutral" rate of interest is… or what it should be… than the man in the moon. Which is to say, he knows nothing at all.
Telltale Prices
There is no such thing as a natural rate of unemployment or a "neutral" rate for Fed monetary policy. An economy is never on an "even keel." It never stands still.
Instead, it is constantly in motion, reacting to wind and weather, innovations, trends, changes, cycles, and preferences – as the deckhands try to keep it on course.
A "natural" rate of unemployment, for example, is a sham. If we ask you to paint our fence for $10, would you do it? Probably not.
But what if we paid you a million dollars? You'd come out of retirement. You'd find someone else to look after the kids. You might even get up out of your wheelchair and renounce your disability checks.
No human being, or group of PhDs, could possibly keep up with all these billions of decisions – incoming data! – every day. Instead, markets aggregate them and discover prices.
These prices are like the "telltales" – little pieces of ribbon tied to the rigging – that tell sailors when the wind shifts. Without honest prices – most importantly, the price of credit – the poor sailors are lost at sea.
Before 2009…
Before 1913, the Federal Reserve didn't even exist. And yet, the U.S. economy sailed ahead – even faster than it does now. America had no full-employment policy, but it had full employment.
Before the "Greenspan Put" of 1987, the Fed made only fairly minor adjustments to its policy rate, "leaning into the wind" to offset what it saw as cyclical excesses. Never did it try to jack up the stock market. Still, the economy moved forward at about twice today's speed.
And up until 2009, the Fed was still mainly providing an emergency backstop. Its zero interest-rate policy (ZIRP) and quantitative easing (QE) were presented as emergency measures… expected to be removed when the emergency was over.
Never-Ending Emergency
But now, the alarms sound night and day. Barbarians have camped at the gate. Extraterrestrials fly through the skies. And the American public is just a few basis points from hysteria and starvation.
The emergency never ends. And Jay Powell and his band of nincompoops are our 24/7 advance responders, looking into the future and preventing it from happening.
But where's the emergency?
Unemployment is at the lowest level in 50 years. The expansion is the longest ever. Stock prices are at all-time highs. How cometh Powell et al think they must care for the economy as though it were a hothouse plant?
But there he was… front and center all week… America's monetary central planner, Jay Powell, the man with a plan. And guess what his plan is?
Oh, c'mon, Dear Reader. You know the story as well as we do. It's "Inflate or Die." Mr. Powell is promising more inflation, of course.
The "neutral rate," he says – surprise, surprise! – is lower than today's rate. That is, he claims the Fed geniuses erred in keeping the rate too high for too long.
In effect, he agrees with the fellow in the White House, who, by some divination known only to him and the gods, believes he knows what the ideal rate should be, and that the Dow would be 5,000… even 10,000 points higher had the Fed listened to him.
And so, word went out that the Fed would now mend its ways, by lowering its key interest rate to once again put it below zero, in real terms.
And the Dow popped up over 200 points. For the first time ever, it passed the 27,000 mark.
The all-important Dow Transports rose, too, but are still nowhere near a new high.
So, a genuine new boom has not been confirmed; most likely, it never will be. The boom is fake.
Death of Inflation?
Meanwhile, no sooner had investors' irrational exuberance been revived than their faith was tested.
The Bureau of Labor Statistics reported yesterday that consumer price inflation wasn't standing still either. Its core measure rose 2.1% from a year ago, with the June reading of 0.3% the biggest in the last 12 months.
The upside surprise caused many to doubt that the Fed really will cut interest rates later this month. Gold buyers, for example, hesitated. Here's CNBC:
Gold prices fell on Thursday, erasing gains made early in the day after stronger-than-expected consumer inflation in the United States cast doubts whether the U.S. central bank will cut interest rates as aggressively as expected.
Gold futures for August delivery, however, continued to rise. The gold market knows the feds must Inflate or Die. And they know, too, that when the dust settles, and this episode of insanity is consigned to the history books, gold will be the last man standing.
And so, the week comes to a close. Investors know nothing… but are prepared to believe anything.
For its part, the Fed knows less than nothing, because it pretends to know things that a) don't exist… and that b) it couldn't know even if they did.
As for us, all we know is that it's a damned fine show!
Regards,
Bill
STAY INFORMED! Receive our Weekly Recap of thought provoking articles, podcasts, and radio delivered to your inbox for FREE! Sign up here for the HoweStreet.com Weekly Recap.