July 19, 2019 | Spotified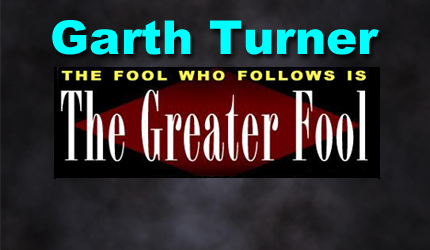 A best-selling Canadian author of 14 books on economic trends, real estate, the financial crisis, personal finance strategies, taxation and politics. Nationally-known speaker and lecturer on macroeconomics, the housing market and investment techniques. He is a licensed Investment Advisor with a fee-based, no-commission Toronto-based practice serving clients across Canada.
It's Friday. In July. So why is there still news happening?
Here are some things worth noting. One or two are scary.
DOWN SHE GOES
For the first time since it came into effect, the stress test rate has fallen. But don't get too excited – the decline is from 5.34% to 5.19%, so new buyers must still prove they can pay mortgages at almost twice the actual street cost. Some people think this is extreme. Others believe it's critical to cool off the housing market. Realtors and mortgage dudes hate it. Sales are piteous. Lending is at 25-year lows.
As broker-blogger Rob McLister points out, the change means a buyer with a $100,000 income and a 5% downpayment can afford $5,900 more house. With 20% down, it's $8,300 more. So, yes, this is minimal, inconsequential and unlikely to fill the streets with wild-eyed moisters.
Some think the stress test will end after the October election. They will be disappointed.
$    $     $
HACK? WHAT HACK?
On the morning of July 8th, at 9:08, I walked into a branch of the TD Bank at ask that a $119.88 direct debit to my chequing account in the name of Spotify be reversed. I caught it a couple of hours earlier when checking to see if Bandit's social media Influencer payment had arrived. Neither the pooch nor I subscribe to Spotify, which is apparently filled with drug-addled Millennial music.
The interesting part: that morning I was in the tiny seaside town of Lunenburg, NS, in a spec of a bank populated with friendly people and dominated by a model of a big schooner. The guy next to me arrived at 9:09 am, to complain that his account had been debited in error. For $119.88. By Spotify.
"Well," the tellers said to each other, "this is gonna be one busy day."
The hit was reversed the next day, after my debit card was shredded and replaced. Since then, as you may have noticed, there have been sporadic media reports on the $119.88-Spotify caper across the country. The music streaming company says it had nothing to do with it, which is credible since the people hit were not its customers. They were all TD clients.
The bank, for its part denies any data breach and says "a very limited number" of clients experienced "fraudulent activity incurring unauthorized charges from a single merchant." However, Spotify states no money went to it – so it sure smells like a hack of the Canadian debit system, specifically as it relates to one bank.
Go look at your account. Now.
$     $     $
MONEY FOR NOTHIN' (EXCEPT YOUR VOTE)
Is there an election coming?
You betcha. And the Trudeau Libs are out to help "hard-working middle-class families and the parents working hard to join the middle class" as opposed to all the other people who do nothing. So this week Ottawa announced yet more money will be shovelled to parents in the form of enhanced Canada Child Benefit payments. That's now $6,639 per kid under six and $5,602 for those up to age 17.
The net effect of this is staggering. The annual payments will total $24 billion, with money flowing to 3.7 million people. As mentioned here before (and confirmed by the prime minister) the CCB helps remove 40% of Canadians as net contributors to the national coffers. Four in ten families now collect more in payments than they remit in taxes. The tax-free money for having children need not to be spent on kid stuff, either. Most of it likely ends up feeding a mortgage. What an odd country.
$     $     $
IS THAT A GUN IN YOUR POCKET?
It's pretty harrowing being an Albertan woman, according to that province's financial giant, ATB. The company's research arm said this week that females "feel less confident and are more risk averse" when it comes to investing than men. And the dudes are cocksure, too. "Men surveyed were twice as likely to say they had more clout in financial decisions with or without consulting their partner."
Both men and women claim too much debt is holding them back (Albertans carry far more than the average beaver), but that the guys worry far less about it. So, machismo is alive and well in Jason Kenney Land.
But there's also this: a stunning 73% of Albertans (both sexes) say they have "inexperienced investor knowledge." Four in ten think the stock market is a casino, and almost 100% of people would choose "moderate" or "low/very low" as their risk preference. "Women are 1.6 times more likely to see themselves as having low/very low risk tolerance."
The Venus-Mars split is not just a prairie thing, of course. It's embedded in our culture. Wrongly. Go to any assisted-living facility or retirement home and do a headcount. Yup, mostly babes. They live longer and need more money. But in a low-yield, low-rate world, there are no high-yield, low-risk investments.
We need tougher women, obviously. So next time, bring your daughter.
STAY INFORMED! Receive our Weekly Recap of thought provoking articles, podcasts, and radio delivered to your inbox for FREE! Sign up here for the HoweStreet.com Weekly Recap.