July 10, 2019 | Powell: Economy is 'Strong' but Crosscurrents (growing)?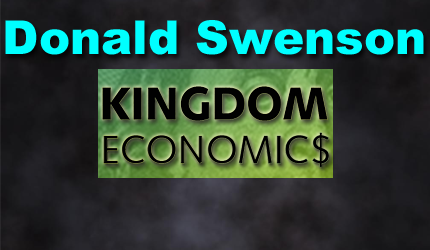 Donald B. Swenson: Born January 24, 1943, Roseau, Minnesota. Graduated H.S. 1961, Moorhead High, Minnesota. Graduated College 1968, Moorhead State University, Minnesota. Designated member of Appraisal Institute (MAI), 1974. Employed with Western Life Insurance Company, 1968 – 71; Iowa Securities Company, 1971 – 73; American Appraisal Company, 1974 – 81. Part-time teacher/valuation consultant/bartender, 1979 – 2008 (taught workshops at Waukesha County Technical Institute, Wi. and Madison Area Technical College, Wi.). Retired 2008 (part time teacher/blogger), AZ. Self educated economist/philosopher/theologian: http://kingdomecon.wordpress.com.
Fed speak is often difficult to interpret. The testimony today of our Fed Chairman, Mr. Powell, suggests that he is uncertain about where our economy is going. He claims the economy is 'strong' (his words) but the crosscurrents are also present. What does this mean in layman's language? Let's decipher the jargon!
I would suggest that this means a 0.50% interest rate cut at the end of July (next FOMC meeting). I say 50 basis points as I think he will recognize the slowdown by the end of this month. His rhetoric today did not reveal his deeper emotions IMO. So I am suggesting that we will witness a 50 basis points reduction in the Fed Funds Rate later this month. This will lower mortgage and auto rates some.
All this will help to reduce the slowing action within our economy. I don't think it will create another boom economy, however. The slowdown (the current trend) in global production and trade is evident and I am now witnessing price reductions on many real estate properties around the country. The lower interest rates have not reversed this crucial market sector (as yet).
The auto market is also slowing and this points to a real recession later this year (or 2020). The coming reduction in interest rates will help some but my sense is that our markets will continue to slow and this could accelerate later in the year. As I write the Baltic Dry Index is at 1759 indicating some expansion in trade. But I also witness these crosscurrents which Mr. Powell expressed in his testimony.
On the surface, I would agree with Mr. Powell. The economy 'looks' strong at the moment. But we now live with a digital/virtual economy which can change direction in a moments time. After some 10 years with no correction in our electronic markets, it appears that this growth trend is ending (even if slowly). Consumer confidence is also starting to decline (some).
Watch the real estate and auto markets for signs that our economy has slowed. It is unlikely that these markets can be reversed with Powell's coming 50 basis point cut (some say 25 basis points). Consumer spending represents some 67% of gross demand and as I write I witness slowing of this spending (within real estate and the auto sectors). Will my perceptions prove to be valid?
We could know by the end of July what trend is developing. If Mr. Powell actually lowers interest rates by 50 basis points then this means that his crosscurrents are growing in his mind. My sense is that a trend in motion (this slowing action) will continue and a lower interest rate will not change this trend. A trend in motion will continue until it ends IMO. Think for yourself on these confusing issues.
Read my prior missive on the nature of our markets. We now live with virtual/digital/cyber/imaginary markets. The entire edifice lives within our consciousness. This means that consumer confidence will play a crucial role in what happens going forward. All our markets are subjective/inner/emotional. This means uncertainty when making predictions about the future. Have a great day!
STAY INFORMED! Receive our Weekly Recap of thought provoking articles, podcasts, and radio delivered to your inbox for FREE! Sign up here for the HoweStreet.com Weekly Recap.