July 5, 2019 | Main Street Relies on Rate Cuts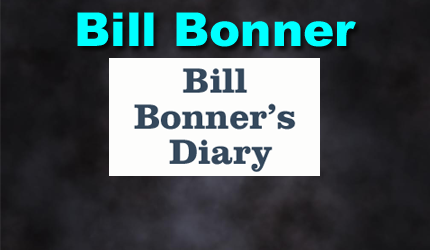 Is an American author of books and articles on economic and financial subjects. He is the founder and president of Agora Publishing, and author of the daily financial column, Diary of a Rogue Economist.
YOUGHAL, IRELAND – It's a beautiful day here in Ireland. People are out and about, wearing shorts and T-shirts.
"This is an Irish summer," a carpenter explained. Sunny skies. Flowers in bloom. Top temperature: 66 degrees.
Construction Site
We moved into our house a week ago. But it is still a construction site. Every morning at 8 a.m., a whole team of carpenters, painters, plumbers, and electricians arrives. They rush around, putting the final touches on the house before the cleaning crew arrives on Monday.
As with any construction crew, there are some serious artisans… and some misfits taking advantage of a tight labor market. But overall, the group is a pleasure to work with.
Mick, for example, is a hefty mason with a ready smile and a thick accent who has been plying his trade for 40 years. He gathers the "mud" on his trowel. And in a single, smooth movement, he puts it right where it is meant to go. No motion is wasted. When he lifts up a stone, he soon fits it into place.
Mick at work on Bill's Irish home
"It's either a stone or a hole," say the stonemasons. "Either you have a stone that you're going to put somewhere… or you have a hole to fill."
The trick is to match up stones and holes. And it takes years of experience to be able to do it artfully. But Mick must have the topography of each stone and each hole mapped out in his mind as he goes. He rarely misses.
Emancipation Day
"Oh, by the way… I hope you're having a nice 4th of July," said Mick. "It's your emancipation day, isn't it?"
The Irish got their independence from Britain in 1921. Americans went out on their own much earlier.
And it's a good thing they didn't wait. If a group of hot-heads tried to pull off a revolution in America today, they'd be labeled "terrorists" by Homeland Security, snooped on by the NSA, infiltrated by the FBI, given bus tickets to Philadelphia, arrested by hundreds of robocops, and would soon disappear into the American prison gulag.
Yesterday, Americans hung out their flags and put up their red, white, and blue bunting, proudly celebrating their deliverance.
But the promise of July 4, 1776, was always a bit of self-delusion and double-talk. All governments are controlled by smallish, insider groups who use them to exploit the outsiders.
Even at the time of the Revolution, only a third of the people were in favor of it. Another third were opposed. And the middle third, probably the wisest of the bunch, didn't give a damn.
The third in favor of revolution got what it wanted – at great expense, even to those who didn't want it. Then, gradually, over the next 250 years, the insiders extended their reach. The small, humble republic grew into a great world empire; Washington put on the bossy-pants… and became far more of a pest than London ever was.
Yes, as we wrote in our classic The Idea of America, the goal of a free country, where free people could go about their business without the feds telling them what to do, seemed like a worthy goal at the time. Still does.
Someone should try it.
Slowing Economy
On the eve of the July 4th holiday, the Dow celebrated by setting a new record: 26,966.
According to classic Dow Theory, a new bull market isn't announced unless and until it is confirmed by the Dow Jones Transportation Average – the index that tracks rail, airline, and trucking stocks. The index must hit a new high, too.
But that hasn't happened. The Dow Transports hit a high of 11,570.84 almost a year ago, but now trades 9% below it. And the Cass Freight Index – a measure of North American freight volumes – has been falling since the end of 2017.
The concept behind the dual-index signal is that you don't really know you have a boom going until you see the products moving – by rail, truck, or ship. If they're not moving… something is wrong.
In this case, the economy is slowing down. Factory orders are falling. The trade deficit is getting bigger. The Atlanta Fed just revised its GDP estimate for the second quarter – down to just 1.3%. And small business employment, a leading indicator, is now plunging.
Financialization Trend
So, there is no new real boom. Why, then, are stocks going up? What happened on June 3? That's when stocks started going up… while the economy – as measured by yields on 10-year Treasuries, the Cass Freight Index, and just about everything else – kept going down.
The answer has to do with the "financialization" trend, which began about 30 years ago. That's when executives began to see the magic of EZ money policies. They didn't have to do the hard work of win-win capitalism. They could simply pile on debt, buy their own stock, and watch the share price climb.
The real economy of Main Street staggered and slumped. But Wall Street just kept on truckin' – with stocks up 200% over the last 10 years.
And on June 3, the divergence widened. The economy has gotten weaker and weaker. But the S&P is up 9%.
What gives? What happened on June 3 to cause Main Street and Wall Street to go so emphatically in opposite directions? We checked the headlines. And there it was:
Wall Street soars on U.S. rate cut hopes.
Investors are looking for more inflation in asset prices. And now, the Fed has to deliver.
As we pointed out more than a year ago, the Fed couldn't "normalize" interest rates because it has created an economy that depends on abnormal ones.
Now, it can't even hold them steady. It must cut rates; if it doesn't, Wall Street will have a fit.
Inflate or Die.
Regards,
Bill
STAY INFORMED! Receive our Weekly Recap of thought provoking articles, podcasts, and radio delivered to your inbox for FREE! Sign up here for the HoweStreet.com Weekly Recap.